Chief Medical Officer
Realising Realistic Medicine
February 27, 2017 by Catherine Calderwood No Comments
I am delighted to be publishing my second Annual Report: Realising Realistic Medicine today.  Realistic Medicine puts the person receiving health and care at the centre of decision-ma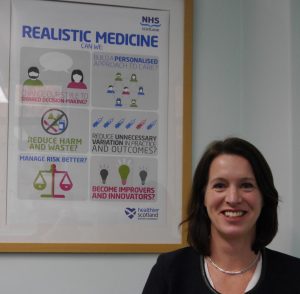 king and creates a personalised approach to their care. It aims to reduce harm and waste and simplify care while managing risk and innovating to improve. It also recognises the importance of valuing and supporting all health and care professionals as vital to improving outcomes for the people in their care. I believe that these improved outcomes must include what the priorities are for that person (formerly known as a patient) and their family.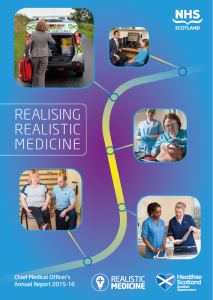 My new report builds on my  first annual report Realistic Medicine by setting out a vision and priorities; showcasing international and national multi-professional support from clinicians, leaders from medicine and public health and stakeholders from a wide group of organisations; and outlining plans for engagement with people cared for and supported in healthcare as well as the wider public during 2017.
When I published my first Annual Report, I did not anticipate that it would ignite such an enthusiastic discussion around 'Realistic Medicine'.  These conversations have been of enormous benefit in helping to shape thinking as we embark on translating the Realistic Medicine philosophy into actions.  I am pleased Realistic Medicine has been embraced not only by doctors, to whom it was originally aimed, but by a wider group of health and care professionals and stakeholders.
I hope that by championing Realistic Medicine as the Chief Medical Officer for Scotland, clinicians feel that they have greater latitude to practise in this way.  I look forward to your feedback on Realising Realistic Medicine and thank you for your continuing support.
Comments