Digital
Cross-government(s) user researchers meetup
February 23, 2015 by Jono Ellis No Comments
This is a post by Kate Saunderson and Sam Tilston, User Researchers at Scottish Government
The first "UK – Scottish Cross-Government(s) user researchers meet up" took place in Edinburgh on January 26th. Sadly scheduling conflicts prevented Leisa Reichelt (Head of User Research at the Government Digital Service) from coming along, but we have her scheduled in for next time!
That didn't stop a diverse group of user researchers, UXers and content designers gathering and having a wide-ranging and fascinating conversation about user research and content and experience design. We've captured the key highlights in the link below.
The conversations were seeded from talks by Cat Macaulay (User Research Lead at the Scottish Government) and Elizabeth Buie (formerly of NASA and now based at the University of Northumbria). In true user researcher style, we've grouped the conversations that arose into key themes.
Citizen Lives and Needs (the context problem)
"Standing in another persons shoes is impossible, but robust insight arises in the attempt of it."  Cat Macaulay, Scottish Government.
Both Cat and Elizabeth referenced the role of context in their talks. Of course context is a slippery concept – where does it start and end? Talking through her extensive experience on US government digital projects, Elizabeth suggested technology, environment, emotional state, culture and activity are all relevant here.
The practical issue of what we do with context once we have decided which aspects of it are relevant also came up. Most obviously this is a concern for user needs writing – how should we embed wider context in user needs? Cat shared an example of user needs with and without context, which illustrated how gaining an understanding of the life events that citizens experience can help us better appreciate the nuances. Exploring the context of citizens' experiences can open us up to a level of complexity that is difficult to manage in the design process. However, that context is where citizen needs arise and exist, so removing it can be equally tricky.
Jane Reid of the Department for Work and Pensions (DWP) pointed out that user needs, devoid of context beyond the immediate need, can seem dangerously easy to meet:
"You can give the right information, but if they are under stress they are not going to act on it".
Her experiences also illustrated the point that contextual information bridged the policy and service/digital design.
Mindsets and Methods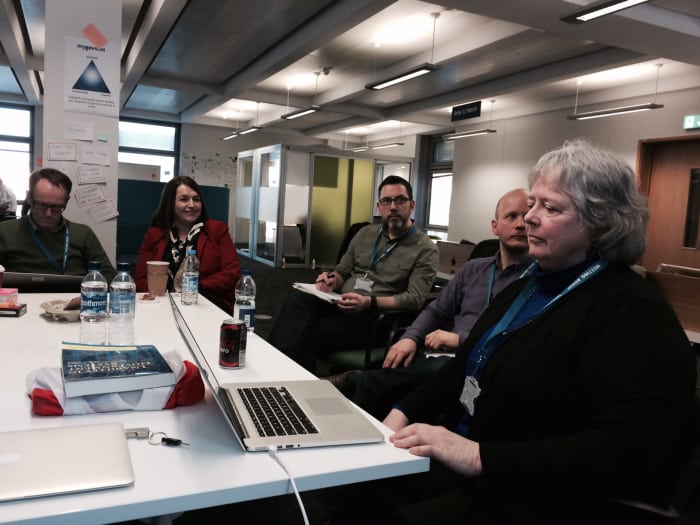 "It is much easier to sell classical usability as it is about saving government money, effectiveness and efficiency, satisfaction is harder, but experience…" Elizabeth Buie, Speaker (Far Right).
Elizabeth talked us through identifying and resolving issues through research in context (ethnography) and in a controlled environment (lab based); leading to discussion about the right tools to engage individuals in your research.
Personas also came up and attendees shared their use of them with both positive and negative aspects explored. In particular the idea that they sometimes seemed like artefacts senior stakeholders wanted but didn't utilise effectively necessarily, resonated with several people around the table.
This led on to a discussion of the idea of "mindsets". As researchers we understand the difficulty of challenging our own habitual patterns of thinking. Many of the methods and tools of user research are there to help us break these patterns – to make sense of data more richly by repeatedly challenging our responses to it. Perhaps, we discussed, we ought to be helping the people who consume our research similarly? To be effective shouldn't we teach the consumers of our research to disrupt their thinking, challenge their habitual ways of thinking and knowing?
Citizen Engagement
Engaging stakeholders naturally led to the notion of citizen engagement. Cat explored public interest in politics and democracy in Scotland, highlighted by the huge upswing in participation in politics around the recent Scottish independence referendum.
As Cat noted, democratic principles suggest this engagement must be more wide-reaching than politically engagement – politics having its roots in the world Ancient Greek word polis meaning the public sphere / public life (as opposed to oikos, the home sphere). How are we to engage citizens in a genuinely participatory way in the research and design of digital government and public sector services?
From a user research point of view this specifically means how can we do research with citizens not just on citizens? More widely – can we build a citizen engagement approach that includes the public in the design process more fully?
Future Meet-ups
At this point the conversation turned to our next get together. Two ideas that came up (we'd love to know what you think of them) were:
Diary Studies
Jane Reid shared insights into DWP use of diary studies and there was an appetite to learn more.
Content Research
Brian Hodgson of the Student Loans Company shared their story of implementing ideas they had picked up on in GDS training* for focussing on content design issues in user testing. There was discussion about a meet up sharing different ideas on low fidelity content testing in particular.
* As Leisa pointed out in her message to the meeting GDS runs a fantastic induction and basic training course for users researchers – something we can all tap into as they have versions tailored for new researchers and for experienced researchers new to government.
Resources
To engage with our speaker Elizabeth Buie check out the book she edited with Dianne Murray – Usability in Government systems, user experience design for citizens and public servants or connect with her on twitter: @ebuie.
Jane Reid discussed an excellent report on work done by DWP around universal credit that perfectly illustrates the interplay between digital service design and policy design (as well as providing a great example of how to maximise the contextual research opportunities of user testing and co-design) – Insight to support universal credit user centred design.
Tags: Transformation, user research
Comments