Education
Commissioner for Fair Access
December 16, 2016 by Shirley-Anne Somerville MSP 2 Comments | Category Uncategorized, Universities, Widening access
Professor Peter Scott has been appointed Commissioner for Fair Access to Higher Education in Scotland.
This was a key point in the report from the Commission on Widening Access published earlier this year. The Scottish Government has committed to implementing its recommendations in full.
Prof Scott is currently Professor of Higher Education studies at University College London.
As Scotland's Fair Access Commissioner, he will be tasked with driving the fair access agenda and making sure that young people from our most disadvantaged communities are able to reach their full potential
I made the announcement at Glasgow University, where Prof Scott and I were fortunate to be able to speak to students who have benefitted from widening access programmes and are now flourishing in higher education. One of them – Paula – has shared her story for this blog and this will be published later.
It's clear from my early discussions with Prof Scott that he has a passion for widening access to higher education.
It's a passion that I share.  A child born in our poorest communities should, by the time they leave school, have the same chance of going to university as a child born in our wealthiest communities. That is what the Scottish Government is determined to achieve.
UCAS figures published yesterday show the highest ever entry rate to Scottish universities for 18 year olds from Scotland's 20% most deprived areas. Since 2006, the rate has increased by 3.7 percentage points to 10.9%. That is encouraging, but there is much more to do and the appointment of Prof Scott is an important milestone to achieving that. 
There is more information about Prof Scott below, including the comments he made at today's event.
Prof Scott said:
"It is a great honour, and challenge, to be appointed Commissioner for Fair Access. The greatest challenge facing all Higher Education systems in the world is how to remove barriers to fair access, and reduce the glaring inequalities in participation between haves and have-nots.
"These inequalities undermine our efforts to build a high-skill economy and, more fundamentally, deny individuals the opportunities that should be available to all citizens in a democracy.
"I look forward very much to working with universities, colleges and schools as well as the Scottish Funding Council and Scottish Government to address these challenges."
Biography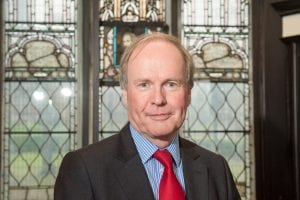 Professor Peter Scott is Professor of Higher Education studies at University College London.
Prior to that he was Vice-Chancellor of Kingston University and Pro Vice-Chancellor for external affairs at the University of Leeds. He was a member of the board of the Higher Education Funding Council for England where he chaired its widening participation strategic committee.
His earlier career was spent in journalism and he was Editor of the Times Higher Education.
Professor Scott was knighted in 2007 for services to education and is the recipient of a number of honorary degrees. He has published widely on education, including widening access issues.
Tags: Shirley-Anne Somerville, universities, Widening access
Comments