Education
Widening access – Paula's story
December 16, 2016 by Education News Team No Comments | Category Uncategorized, Universities, Widening access
At the event to unveil the Fair Access Commissioner at Glasgow University, the new Commissioner and Minister for Further Education, Higher Education and Science, Shirley-Anne Somerville met some of the students who have been able to study at the university thanks to its widening access programme.
Here, one of the students – Paula – shares her story.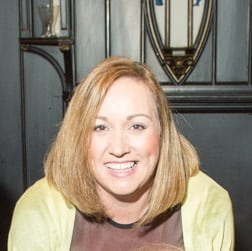 I'm Paula Christie and I'm 40 years old.
I decided to return to education in my 30s after taking time out from a career in financial services following the birth of my two sons. I attended Clydebank College (now West College Scotland) where I completed a SWAP Access course, and from there I moved on to undergraduate study at Glasgow University.
I was awarded a First Class Joint Honours degree in Politics and Central and East European Studies. I was delighted to win a highly competitive 5 year scholarship from the Economic and Social Research Council (ESRC) and begin an integrated postgraduate language, Masters and PhD programme.
To date I have been awarded a Postgraduate Diploma in Russian Language and a Master of Research (Social Sciences) post graduate degree. I'm currently in year one of a three year PhD course in Central and East European Studies, with my research focusing on democratic consolidation and grass roots initiatives in post- Soviet Latvia.
Without exaggeration, the Glasgow University widening access programme allowed me to change my life and the life of my family completely. Working part time after having my children placed a huge financial strain on us and my career choices were becoming increasingly limited. Although, at times, it was tough to deal with the continued pressure of studying, I received much needed financial support from the University's Hardship and Discretionary Fund which allowed me to complete my undergraduate study. I was also awarded a bursary from the Thomas and Margaret Roddan Trust as a result of academic excellence.
I now have qualifications that I never thought possible before returning to college. I have been able to re-train in a completely different field, and I hope to make a positive impact in European and Democracy Studies with the research I'm conducting. I've travelled with my studies to places I'd never heard of and have had the opportunity to meet so many interesting people.
I am now absolutely delighted to be tutoring on the widening access programme myself, as I feel really passionately about giving others the chance to change their lives through education. The programme has given me not only qualifications, but a renewed confidence in myself and my abilities. It's been an amazing experience and one I'm keen to encourage others to share.
Tags: universities, Widening access
Comments