Education
Children and Young People's Cabinet Meeting
March 10, 2017 by John Swinney MSP 1 Comment | Category Young people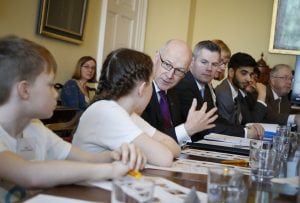 Last week I chaired our first annual meeting of Cabinet Ministers with children and young people at Bute House.
Four Members of the Children's Parliament (MCPs) and ten Members of the Scottish Youth Parliament (MSYPs) spoke to us about the issues that are important to children and young people in Scotland today.
The children and young people all spoke eloquently and compassionately about their views on key issues. I was extremely impressed and inspired by their enthusiasm and commitment and it gives me great confidence in the future of Scotland.
The MCPs showed an excellent film that they had co-produced, which highlighted four key issues for children – school and teachers; feeling safe in the community; bullying; and what children need.
The MSYPs then presented the key issues for young people, which were "Lead the Way" (SYP manifesto); Children and young people's rights in Scotland; "Speak Your Mind" campaign on mental health; and the future of Scotland's relationship with Europe.
Cabinet Ministers then took part in a discussion with the children and young people around the issues they had raised. We agreed to hold this event annually and also recognised the importance of involving children and young people on an ongoing basis in policy development. We also acknowledged the importance of listening to and respecting children and young people.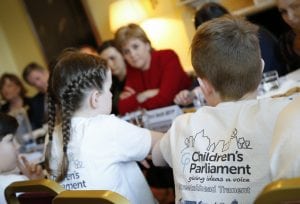 A number of specific issues were also raised and we will explore how best to take these forward.
This government is committed to meaningfully and credibly engaging with children and young people at a national level and ensuring they are at the heart of decisions which affect them, with the aim of improving policy development and implementation.
It is important that we take the time to listen to children and young people and give them the opportunity to participate in, and influence, local and national activities and decisions.
Events like this support the development of a more coordinated, systematic and sustainable approach to engaging with children and young people and to inform the government's agenda over the coming year.
It builds on previous Ministerial engagement with children and young people, such as the children and young people's regional summits in 2015, which contributed to the Year of Young People 2018 agenda and Fairer Scotland.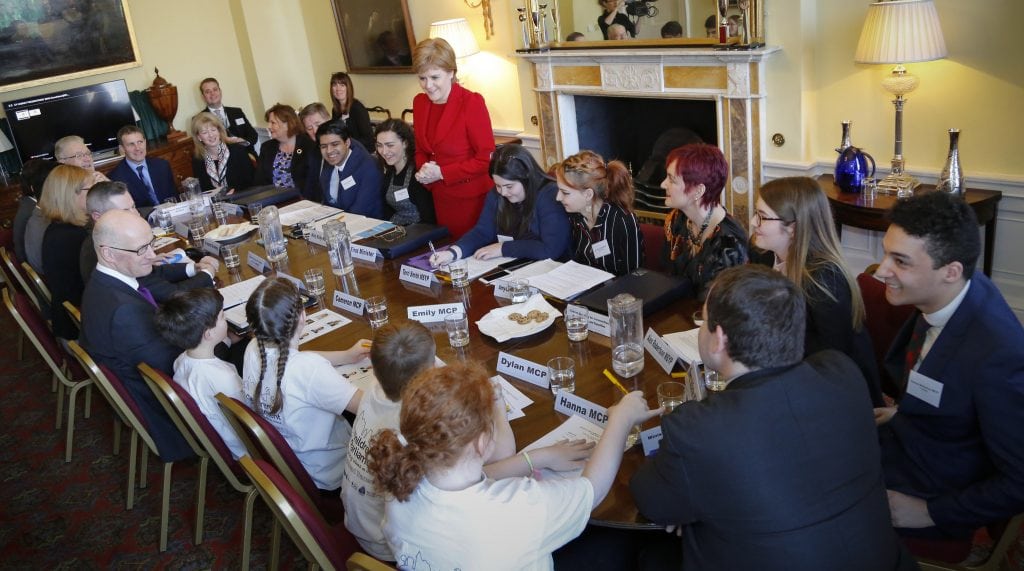 Actions agreed
General
The importance of respecting and listening to children and young people (CYP) was recognised.
The First Minister agreed that the meeting between Cabinet Ministers and CYP would be an annual event.
In addition, there was the commitment that there should be on-going dialogue throughout the year to support the engagement of CYP in policy making, particularly given the pace of change and the need to involve CYP in that change. CYP should have the opportunity to access the relevant Minister to discuss topical issues. This should be reciprocated so that Ministers can also directly engage with CYP, when they want to hear their views on specific issues.
School and teachers
There was discussion around the involvement of children in initial teacher education. It was suggested that before teachers qualify, children should be involved in speaking to them about the qualities they should have in their role (e.g. firm and fun). There was the recognition that teachers need to learn about children as well as education. Mr Swinney agreed to consider this further.
Children and young people's rights in Scotland
The rights based agenda was discussed with all agreeing that it must be heard loud and clear. Young people's rights and aspirations need to be protected and supported and taken into account in decision making. Ms Constance asked for CYP input into the current consideration of human rights and international obligations. The upcoming Private Member's Bill from John Finnie was raised. Ministers would be responding to the Bill as part of the legislative process. Mr Swinney said he would consider the views of children and young people prior to a response being made.
There was discussion around poverty and equalities, specifically in relation to the Child Poverty Bill. Ms Constance asked for engagement with young people as the Bill was progressed.
 "Speak Your Mind" campaign (on mental health)
It was recognised that the views of young people had been listened to during the development of the new Mental Health Strategy.
The issue of specifically focussing on a strategy for young people's mental health aged 16-26 years was raised. It was felt that this age group should be treated sympathetically due to the transitional phase in their lives and the move from child to adult services within the health service.
There was recognition that further engagement with young people was needed to ensure that NHS services were youth friendly.
Connections between young people with learning disabilities and mental health was raised and the importance of links between the imminent Mental Health Strategy and the Autism Strategy. Ms Robison said she would discuss these issues with Ms Watt.
The future of Scotland's relationship with Europe
All agreed that it was important for the full participation of young people in decision making around Brexit. A youth engagement event was taking place in Brussels on 13 March.
Tags: Children's Parliament, Fairer Scotland, Scottish Youth Parliament, Year of Young People 2018
Comments