Education
Celebrating Book Week Scotland
November 29, 2017 by Education News Team No Comments | Category Schools, Uncategorized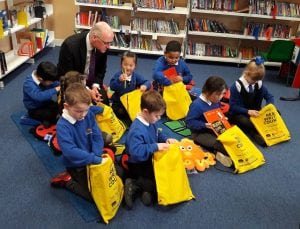 Deputy First Minister John Swinney visited Forthview Primary School in Edinburgh today to celebrate Book Week Scotland and the delivery of this year's Read, Write, Count bags to Primary 2 and 3 pupils across Scotland.
The Read, Write, Count initiative gives practical support to parents and carers to help them get involved in their child's learning. Read, Write Count bags are delivered to all children in Primaries 2 and 3 alongside Bookbug bags which are gifted to Primary 1 pupils and Read, Write, Count 'home kits' which have been delivered to P4-7 classes in selected schools for the first time this year.
As part of the visit to Forthview Primary School, Mr Swinney met Primary 2 pupils who were reading stories and doing counting activities from the Read, Write, Count bags with the help of Primary 7 buddies.
Mr Swinney said:  "Evidence shows that parental involvement has a significant positive effect on children's achievement and I was pleased to hear how Read, Write, Count helps children and parents have fun while learning together.
"I want to see standards and attainment improving and literacy, numeracy and health and wellbeing are the priorities for our children's education. Parental involvement and engagement plays a prominent role in our national plan to tackle inequality and close the attainment gap between our least and most disadvantaged children."
The Scottish Book Trust worked in partnership with Scottish Government, Education Scotland and Creative Scotland to devise and deliver this year's bags. In total, 453,450 free books will be gifted to children in Primaries 1, 2 and 3 during Book Week Scotland.
Marc Lambert, CEO of Scottish Book Trust, said: "We are delighted to be gifting the 'Read Write Count' bags during Book Week Scotland as there is no better time to celebrate the joys of books and reading. Each bag contains books and activities especially chosen to encourage learning and storytelling in a fun way that engages the pupils' interests, and supports their learning in the classroom. Book Week Scotland encourages reading for pleasure and the 'Read Write Count' bags build on this."
Tags: book week scotland, education, forthview primary, read write count, reading
Comments