Education
Adverse Childhood Experiences
March 26, 2018 by John Swinney MSP No Comments | Category Early learning and childcare, Schools, Year of Young People 2018
Today Deputy First Minister and Cabinet Secretary for Education and Skills, John Swinney, will host an event  bringing together Government Ministers and key stakeholders with an interest in Adverse Childhood Experiences (ACEs).
More than 80 experts working across Scotland in all of the main sectors affected by ACEs will take part in discussions aimed at understanding what is already working well, highlighting where further action is needed and exploring opportunities for collaboration to drive progress.
Read his blog post  below about what ACEs are, why they are important and what we are doing in Scotland to tackle them.
---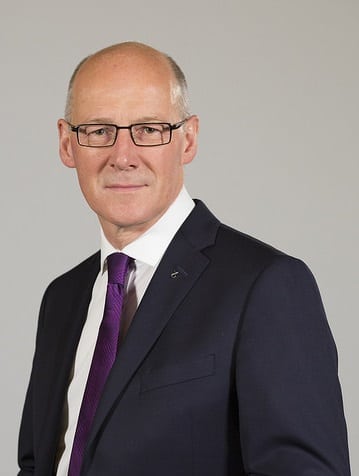 What happens to us as children can have a huge impact on the rest of our lives.
When young people have adverse or traumatic experiences growing up this impacts on their emotional and physical development, their capacity to learn, and thrive.
The experiences we have during our childhood shape who we are and how we interact with the world, especially if those experiences are harmful, and without the right support the effects can last a lifetime.
The first adverse childhood experiences (ACEs) study was done over 20 years ago in the US but recently this long-standing evidence base has been gaining increasing international interest. The impacts of ACEs on children, adults, services and wider society are clear to see.
A recent study in Wales showed that those who had experienced ACEs were more likely to develop heart disease and type 2 diabetes, have high-risk drinking, smoking or drug use and were more likely to have been in prison.
We are determined to make Scotland the best place for children to grow up and we need to make sure we're doing all we can to prevent adverse childhood experiences occurring in the first place, and where they do happen, to reduce their negative impact.
By making sure children and adults get the right support, at the right time, we can support their resilience and prevent a cycle of adversity being passed down from generation to generation.
Adverse Childhood Experiences are not a new thing, but the way we tackle them in Scotland is changing.
Today I will be joined by half the Scottish Cabinet at an event I am hosting to hear from people working across the main sectors affected by ACEs.
It marks the start of the journey to create a united approach across the whole of Scotland to ensure we are doing all we can to prevent ACEs and respond to them in the most effective way when they do happen.
I am looking forward to honest and direct conversations with experts from across the board to find out what is already working well in preventing and responding to ACEs, but also where we can improve.
Some of these conversations might be difficult but one thing we can all agree on is that the end result, improving the life chances of our children and young people who have had the toughest start in life, is the most important thing we can do.
Tags: ACEs, adverse childhood experiences
Comments