Education
#IsThisOk?
May 17, 2018 by Education News Team No Comments | Category Universities, Young people
Yesterday, Further and Higher Education Minister Shirley-Anne Somerville visited the University of Stirling to learn more about a joint initiative between the University and Student's Union to combat sexual violence and misconduct.
Here Jill Stevenson, Head of Student Support Services at the University, sets out how partnership working has been critical to the initiative's success.
OVER the past two-and-a-half years, staff and students at the University of Stirling have been working closely together to develop and implement a joint strategy to prevent and tackle sexual violence and misconduct. It is characterised by the principles of collaboration, prevention and shared ownership for a culture of respectful, healthy relationships in our community.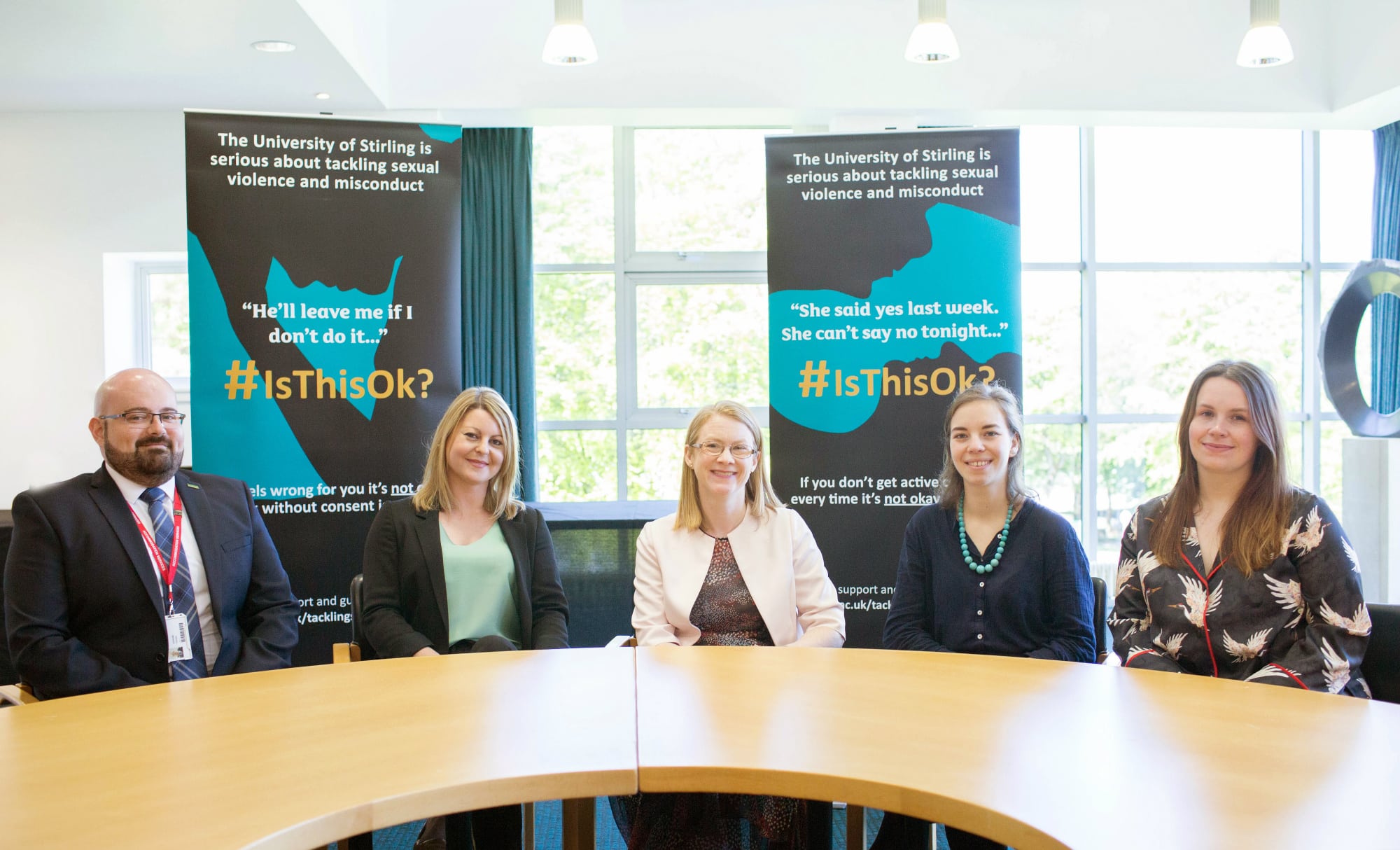 Back in 2015, a group of students and Gender Studies staff jointly hosted a screening of the US documentary, The Hunting Ground, which sparked a series of discussions between senior University staff and students about sexual violence in universities. Following those discussions, a strong commitment to jointly take action at Stirling emerged.
Following several months of development and consultation with staff and students, and engagement with a wide range of partners including Rape Crisis Forth Valley, Police Scotland, Stirling & District Women's Aid, the local Gender Based Violence Partnership and the National Rape Task Force, our joint strategy was launched to more than 100 guests in December 2017 by our Principal, Professor Gerry McCormac, and former Students' Union President, Dave Keenan, with contributions from a range of external partners.
The strategy commits both organisations to "take all steps within their power to prevent, tackle and respond appropriately and supportively to incidents of sexual violence or misconduct – in all its forms – that may affect our students, staff and those who use our facilities and services." To achieve this aim, we aspire to achieve four key objectives:
Foster a culture where sexual violence, harassment and other forms of sexual misconduct are not tolerated and are actively challenged
Ensure that our staff and students are clear about their options and receive appropriate support if they are a victim-survivor of sexual misconduct
Ensure University and Students' Union staff and officers are clear about how to respond to and support students or colleagues if they have been affected by sexual violence or misconduct; and
Improve our knowledge and understanding about the prevalence of – and impact of our work to prevent and tackle – sexual misconduct in our community
We didn't develop this strategy because we think there is a particular issue with sexual violence at the University of Stirling: research shows unequivocally that issues of gender based and sexual violence are pervasive throughout society. However, we recognise the powerful role that the University has as an employer, an educator, and a supporter of thousands of students, many of whom are or will go on to become the influencers and leaders of future society. We feel that we have a responsibility and a unique position to create dialogue and critical thinking about these issues amongst our University community, and to make a tangible difference to society.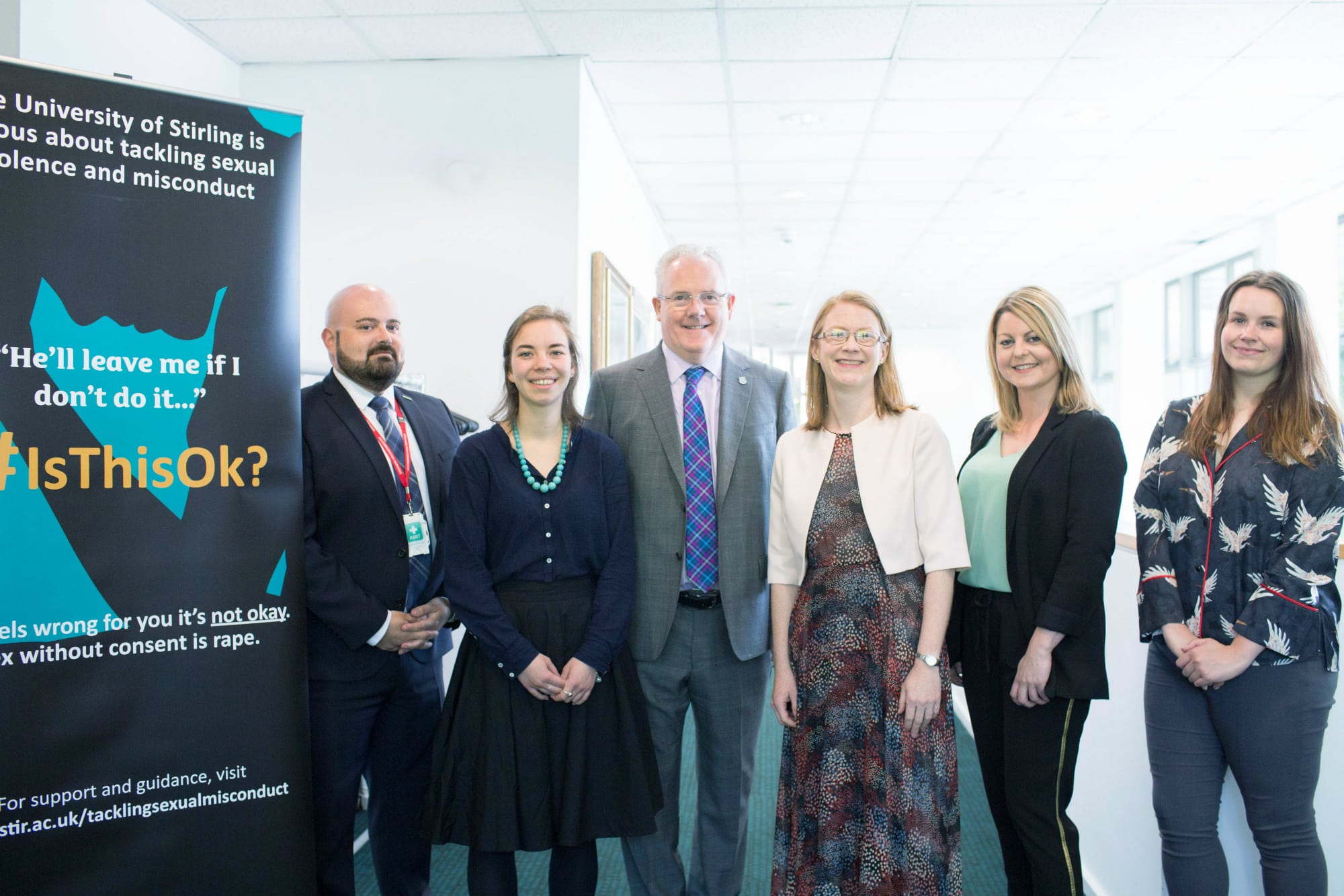 Since we launched the strategy, we've been working hard. Some of our achievements so far include:
The launch of a dedicated microsite, which contains key information on sexual violence and consent, the law in Scotland, options for survivors, support available at the University and provided by partners, and guidance for those who are supporting a student, colleague or friend who has been affected.
The launch of our multiple award winning awareness-raising campaign #IsThisOk which seeks to raise awareness of sexual violence and encourages everyone to challenge their own assumptions and take steps to prevent and tackle sexual and gender based violence
The development of clear guidance on what to do if you or a friend has been affected by sexual violence
A comprehensive training programme for staff and students, which is now being built into induction processes
Creation of a 12-strong Sexual Violence & Misconduct Liaison Officer (SVMLO) network; a group of staff who are intensively trained to respond to disclosures and provide guidance to anyone affected by sexual violence
Over the coming year, we'll be taking further action, including:
New mechanisms to make reporting easier, including a new online reporting tool
Research into the experiences of those who have received a disclosure of sexual violence or misconduct at the University
The development of a network of student #IsThisOk workshop facilitators, who will lead conversations about sexual violence with other students across the University
Continued close work with our partners, including further dialogue with the Scottish Government and other universities to identify ways we can collaborate further
We are very proud of the work that's happening at the University of Stirling to encourage everyone to ask #IsThisOk and to take action if not. We are starting to see the impact of our work and we look forward to continuing to work with our partners to make our society a safer and better place for everyone.
Jill Stevenson, Head of Student Support Services, University of Stirling
Tags: campus, equally safe, gender violence, Scotland, universities, violence against women
Comments