Education
Results day
August 7, 2018 by John Swinney MSP No Comments | Category Colleges, Schools, Universities, Widening access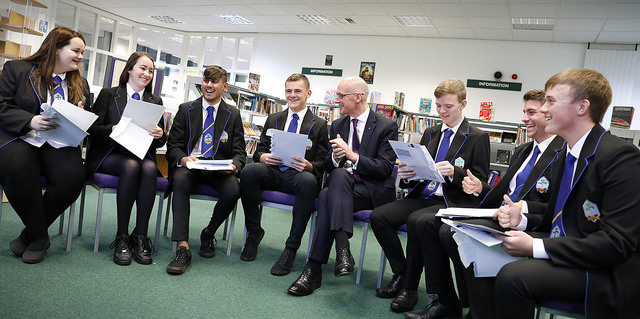 For more than 135,000 young people and their families today is the most anticipated day of the summer as they receive their SQA results.
I had the opportunity to meet just a few of them during a visit to Firrhill High School in Edinburgh this morning and again at a special SQA celebration for care experienced young people in Glasgow.
They should all be proud of the hard work and determination that has gone into preparing for today, as should all our young people receiving results right across the country.
It is also important to remember that, whatever the outcome, today is only the beginning of an exciting and sometimes unpredictable journey to the career of your choice.
So what do the results tell us?
Overall, Higher passes are stable, despite a continuing fall in the number of young people on the school roll, while the number of Advanced Highers being taken continues to grow. This is the first year where unit assessments have been removed from the National 5, and the overall pass rate remains high at 77.4%. The number of awards of skills-based qualifications increased to over 50,300 this year, more than double the number in 2012.
That reinforces to me, yet again, that we have fantastic young people led by dedicated teachers and lecturers delivering first class education in our schools and colleges every day. And that is backed by a robust, credible assessment system. I would like to offer my congratulations to everyone involved.
Today we also welcomed figures that show a record number of students from Scotland's most disadvantaged areas gained a place at university – the third consecutive annual rise.
The poverty related attainment gap – the cycle of poverty that passes from one generation to the next – is closing. Every child growing up in Scotland, regardless of their background, should have an equal chance to succeed.
I am delighted we are making steady, sustained progress on ensuring students from the most deprived areas of Scotland are going on to higher education.
At the same time, the total number of Scottish students from all backgrounds getting a place at a Scottish university has hit a new record.
We have more people from Scotland going to university than ever before, more modern apprenticeship places than ever before, and our colleges are delivering more courses with qualifications and awards that help get people jobs than ever before.
I know there is much more to do but today is the perfect time to reflect on the progress we have made within Scottish education to date and, most importantly, to celebrate the success of each and every one of our young people.
Comments