Land and Community
Community Land Week 2: West Harris Trust – a Wealth of Wind and Water
August 8, 2018 by Janet Mountford-Smith No Comments | Category Community Land Week
From a hot desk in Stornoway…
…here is today's update.
Mr Wheelhouse, Minister for Energy, Connectivity and the Islands, visited West Harris Trust to see their hydro and wind turbine energy projects, and their wonderful visitor centre, Talla na Mara. Powered with the renewables, it includes meeting space, a cafe, artists' studios and affordable housing. It's a building worthy of its site overlooking spectacular Niseaboist beach – West Harris sets the scenery bar high for Community Land Week!
Harris is blessed with wind energy but you can have too much of a good thing: I snapped this picture of a recycling container: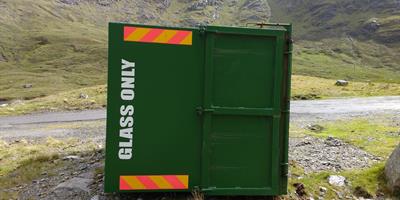 We surprise some tourists…
We're making some short videos about Community Land Week events so I met camera operator Alex and sound engineer Chris early to talk through what we want to get out of the day. The first stop is their hydro building, situated around 300 metres along a rough track. Parked up next to it was a campervan whose Dutch owners clearly thought they had found a wild, remote (and free) spot to spend the night. They peered out in sleepy disbelief as a succession of cars rolled up, containing variously the Minister, officials, four representatives of the Trust, a consultant, and a film crew.
Keeping the Minister on track… 
For the video, I asked Trust Board member (and former telecoms engineer) Roddy Macdonald to show the Minister round. Roddy was a natural, gesturing demonstratively at various impressive looking bits of kit. "And what would you like me to do?" asked Mr Wheelhouse. "umm…just look interested", I reply. I quickly realised that unfortunately the Minister genuinely was interested, and was soon deep in technical discussion. This was worrying because the first thing his 'minder' said on arrival was that they would be leaving for the next engagement on the dot of 11.45 am, no matter what. He gave the impression of a man prepared to use physical force if need be. A man in a tweed jacket walked by with his collie, I thought of enlisting his help with rounding everyone up.
We were lucky with the weather – cool and breezy – cleggs, midges and other bitey critters mostly stayed away. Showers and sun obligingly took turns, so Alex could make the most of the special quality of the Hebridean sky and light. Sound engineer Chris (who hails from Shawbost in Lewis) contended gamely with the loud hum of machinery inside, and for the interviews outside, heroically managed to hold the boom high overhead to keep its shadow out of shot. The Board members talked about the Trust's achievements quietly, but with pride. I sensed a mutual respect and courtesy in their dealings with one another.
The Machair Sands – a destination cafe!
We had a lovely lunch at the Machair Sands Café in Talla na Mara, spicy tomato soup and sandwiches made with newly-baked bread. After the Minister left we did a bit more filming, then there was just enough time for tea – the café cake display looked like it was auditioning for Great British Bake Off. We felt we deserved our sugar hit.
Stornoway meets Acapulco
Then back to Stornoway. I chilled out after an intense day with a long walk around Lews Castle estate. It was like Watership Down on its beautiful lawns, scores of rabbits were munching away, oblivious to the dozens of dog-walkers. The grounds are well used by residents and visitors alike – I saw picnickers, joggers, mountain bikers, and groups of teenagers just hanging about (as they do). Improbably, I also saw two lads in swimming trunks, swallow diving off a cliff around 15 metres high, into the Minch, as if they were in Acapulco. It wasn't so much the cold water that made me shiver, as the thought of the midges (the wind had died down by then). I noticed they didn't hang about long.
Comments