Land and Community
Community Land Week 3: The Bonnet Lairds of Carloway
August 14, 2018 by Janet Mountford-Smith No Comments | Category Community Land Week
Community Land Week gets underway in Lewis, on the Western Isles.  Carloway Estate Trust are holding an event to open their new "Bonnet Laird Walk" on Saturday 11 August.
The famous broch at Carloway is on their land.  I'm a bit of a broch-a-holic and this one is absolutely majestic, it also has a great wee visitor centre next to it.
The day before the opening of the Walk, I meet the Trust's development officer, Sally Reynolds, to talk through the plans for the day. Sally is young, energetic and clearly a formidable all-round fixer – you name it, she has organised it.  From working parties of local young people (who won a John Muir Trust award for their work on the stiles, signposts and bridge), to the strategic plan for tourist infrastructure, to the acquisition of fishing rights – she has it sorted. Here is Fiona working on a stile: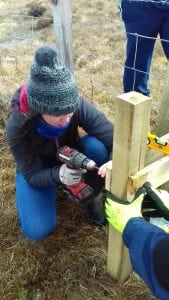 We're making some short videos about the Community Land Week events.  So at 9 am, under milky skies, I meet Chris (camera) and Alex (sound) to discuss a plan of attack for the filming. We start by interviewing Sally and Trust chair Kenny Maclennan, at the nearby Callanish standing stones. The 5000 year-old stones are their neighbours, not on their land but a powerful presence in the landscape and a magnet for visitors. Dun Carloway broch is relatively speaking a newbuild at just 2000 years old.
Walking through time…
Two ladies come in through the gate, at first I take them for tourists but Kenny hails them by name. It turns out that they're on their regular morning walk – a stroll through one of the most celebrated neolithic landscapes in the country. Other than the two of them, and astonishingly for a Saturday in August, we have it all to ourselves.
I have a bit of New Age moment and feel a surge of energy, it seems to affect all of us and we whizz back to the start of the walk, where by now around 40 people have gathered. Kenny makes a short speech and explains the choice of the name for it. A "bonnet laird" was a lowland term for people who had their own bit of ground to call their own (in contrast to the laird proper, who would have a deerstalker hat). "So you see", he says, "Now that the estate belongs to us, the residents – we can all call ourselves bonnet lairds".
Kenny is walking with his daughter Kathleen and grandson Donny. The energy jumps onwards from one person to the next like static electricity and they all set off at a blistering pace.
Local hero
Alex and Chris are joined together by the umbilical cables of the equipment, so they struggle along behind looking like men in a three-legged race. I want to include an interview with local hero Fallon, the driving force behind the walk, he's camera shy and reluctant to take any credit. But I have a cunning plan – he should talk only about the achievement of the young people and what they got out of it. This does the trick.
Alex is as lean as a greyhound and had climbed Clisham the day before, but the camera especially is heavy and soon he is panting and sweating. We decide to hop back in the car to try to beat the walkers to the next waypoint. When we get to Tolsta Chaolais (often said to be the most beautiful village in Lewis), Chris calls in on his uncle.
Time for tea
I leave them still filming in the early afternoon, to get back for the ferry. There's just time for a cup of delicious lapsang souchong in the Hebridean Tea Shop.  I ask for milk -the lady behind the counter does a good job of not looking disapproving.
Ferry trouble
An hour late, the supersize Lord Seaforth lumbers into the harbour and disgorges, then swallows up, a seemingly endless queue of motorhomes, vans, cars and freight lorries.  The port manager looks stressed but has time to exchange a few words.  "I'll be glad when this is all over, we should be back to normal by Sunday" he says.  He's referring to the knock-on effect of the ferry's ignominious breakdown in the Minch a day or two before – passengers had an extra five hours to admire the wildlife and think up ways of entertaining bored children.  It led to calls for a tug to be permanently stationed in Stornoway.
Comments