Land and Community
Celebrating the100th Scottish Land Fund Award: The Pyramid at Anderston
March 8, 2019 by Janet Mountford-Smith No Comments | Category Scottish Land Fund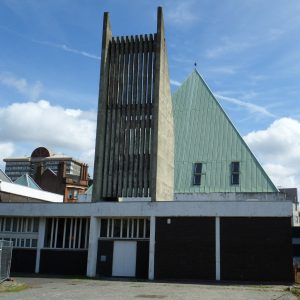 On a chilly, foggy February morning I catch an early train to Glasgow, where our Cabinet Secretary Roseanna Cunningham is visiting the Pyramid at Anderston. The community is taking ownership of this brutalist classic from the Church of Scotland.
The church has been a centre for the community since the day it was built, but is about to begin a second life as a secular space for the diverse communities of Anderston and Finnieston – 'to connect, to create, and to celebrate together', as it says on their website.
It sits by the M8 near the Kingston Bridge. The community will buy it with the 100th grant approved by the Scottish Land Fund.
Architects Honeyman, Jack and Robertson designed the Pyramid – it's a building completely of its time: uncompromising, edgy and in your face, like a song by Hendrix or the Doors. It's also a doughty survivor of Glasgow's repeated re-invention of itself through demolition, area regeneration and supersize road-building programmes.
Inside, you're in a series of generous spaces on different levels. Modernist interiors are linked by geometric staircases with black railings topped by a square teak handrail, and floored in black linoleum. High level yellow-tinted glazing fills its vast central space with a warm glow that looks like sunshine.
The temperature though soon reminds you that you're in a 1960s building. It was an era of cheap oil – in a straight fight between insulation and aesthetics, looks won every time. Or perhaps a certain Presbyterian austerity was part of the brief: an Anglican friend of mine claims that she can tell the denomination of a church by how cold she is. As visionary as it is in terms of space and how people move through it, the time has clearly come for a facelift and some upgrades to the heating and disabled access.
The CabSec arrives early and just as well, because with children from the three nearby primaries, the local MSP, the Provost resplendent in her chain of office, and three helium balloons spelling out '100' – there's a lot of herding involved, the photographers seem to want every possible permutation of guests in the line-ups.
"Just one more, just one more" they keep saying, as I try to keep her on track to get back inside, make a speech and leave by 10 am. I hear the balloons very nearly went AWOL the day before – a party had been organised for a lady for her 100th birthday party and quite understandably it was thought they had been ordered for that.
A small boy holding one of the balloons has been asked to take off his jacket (having at least one white shirt in the row looks better, I'm told). He and the two other children gamely hold them up and smile on demand, for the best part of 15 minutes. I begin to worry about him catching a chill and mention this to his headmistress. She just says robustly that kids don't feel the cold. So much for talk of mollycoddling making a generation of snowflakes.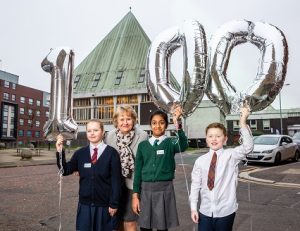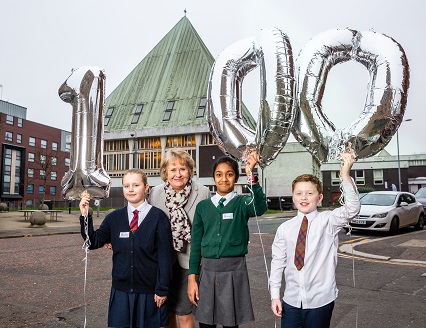 We get them all in before they turn into ice blocks never mind snowflakes, and Tom Moffat, Chair of the Board of Trustees, gets proceedings underway. Grey haired and twinkly eyed, as a former minister (of the kirk) he brings a certain authority. Like our CabSec he has a strong voice that I know will need no sound system, so I ask for it to be kept turned off.
The Pyramid is the second B-listed church acquired from the Church of Scotland with SLF funding. The first was Action Porty, who bought Bellfield Church in Portobello. What the two projects had in common were ministers who put people and community at the heart of their missions. They shared an understanding that over the generations their beautiful church buildings had somehow come to belong to the wider community, as well as to their congregations. And when the time came to let them go as places of worship, they were able to pull the right levers and secure them for the future, for the benefit of all.
Tom has energy and charm in equal measure.  He has soon thanked everyone who needs to be thanked, raised a few laughs, and praised where praise is due. He introduces and welcomes the CabSec. She in turn gives him, Margaret Smith and their fellow trustees, and all involved, credit for their hard work. She goes on to say how good it is to see urban communities following in the footsteps of rural ones who have successfully used community right to buy legislation and secured key assets with grants from the Scottish Land Fund.
Later I discover that Tom was also a key figure in the Strontian school project in his native Ardnamurchan. In fact, the more I talk to Tom the more I wonder if there is a community project in Scotland that he hasn't been involved in. He's a case study in "if you want something doing, ask a busy person".
The walk back to Queen Street station takes me over a pedestrian bridge that soars over the M8. It's windy and exposed, I'm glad I don't suffer from vertigo. Scottish Land Fund colleagues based in Glasgow take the low road, through the fumes and noise, under colossal columns of concrete, back to their office, and on to the next project.
Tags: Land and community
Comments