Land and Community
Bonnymuir Green, Aberdeen
July 29, 2019 by Janet Mountford-Smith No Comments | Category Community Land Week
It's high summer and from the exuberance of spring, the Scottish countryside is now settling into a more subdued palette of greens. Fields of barley are not yet cut but are beginning to dapple yellow. The cerise of rosebay willowherb is taking over from the foxgloves, whose thimbles have opened, one by one, until they reach the top of their elegant stems, marking off the days of summer.
I'm on a train to Midstocket, Aberdeen,  where the Bonnymuir Green Trust has been reinventing a former bowling green as a community hub, café, and organic growing space. It's a stone's throw from the BBC's Beechgrove Garden. Though still popular, bowling, like golf, is in a bit of a decline. Baby boomers raised on skiing, mountain biking and sailing are looking to keep up their adrenaline levels in retirement.
There's plenty to enjoy on the journey: not only the miles of lovely coastline, but the impressive railway infrastructure left to us by the Victorians. They built from the best materials and detailed them handsomely: perfectly cut and jointed ashlar masonry lines the long tunnels and massive retaining walls; there are solid-looking stations, painted timber signal boxes, cast iron pedestrian bridges.
Over the silvery Tay, my thoughts turn to a spectacular "fail" of Victorian railway engineering, the famous Bridge disaster. When I first heard of it, in the 1960s, it made a big impression on me.  It would still have been within the living memory of a few folk. Sir Thomas Bouch, the architect, took the brunt of the blame but as with many catastrophes, it was caused by a perfect storm of factors.  Including, of course, the literal storm. Modern calculations suggest windspeeds that night of up to 80 mph: gusts can be even higher these days, but the bridges across the Tay now stand at a more modest height compared to his "High Girders".
Dundee has always enjoyed a wonderful situation looking south across the firth, and these days its waterfront is being thoroughly regenerated.  A lady sitting opposite is looking forward to lunch with her friends at the V&A.  But moving east, remnants of a more industrial past are still to be seen: a shed carries a sign urging, "Decommission in Dundee". Two giant structures – I guess, former oil rigs – the Rowan Stavanger and Maersk Gallant, look to be taking them up on the offer.
On past the handsome villas of Broughty Ferry and we're in the land of golf – Carnoustie, Monifeith, Arbroath. We sweep round magnificent Lunan Bay, and on to Montrose and its basin, a hotspot for twitchers. Then it's Lewis Grassic Gibbon country – the Aberdeenshire Mearns. This is a fertile area not only for farmers, but for anyone who likes a good placename – a lot of this of that's: Kirktown of Fetteresso, Fishtown of Usan, Bridge of Bogendreip.
Bonnymuir Green sits in a low and very sheltered spot, among the granite villas of suburban Aberdeen. Aberdeen is well provided for with bowling greens, and the site had been derelict for years.  But in 2016 the Community Right-to-Buy was extended to urban areas, and the Bonnymuir Green Trust was able to use the legislation to acquire the site. The trustees had hoped to sell it for housing, although access was always going to be an obstacle to planning consent.
I meet John Wigglesworth, Board member and key activist in the campaign to save the former bowling club as a community greenspace. Born in India, he runs a company that supplies catering facilities worldwide. In 2019, communities don't automatically exist, someone (like John) has to make them, by creating the space where they can happen.
He smiles ruefully as he describes learning how to let go of the entrepreneur's urge incessantly to drive things forward: instead, to take the time to consult, listen.  In this way along with the garden, the community has taken root and grown.
The café uses organic produce grown on site. Lunch is delicious and the food miles are minimal. As well as the market garden there's a polytunnel with a HUGE pumpkin plant growing, a wildlife pond, and a play area. There's also a toolshed and workshop space for creative arts and crafts activities. As with many community initiatives one good project has led to another, with schools, local businesses and clubs all making use of the space. A youth group designed and built the seating area.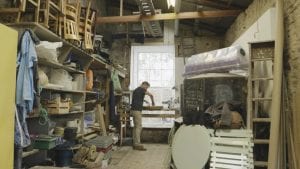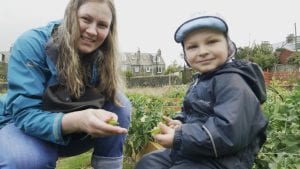 Swallows are dipping and diving and there's a constant hums of bees. The aspect is perfect for fruit and vegetable growing, they're well ahead of their planting plan. Local people can come and pick fruit and veg in exchange for donations in time or money. They've had over 1700 people through their gates since they opened.
Organic gardener Alfred Austin has written: "The glory of gardening: hands in the dirt, head in the sun, heart with nature. To nurture a garden is to feed not just the body, but the soul".
But my favourite gardening quote has to be good old Kipling, who with the muscularity of the true imperialist declared: "Gardens are not made by singing 'Oh, how beautiful,', and sitting in the shade."
Tags: Community Land Week, Land and community, Land Reform, Scottish Land Fund
Comments