Land and Community
Morebattle
August 5, 2019 by Janet Mountford-Smith No Comments | Category Community Land Week, Scottish Land Fund
Morebattle lies at the foot of the Cheviots, seven miles south of Kelso, so deep in the Borders that only one or two hamlets and a few hills are left before you reach Northumberland. We're in the m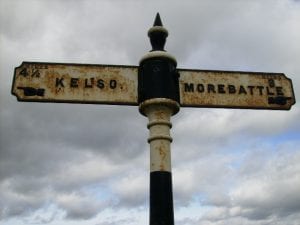 iddle of a short but very intense heatwave: 30C is forecast. Sheep huddle into the shade of trees, panting away; horses (you see a lot of them in the Borders) doze, flicking their tails lazily.
Forty years and more ago Morebattle had seven shops serving the whole valley of the Kale Water: now it has two.  One of these was recently rescued from closure by a community buy-out.  It's a picturesque village: roses-round-the-door cottages, a lovely church and manse, a village hall, and some quaint street names – Thimble Row, the Pikin Stanes and Teapot Street.
The village is on the St Cuthbert's Way, so quite a few walkers pass through, they're a modest but helpful source of revenue for the shop. The range of goods has expanded since the buy-out. There's a good selection of fresh fruit and veg (some locally grown), and the hungry hikers are snapping up their new vegan range – now including ice cream and a range of nut milks.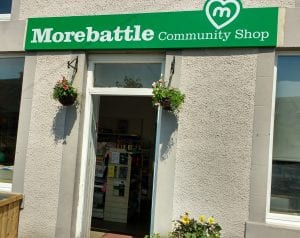 The primary school is an attractive single storey building designed by Edinburgh architects Reid and Forbes in the 1930s. It has four teachers and 56 pupils. The shop is making links with the school, there are plans for pupils to design the window displays.
The old Victorian school is now a village institute, home to a lively number of clubs and societies: a camera club, a mother and toddler group, a bowling club, and a badminton club.  Also, the Morebattle Stick Dressing Association, dedicated to the rural craft of making shepherds' crooks and walking sticks.
We interview Rachael Thomson, Alison Lamond and local farmer James Playfair-Hannay, who joined the committee that was formed to buy the shop. It's staffed by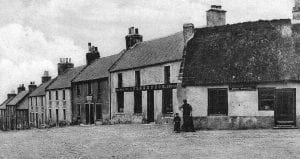 volunteers, co-ordinated by Louisa O'Brien. Caroline Lang (formerly a school inspector) volunteers; her husband (a building contractor) has transformed the area behind the shop as a community garden area. He takes care of the maintenance.
Helen Cessford (another volunteer) speaks warmly of the benefit of having the shop. She explains that it's not only about convenience, and meeting the needs of those who have no access to cars – though both of these things are important – but it is also about maintaining vital community networks, both within the village and with the rural hinterland. She mentions that it's nice that grandparents and grandchildren alike will have memories of the village shop.
As well as overseeing the shop, Louisa is a busy mum – we meet her children, Lilee, Aoife, Malachy, and Orlaith – lovely names that draw on their Irish heritage. As polite and well–behaved as they are, I'm willing to bet they're a handful. They've come to the shop with their friend Jenny to buy some ice-cream.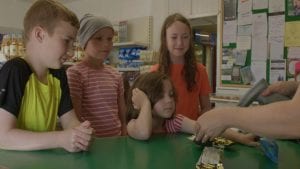 I chat to a lady on a mobility scooter who says if the shop had closed she'd have had to get the (none too frequent) bus to Kelso for her shopping. She said she didn't really believe the committee would get the money to buy the shop, "it's brilliant what they've done".
A farmer arrives on an tractor, towing a gigantic implement that looks to have been designed by Heath Robinson, he leaves with a pint of milk and a piece.
Morebattle has at least two famous sons, both poets: Robert Davidson, born twenty years after Robert Burns (and clearly inspired by him); and James Thomson (born 1700). Thomson is probably most famous for penning the words to "Rule Britannia". He wrote them to music by Thomas Arne, for a masque that apart from that, is now (almost certainly deservedly) forgotten. Fab Peruvian tenor Juan Diego Florez, got up as the boss of the Incas , gave it welly in 2016 at the Last Night of the Proms. A suitably imperious account, but if "Rule Britannia" is not your thing, try looking for him singing "Nessun Dorma".  He'll knock your socks off
Comments