Land and Community
"A' The Airts", Sanquhar
August 19, 2019 by Janet Mountford-Smith No Comments | Category Community Land Week, Scottish Land Fund
On a sunny, breezy August afternoon I take the A703 south to Sanquhar, in Dumfries and Galloway. It's Community Land Week, and "A' the Airts", a community hub based in a historic building in this attractive town, is screening a film, and putting on a spread. The film focuses on the role of the arts in reinvigorating the town.  It was supported by Ulster TV, reflecting deep rooted historical connections between this corner of Scotland and Ireland that go back to the 9th and 10th centuries.
Yvonne Barber is the manager of "A'the Airts". A warm and bubbly Liverpudlian, in the short-ish time she's been in post, the community has clearly taken her to their hearts. She's developed a holiday programme that's as full-on as it gets, with classes in making films, model boats, jewellery, and plays, as well as yoga, tai chi, story-telling, dance…they had 85 workshops and 20 films and performances over the summer.
I meet a number of members of the Board, including founder and moving spirit Sheila Crompton, current Chair Willie Waugh (a retired shepherd), former chair Iain Baker (retired GP) and treasurer Sheri Urquhart. Collectively, they're a case study in the axiom that good people recruit good people. Soon scores of people are crowding in, a mix of born-and-bred Sanquhar folk and 'newcomers' (one of whom says she's lived there fifty years).  A very nice girl, Nicole, who's about to start college, is on a student placement with A' the Airts – she's baked some delicious Empire biscuits for tonight's celebration.  Among the audience are the couple who were proprietors of the ladies' and gents' outfitters that used to occupy the building, for years they lived above the shop.
Sanquhar is full of handsome buildings, including the Tolbooth (now a museum), designed by William Adam, and the oldest working post office in the world. The town stretches long and narrow along the floor of the Nith Valley: your eye is drawn along the vennels and through the pends to the fields that rise on either side. This afternoon, as the sun dips and the shadows lengthen, a warm golden light pours down the hillsides into the streets.
A few years ago Iain got involved in putting out a few hanging baskets along the High Street: now, there are over 20 members of the Gardening Group, and the town is putting on a display. Before long it was winning the 'Scotland in Bloom' prize for the Nith Valley, then for Dumfries and Galloway. The effect of a few pots and baskets can be remarkable:  residents do their bit for civic pride, and many colourful, beautifully-kept gardens are on show.
Although some speak of Dumfries and Galloway as an 'overlooked gem', it has for some years been working away at attracting visitors through investment in the arts and crafts scene – what with the Wigtown book festival, the art galleries of Kirkcudbright, and a succession of music festivals, it wasn't going to be long before someone spotted the potential of Sanquhar.
And that someone was artist David Rushton. He wanted to move to a town in rural Scotland with a rail connection to Glasgow, and he saw the potential of the place. He restored a bothy for artists, and opened a gallery. Before long, not only were other artists moving to the town, he was inspiring local people to discover and share their creativity and talent. David describes himself as a conceptual artist, though his bothy restoration suggests he's not short of practical skill.
Something about Sanquhar – "A' the Airts" plays its part – nourishes a clutch of creative and skilful hobbyists. As well as a group of model railway enthusiasts, a number of residents are keeping alive a fine tradition of knitting. The town has its own local pattern, as distinctive as Fair Isle or Arran. Over the last century it only just survived, partly through the dedication of a certain "Miss Forsyth". Today Japanese and American knitting fans make pilgrimage to Sanquhar. A pair of gloves can take over 18 hours to knit.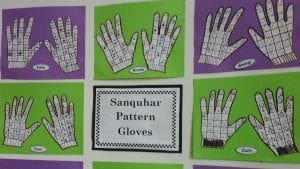 I'm sat next to local knitter Kate Sloan at the screening. She says, 'it's easy when you know how', but of course, as with any skill, you have to put in the time. Another enthusiast who's inspired locals to get off their phones and learn something, is teacher Mr Douglas. He happens to be keen on the ukulele, and of 125 children in the local school, he's persuaded 100 to have a go at learning it. The best of them feature in the film, singing a fine and tuneful version of the Braes of Killiecrankie.  They have Kate and me rooting around in our bags for our hankies.
In the 17th century the town was a hotbed of radical religious sentiment. The Cameronian Covenanters struck a blow in 1680 with the Sanquhar Declaration, one of a series of events that ultimately led to the Glorious Revolution, and the fall of the House of Stuart. Opposite the post office, and now looking rather neglected, is the building that once was Whighams Inn.  Over a century after the Declaration, Robert Burns was a regular.  Though it has the ring of a tale told for tourists, he's said to have written a poem about it, inscribed on a window pane:
Envy, if thy jaundiced eye,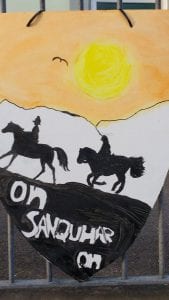 Through this window chance to spy,
To thy sorrow thou shalt find,
All that's generous, all that's kind,
Friendship, virtue, every grace,
Dwelling in this happy place.
A few doors along in the Crown Inn, a good few folk are showing proper respect to the bard by "getting fou' and unco' happy".  On Saturday it will be the annual Common Riding. There will be a Cornet and a Cornet Lass. Sadly though, the windows of Whigham's Inn are boarded up. But with energy, creativity and community spirit rising again in Sanquhar, I suspect they won't be for much longer.
You can read more about A' the Airts here: https://atheairts.org.uk/
Tags: Community Land Week
Comments