Land and Community
Dunshalt: reinventing the village shop
February 13, 2020 by Janet Mountford-Smith No Comments | Category Scottish Land Fund
The Scottish Land Fund is seeing more and more applications from communities in rural parts of Scotland, who want to save their village shop. Internet shopping, car ownership/use, and competition from the discounters, are all playing their part in the steady decline of local shops.  This is happening in towns and cities as well, but the lower turnover and higher costs in rural areas mean village shops run on very tight margins.  For customers who don't have access to a car and rely on infrequent rural buses, however, being able to shop local isn't a choice, it's a necessity. So, from the Borders to the Highlands, and the Western Isles to East Ayrshire, rural communities are looking to sos (save our shops).
On a blustery, cold January day, I'm headed over to Dunshalt in Fife.  Cabinet Secretary Roseanna Cunningham is calling in to the soon-to-open community shop for a photo opportunity.  It will go out with the announcement of the latest round of Scottish Land Fund awards.
Bright sunshine in Edinburgh, but over the bridge the sky turns the colour of a dark bruise.  By the time I get to Kelty, snow is flurrying down from a sky turned steely grey and purple, with a smear of yellow from a low sun.  Past Loch Leven and along the Howe of Fife, the Lomonds are just thinking about getting their winter coats on: the wind billows nets of sleet across the fields and high up, the white stuff is beginning to settle. Fifty or sixty years ago, in many a winter, the land would have been under a thick blanket of white for weeks by now.  Then, when flattened yellow grass and muddy brown earth emerged at the end of winter, the world would strike you as colourful.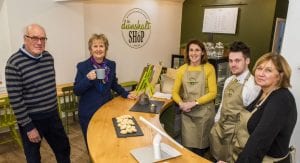 Dunshalt sits on an area of flat, low-lying ground that up until the middle of the 19th century was a loch – it was drained to grow flax.  A clue to this area's watery past is in the name of the fine country house hotel just down the road, Myres Castle. Such was the prosperity brought to Fife by flax, that nearby Falkland had its own branch of the British Linen Bank. You know how big an industry is when it can start a bank and issue its own legal tender. I think of Facebook and its plans for a digital currency.
In recent years there have been days of such intense rainfall that nearby Kinross has suffered from flooding.  Today water is squirting up from the tyres of cars and lorries as they hiss along the roads.  It's flowing fast along widened drainage channels, and pooling into dozens of mini-lochs in the fields.
Driving past Sterling Mills in Auchtermuchty (look out for their occasional warehouse sales), I recall that once of a spring morning, in the field next to it, I saw two hares boxing.  A sight to see – before you find out that boxing is the female hare's way of letting the males know when their attentions are not wanted, kind of #metoo for jills.  'Muchty has some well-known sons and daughters, among them accordionist Jimmy Shand (there's a sculpture of him there).  The exceptionally gifted Scottish poet and writer, Kathleen Jamie, lives hereabouts. It was the location for Tannochbrae in Dr Finlay's Casebook.
Across a lovely old stone bridge and on to Dunshalt.  The Dunshalt Community shop secured its funding award three years ago, but it's been a long haul since then for the community to acquire the property, get funding and planning permission for improvements, tender the works and get the builder to finish. 

Now they're just waiting for their contractor to hand over the documents they need to get building warrant, then they'll be good to open.
It's Monday, and (as is often the case with community volunteers), the Chair of Dunshalt Community Shop, Eleanor Porter, has to be at work.  So, she has arranged for Vice-Chair Ian Kennedy (former geography teacher, now retired) to meet CabSec, show her round the shop and introduce her to staff members Carole Duffy, Fergus Carmichael and Sue Wilson (pictured here).
There's a sign out for picn'mix sweeties – they sold well before the shop closed, this is Scotland, after all.  Sweeties will still be on sale but a debate is ongoing about cigarettes.  The aim is to sell plenty of healthy food options, and find as much room as possible for local produce.  Milk from Fife Creamery, bread and rolls from Fisher and Donaldson, meat from Minick the Butcher will be on the shelves, as well as Oor Fleurs of Auchtermuchty and Kingdom Firewood.  Ice-cream and wine on sale or return from Luvians of Cupar.  They won't go wrong with that. There's a whizzy new espresso machine, so Carole and her assistants are keen to practice their barista skills.
The Plunkett Foundation, https://plunkett.co.uk/, is a great source of information about rural community shops.  According to them, a typical community shop has 177 members, 7 directors, 30 volunteers and four staff.  The average turnover is £161,000.  One community group in South Cowal who've saved their shop have made a video of themselves singing about it:
Do you know we have a Lido Song? Our mini flashmob took it to Morrisons tonight! www.southcowal.com

Posted by The Lido Community Shop on Friday, 22 March 2019
As well as being handy for things you've forgotten or run out of, village shops have a social role. They're a place where people can meet and connect with each other, a place where community happens. Even in an age of facial recognition technology, supermarket websites tend not compliment their customers on their new hairdo, ask how their children are doing at university, or offer a view about the weather.  Not to mention the chance of a helpful observation if an older customer comes in complaining of aches and pains, along the lines of 'auld age disnae come itsel'.
No doubt as with all ventures, some community shops will thrive, and others will struggle.  Their success depends on many factors.  But where local people show willing to take on the work and the challenge, they definitely deserve a chance.
Here's a 'then' photo from the archive on Dunshalt Village's website, and a 'now' one from the visit.   You're looking down Main Street: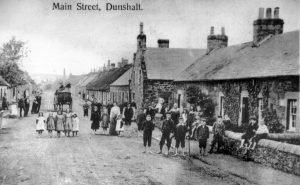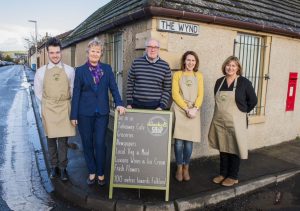 Tags: Community, Land Reform
Comments