Land and Community
Community Land Week is back!
October 6, 2021 by Janet Mountford-Smith No Comments | Category Community Land Week, Scottish Land Fund, Uncategorized
Community Land Week is back, but post covid, this year will be slightly different. With all the challenges thrown up by the pandemic, we decided to celebrate this year's CLW with ten community groups which have taken ownership over the last year. They thoroughly deserve their moment in the spotlight!
Community owners have had a tough year. But like much of the public and third sector, they have 'leaned in'. They have looked not only to survive, but to use their resources to keep people connected with one another. Many moved fast after the onset of lockdown to respond to the emergency with practical help. A wide range of projects went from idea to delivery in a matter of weeks. With community capacity built in many cases through their journey to land ownership, people were able to come together to support neighbours who were vulnerable, particularly those who were shielding.
Just as covid has reset the way we work, so has it made its mark on the world of neighbourhood and community action – for example, meetings are held remotely, rather than being convened in the village hall. New meeting formats required new skills. Remember Jackie ("you have no authority here") Weaver? She kept her cool and set the bar for handling fractious meetings. As well as grabbing her allotted 15 minutes of fame, she raised awareness of local decision-making structures and processes, and drove huge amounts of traffic to community and neighbourhood websites.
As ever, Community Land Week takes its place among many other Weeks and Days, and this year it coincides with National Baby Swimming Week, World Egg Day and National Pet Obesity Awareness Week.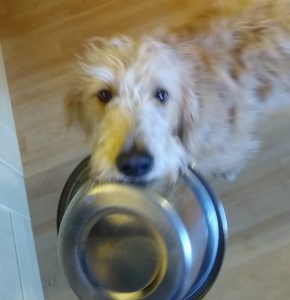 News of this last initiative was greeted with dismay by many dogs, particularly those in the Labrador/Labradoodle community. Asked to comment their representative (pictured right) said that under the European Convention on Canine Rights, his members were entitled to quiet enjoyment of unlimited amounts of food, and intake should be a matter for individual responsibility.
The Week will be marked with a visit by the Minister for the Environment, Biodiversity and Land Reform, Mairi McAllan, to the Newcastleton Community Trust, in the Borders. With funding from the Scottish Land Fund, in September 2020 the Trust purchased 750 acres of land from Buccleuch Estates. She'll be going to hear what they're doing with it, I'm going along as official support. There will be blogging.
Comments