Marine Scotland
Vacancy: Third Engineer, Edinburgh – closing date 21 July
June 24, 2020 by Marine Scotland Communications No Comments | Category Marine Scotland Compliance, Marine Scotland general, Vacancies
We are currently seeking applications for a Third Engineer within Marine Scotland based in Victoria Quay, Edinburgh. This is a permanent and pensionable appointment and new entrants will normally start on the minimum of the pay range. Candidates with a disability who meet the essential criteria below will be invited to the assessments.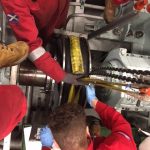 The successful  candidates will be expected to work on all vessels in the Marine Scotland fleet if required. The fleet consists of MRV Alba Na Mara and MRV Scotia which are 27 metres and 69 metres in length respectively.  Research cruises vary in length, but generally are no more than 22 days.
The Marine Protection Vessels are Minna, Jura and Hirta. Minna is 47 metres in length and both Jura and Hirta are 84 metres in length. These vessels carry out patrols which normally last 21 days.
All vessels work double manning allowing for trip on/trip off rostering.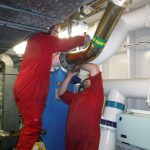 Qualifications Required
• Engineering Officer of the Watch Certificate of Competency
• All relevant STCW certification including Proficiency in Designated Security Duties
• Valid ENG 1 (Unrestricted)
Please note: If you fail to demonstrate how you meet the minimum qualifications as stated above, your application will be automatically sifted out.
Essential Criteria
1. Possession of EOOW CoC.
2. Excellent communication skills
3. Recent experience sailing on vessels with diesel electric propulsion systems.
4. Confidence in all aspects of vessel maintenance and awareness of the safe working practices required.
Further Information
For further information on this vacancy please download and review the "Person Specification and Further Information for Job Applicants" which you will find below. To apply, you must fully complete and submit an online application via this website before the closing date. To learn more about this opportunity, please contact Jim Cahill who can be reached at Jim.Cahill@gov.scot.
If you experience any difficulties accessing our website or completing the online application form, please contact HR Resourcing via recruitment@gov.scot.
Tags: #marinescotland, #Scottish Government vacancies, MSvacancy, protection vessels, research vessels, third engineer, vacancy
Comments