Tackling Serious Organised Crime
Taskforce update – February & March 2017
April 7, 2017 by SOCT Comms No Comments | Category Serious Organised Crime
Welcome to the first blog post for Scotland's Serious Organised Crime Taskforce – a summary of some of the work being done by partners to keep Scotland's communities safe.
The work falls under four strands – Deter, Divert, Detect and Disrupt, underpinning our approach to protecting the public and undermining serious organised crime.
Deter
Cyber resilience
Scottish Business Resilience Centre has recently highlighted the importance of cyber security experts for businesses.
SBRC CEO, Mandy Haeburn-Little, said: "We are now 651 days away from new legislation coming in around the storage and control of personal data in business. No one likes a countdown calendar, but the reality is this will impact on all business, and so basic levels of security including Cyber Essentials are fundamental.
"They're something we should be encouraging business to ­consider. An apprentice or a graduate is an ideal start for smaller businesses. At the recent Scottish Cyber Awards, five of the 11 titles went to universities or their staff – a credit to the exceptional work they are doing.
"Great strides are also now being made beyond universities and into schools, with cybersecurity now included in the syllabus – an initial ­success of the skills work being undertaken under the Scottish Government Cyber Resilience Strategy. Yet for all that groundwork the brain drain persists – as Scotland only provides one in 50 UK cyber security roles."
Divert
Illegal pesticides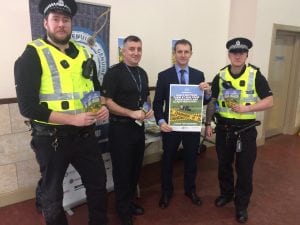 Justice Secretary Michael Matheson joined a Police Scotland operation to raise awareness among the farming community on the potential dangers of illicit pesticides to the food chain and the environment.
As part of the Europe-wide Operation Silver Axe II, the police and partners visited farms and agricultural suppliers across the country to highlight the dangers of illicit and counterfeit pesticides. Although no evidence exists that they are used in Scotland, illicit pesticides are an emerging threat in Europe. The two-week campaign was part of an initiative co-ordinated by Europol against the trade, often run by organised criminal gangs.
Counterfeit event proves to be the Real McCoy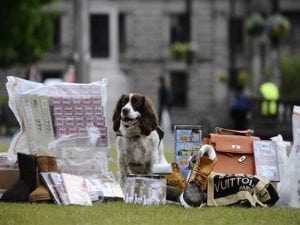 Reports of illicit trade have gone up by nearly 50% since a high-profile event highlighting the associated risks of purchasing counterfeit goods.
The Real McCoy event in Glasgow in May last year was held by the Scottish Anti-Illicit Trade Group while a simultaneous counterfeit goods summit involved representatives from Europol, Interpol and US Homeland Security.
Since then Trading Standards have recorded a 46% increase in reports of illicit trade concerns and the events have reshaped prevention work from a focus on harm to a more positive approach based on values. Educational work has also continued after The Real McCoy, to prevent young people from being drawn in to organised crime or using counterfeit goods.
Detect
Police International Unit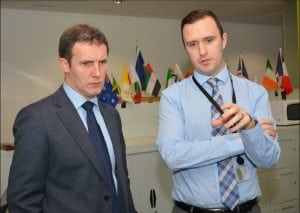 Justice Secretary Michael Matheson and the Lord Advocate James Wolffe stressed the importance of continuing to work closely with European law enforcement during a recent visit to Police Scotland's International Assistance Unit at the Scottish Crime Campus at Gartcosh.
Mr Wolffe said Scotland could become a safe haven for international criminals after Brexit unless current levels of  European law enforcement co-operation are maintained.
The crime campus unit was last year responsible for the arrests of 78 people on Europol's wanted list and handled 34 requests for cross-border surveillance. Seventy-one people wanted by EU member states were extradited while a further 23 suspects wanted in Scotland were arrested under European arrest warrants overseas. Officers also handled 950 inquiries from the international police organisation Interpol.
Human Trafficking
Five people were arrested for human trafficking offences during a Police Scotland day of action in Glasgow in February. Following that police officers and the Slovakian police, supported by Europol, arrested a number of further individuals connected to the same crime group responsible for allegedly trafficking females from Slovakia to the UK.
Further arrests were made, four in Slovakia, in connection with the same crime group.
Detective Inspector Stevie McMillan, Police Scotland, said: "This forms part of what is still very much a live and ongoing enquiry and we will continue to work with other law enforcement agencies, both in the UK and across Europe, to ensure anyone else who has been involved in this crime will be brought to justice.  This is a significant development to ensure the individuals involved in this crime group cannot inflict the same misery and suffering upon other vulnerable victims."
£400k online fraud
Three men have been charged with online fraud worth around £400,000 and money laundering after search of properties in Aberdeen, Manchester and Milton Keynes. Police Scotland's Specialist Crime Division worked with Greater Manchester Police, Thames Valley Police and Immigration Enforcement for the operation.
Major drug seizure
Heroin and cocaine worth around £500,000 were recovered from a property in Dundee and one man arrested in February.
Disrupt
Card-sharing fraud
The first conviction for card-sharing in Scotland happened in Hamilton last month after an operation involving Police Scotland, FACT, Sky, Virgin Media and others. Gavin Gray, 25, advertised his criminal business on dedicated card-sharing websites and forums, supplying unlawful access to homes across Scotland. Police seized £44,500 hidden in Gray's loft, and later seized another £80,000 from his bank account.
Chief Inspector Mark Leonard, the lead for counterfeit and intellectual property for Police Scotland said: "The subsequent investigation revealed that Mr Gray was the lynchpin in large-scale, organised illegal activity known in the industry as 'card-sharing' with clients across the UK and internationally, serviced by his online website from his Bellshill base."
Proceeds of Crime
Four men convicted of corruption and bribery have been ordered to pay back £350,000 under the Proceeds of Crime Act.
Two construction company directors, and the two council officials they bribed, all admitted their role in paying and receiving bribes, in exchange for allocation of maintenance and repair contracts. The corruption involved payment of bribes of more than £42,000 and provision of hospitality worth more than £30,000.
The four were jailed for a total of around 12 years.
Crimestoppers
Ahead of the launch of a new brand, Crimestoppers Scotland has been highlighting their impact across Scotland in 2015-16: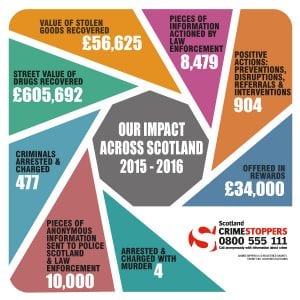 Tags: counterfeit, crime, Crown, cyber, drugs, fraud, human trafficking, police
Comments