Tackling Serious Organised Crime
Taskforce Update – April & May 2017
June 9, 2017 by SOCT Comms No Comments | Category Serious Organised Crime
A summary of some of the work being done by partners to keep Scotland's communities safe.
The work falls under four strands – Deter, Divert, Detect and Disrupt
Serious Organised Crime Taskforce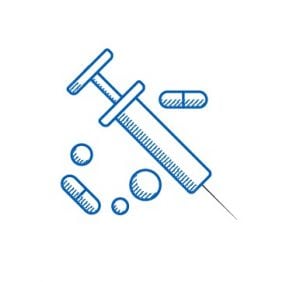 Public Health Minister Aileen Campbell joined the latest taskforce meeting in June, to discuss the illegal drugs trade and its links with serious organised crime in Scotland. Around two-thirds of SOC groups are involved in the supply and distribution of drugs, including new psychoactive substances (NPS). Ms Campbell, along with Justice Secretary Michael Matheson and taskforce members heard of measures to reduce the harm caused by drugs through prevention and awareness-raising activities.
Deter
Cyber resilience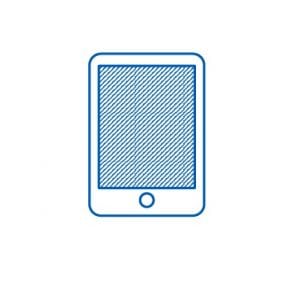 The recent ransomware attack affecting NHS computers, and private and public sector organisations around the world, highlighted the importance of keeping homes and businesses safe, secure and resilient.
Advice for homes and small businesses
Run software and app updates on your internet connected devices
A strong password made up of three random words is your first and best defence against cyber criminals.
Make sure your antivirus product it is up to date and run a scan.
If you have not done so before, this is a good time to think about backing important data up – you can't be held to ransom if you've got the data somewhere else.
The National Cyber Security Centre have published broader guidance on protecting yourself from ransomware and Cyber Aware have simple advice on updates and passwords.
SBRC advice on 10 steps to business resilience
The '10 Steps to Business Resilience' self-assessment tool developed by the Scottish Business Resilience Centre is intended for businesses to proactively ensure their resilience. This online tool includes a series of questions that are designed to prompt internal thought about risk and risk appetite. It is quick and easy to complete and will provide you with an automated resilience report detailing the proportionate level of operational risk and suggestions for mitigation of identified risks.
Protecting children online
The Scottish Government has launched a new national action plan to protect children and young people online. The refreshed plan will help children and young people develop the skills they need to stay safe on the internet and support parents and carers to be more aware of the potential risks that their children face online. The action plan has been welcomed by Police Scotland.
Public sector corruption
A meeting of experts in tackling public sector corruption has been held by Police Scotland. The workshop was aimed at reviewing and improving current training for investigating and preventing public sector corruption.
Divert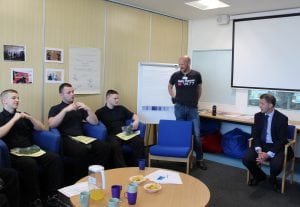 Leadership training at Polmont
Mr Matheson presented certificates to young men at HMP & POI Polmont who had successfully completed a Teambuilding and Leadership Course delivered by the Community Safety Unit, in partnership with Police Scotland, Mentor UK, Committed to Ending Abuse and Barnardos.
Detect
Bogus callers
Police Scotland has launched a high-profile awareness campaign offering simple and effective advice on becoming a victim of bogus callers. Officers, supported by colleagues from Trading Standards, Scottish Fire Service, Care and Repair and the Good Morning Service, are highlighting the dangers posed by confidence tricksters who con their way into people's homes.
Intellectual property crime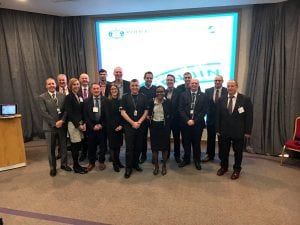 Experts from across Europe met at the Scottish Police College to discuss the emerging threats in intellectual property crime particularly the illegal use of Internet protocol television (IPTV).
UK online searches for illicit streaming devices has risen by 143% in the past year which demonstrates the rapid growth in devices being used for illicit purposes.
The seminar on 18 April, was for European industry experts including stakeholders from the public, private and third sectors. Issues discussed included the diverse nature of the criminality; efforts by industry bodies to provide technical solutions to intellectual property criminality and the ever-changing business models adopted by organised criminal groups to diversify into this highly-profitable field
Garden business fraud
A man has been charged in relation to a fraud worth £180,000 after complaints were made about a company called Gorgeous Gardens in the north-east of Scotland.
Drug seizure
Police have recovered heroin, cocaine and cannabis with a street value of nearly £500,000 from Edinburgh. Two people were arrested during the seizure and appeared in court.
Neighbourhood Watch Scotland

Neighbourhood Watch Scotland, through the Scottish Partnership Against Rural Crime (SPARC), have now completed initial training to Officers within 11 Divisions of Police Scotland on the use of the Neighbourhood ALERT system as part of the Rural Watch Scotland which will be officially launched in June 17.
During April / May a total of 15 targeted ALERTS were sent out through the Scottish ALERT database to our communities giving information, advice on issues such as residential and domestic housebreaking, rogue traders, doorstep crime, scams, telephone fraud, cyber resilience advice, criminal waste activity, counter terrorism reassurance message and Police Scotland 2026 Strategy Consultation. These were sent to 37454 recipients with a potential reach of 215000.
NWS growth continues with 1,500 new registrations since January. Active community engagement continues through meetings with Neighbourhood Watch Groups, Community Safety Panels / Groups, Community Groups, Resident Associations, Housing Associations and Community Councils where the above messages are also reinforced.
Disrupt
Human trafficking – day of action
Police Scotland carried out a national day of action in May to raise awareness of human trafficking and identify potential victims. Around 500 officers, including 50 from partner agencies, visited 80 premises and locations across Scotland including fisheries, car washes and nail bars.
The activity was part of a National Crime Agency coordinated, ongoing response to the threat of modern slavery and human trafficking across the UK.
Property fraud
Prosecutors successfully convicted a husband and wife of fraud after one of the most complex property fraud investigations carried out in Scotland.
Edwin McLaren from Renfrewshire, was found guilty of property fraud totalling about £1.6m at the High court in Glasgow. He targeted people under financial pressure, telling victims he would help to ease their financial difficulties, usually in the form of a loan or leaseback agreement.
His victims thought they were releasing equity from their homes but instead they were signing paperwork which transferred full ownership of their property to McLaren. Some witnesses said they were not only in financial difficulty but also unwell or bereaved.
The 52-year-old, was convicted of all 29 charges brought against him and his wife Lorraine of two.
Civil Recovery
A couple in their 90s have had more than £3,000 returned to them from the profits of a bogus workman after the Crown Office Civil Recovery Unit took up the case.
Alert neighbours become suspicious when they saw Terence Lowther making several visits to the home of the elderly couple in Annan, Dumfriesshire. Lowther had charged the couple far in excess of the value of work he carried out on their roof and admitted unlawful conduct which meant the £3,300 found in his possession could be returned to the elderly couple.
How charity Crimestoppers can help tackle serious and organised crime

Crimestoppers is an independent charity that empowers people to report what they know about crime and criminal activity without the fear or risk of there being a negative comeback. Often they choose us because they are wary of others knowing they have contacted the police: `Snitchers get stitches' as some gangsters threated. This is why our guarantee of anonymity is so important and applies to all those who either call us on 0800 555 111 or use our non-traceable online reporting form.
Crimestoppers work in Scotland
Closer to home, `Scrap the Cash' encouraged Scottish scrapyard dealers to anonymously report other dealers who are illegally trading in cash. We also set up the dedicated Scottish Food Crime Hotline – which is helping tackle organised criminals who put the public's health in jeopardy. Last year 2015-2016 Crimestoppers in Scotland sent 10,000 pieces of anonymised information to Police Scotland and other law enforcement. This led to 900 examples of positive actions taken by police as a result of information received from Crimestoppers.
Comments