Tackling Serious Organised Crime
Taskforce update – October/November 2017
November 29, 2017 by SOCT Comms No Comments | Category Serious Organised Crime
Drugs sentencing
Two men have been convicted after 100kg cannabis resin, with a street value of £325,000, was seized by police. Daniel Adams, 25, and Ian Austin, 39, admitted being concerned in the supply of controlled drugs at the High Court in Glasgow in October. The drugs were found after a vehicle was stopped on the M74 near Cumbernauld last year as part of Operation Lashka.
Ryan Stewart, 41, has been jailed for 40 months after he admitted being involved in the supply of cocaine. Acting on intelligence, police stopped his car as he travelled between Glasgow and Dundee on 7 March 2017 and he was found with drugs worth an estimated £400,000.
Cyber Resilience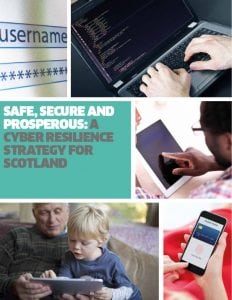 Scotland's public sector will be better protected against cyber-attacks following the publication of a new action plan.
The Public Sector Action Plan on Cyber Resilience will encourage all public bodies to implement the same baseline standards of cyber-security in their organisations, including active threat intelligence sharing, clear cyber-incident response protocols and appropriate independent assurance that critical protection against the most common forms of attack is in place.
Hugh Aitken as the Chair of the National Cyber Resilience Leaders' Board said:
"We're all familiar with the significance of cyber-attacks and recognise just how important it is that we stay vigilant and do whatever we can to get on the front foot.
Illicit goods meeting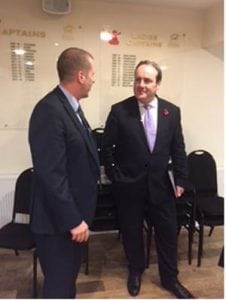 The Minister for Business, Innovation and Energy, Paul Wheelhouse MSP, met recently with members of the Scottish Anti-illicit Trade Group at Grangemouth Rugby Club to hear about their work in reducing the harm caused by illicit and counterfeit goods and how they are working to protect legitimate businesses and jobs. Money generated by the sale of these goods can help support those intent on peddling misery in our communities and the SAITG makes a valuable contribution in implementing Scotland's SOC Strategy.
Proceeds of Crime
Two men have been jailed for proceeds of crime offences. Tariq Rafiq was caught with a holdall containing more than £99,000 following a police operation in Glasgow in 2015. He had been given the holdall by Robert McCutcheon, who was also caught with £62,000 and 15,000 Euros at a property in Paisley as part of the same operation.
Rafiq, 52, anc McCutheon, 31, pled guilty in September and were sentenced to 21 months and 33 months in jail respectively at Glasgow Sheriff Court on October 10.
Working with universities
A presentation on serious organised crime was delivered to the senior management team at the University of Strathclyde in October. DI Hutton and DC Nisbet covered areas including cybercrime, modern slavery and fraud within public bodies.
With a capital investment plan of around £650 million over ten years, the university recognises the need to be aware of the risks from serious organised crime, and the best ways to mitigate that risk.
Phone use in prisons
Plans to prevent prisoners conducting criminal activity from jail have been revealed by Justice Secretary Michael Matheson.
New regulations will strengthen the action that can be taken against prisoners, by using network technology to block active phones in prison, and introducing court orders to remove certain phones from the network entirely.
Mr Matheson said: "The unauthorised use of mobile phones in prisons potentially presents a serious threat to both the security of prisons and the wider public."
Drugs and weapon seizure
Two men have appeared in court after a firearm and drugs worth nearly £130,000 were seized by police.
The items, and a five-figure sum of cash, were discovered by police at properties in Edinburgh on 26 October. Two men, aged 23 and 24, have appeared in court in relation to the offence.
Counterfeit goods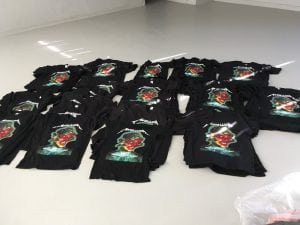 Glasgow City Council's Trading Standards Team seized counterfeit Metallica t-shirts from outside the Hydro concert venue after the band's gig there at the end of October.
Fake poppy-branded products worth around £150,000 were seized ahead of Remembrance Sunday. Nearly 8,000 pieces of counterfeit jewellery were intercepted, including 600 featuring Poppyscotland's four petal poppy design and the words "Lest we forget".
Confiscation orders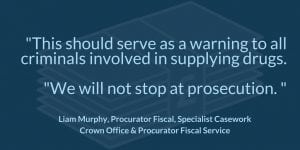 A man who admitted supplying heroin and cocaine in Glasgow has been ordered to repay £100,000.
Peter Fox, 42, was jailed for eight years in December 2016 after he admitted two drugs offences which were linked with serious organised crime.
An investigation found he had acquired a range of luxury items including designer watches and a Mercedes.
In a separate case, cannabis supplier Andy Chun Mak was ordered to repay £11,200 on 2 October, after cash was found in his car during a police raid. Mak has already repaid £60,000 of the £468,000 he couldn't account for in 2012.
County Lines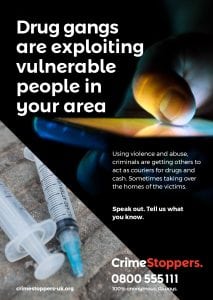 Crimestoppers Scotland are piloting a County Lines campaign in Aberdeen, where organised criminals from London, Liverpool, Manchester and Birmingham are expanding their operations.
The campaign involves tackling drug dealers who set up drug networks outside their usual area of operation. This can often involve recruiting vulnerable adults and children to act as couriers, and setting up base in the rural home of a vulnerable person.
The campaign will encourage local people to 'spot the signs' and report anonymously, while also working with agencies which have direct contact with vulnerable/at risk people in the community.
Sale of unlicensed drugs
A new Police Scotland strategy to tackle online sales of unlicensed lifestyle drugs will measure success on the reduction in public harm rather than seizures or arrests.
Police Scotland and the Medicines and Healthcare products Regulatory Authority are developing algorithms to see what people are searching for online, and where those searches are coming from. The new approach will develop a response which is tailored to and suitable for Scotland, which has different drug issues to the rest of the UK, according to the Herald.
Brakes on unsafe car sales
Second hand car sales have been the target of a campaign by North Lanarkshire Council and Police Scotland to help ensure vehicles being purchased are safe for people to drive.
Trading Standards and Police officers inspected a number of independent dealerships selling second hand cars, resulting in a number of vehicles being immediately removed from sale.
Robert Steenson, DETER lead officer with the Serious Organised Crime Taskforce said: "Serious Organised Crime Groups are often associated with the used car trade. Selling used cars with safety problems can have very serious consequences for drivers, their passengers, other road users and pedestrians."
Illegal car washes

Members of the Scottish Business Resilience Centre met with the Chair of the Petrol Retailers Association to look at ways they can work together to tackle illegal car washes.
The spread of hand carwashes results in significant losses to petrol retailers and the way they are operated raises significant questions about legality, in relation to employee rights and the environment. Research has shown that the fees they charge would make them unsustainable unless operated outside of the law. This suggests a link to human trafficking and illegal working practices with gang-masters operating carwashes across the country, moving staff from site to site, paying little or no wages, providing no suitable clothing and failing to ensure the correct disposal methods for waste water and chemicals.
Supporting communities

Neighbourhood Watch Scotland has established 80 new community watches since 2017 as membership has risen by 22%. Development continues on the targeted Neighbourhood ALERT system which ensures the right information gets to the right people at the right time, including advice on reporting and avoiding the types of crimes which have links to serious organised crime gangs.
A footprint has now been established across all Police Scotland divisions which has seen an increase in ALERT use across Scotland, in a localised and targeted manner. Since September 89 ALERTS have been sent out across Scotland, to 121,543 people who can then go out and spread the information further.
Comments