Tackling Serious Organised Crime
Taskforce update – December 2017 & January 2018
February 8, 2018 by SOCT Comms No Comments | Category Serious Organised Crime
Crime gang jailed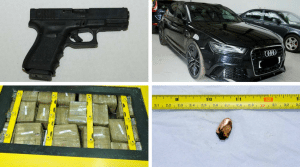 Nine members of an organised crime gang have been jailed for a total of nearly 90 years after one of the most complex prosecutions of serious organised crime in Scottish history.
Serious crime prevention orders have also been granted against seven of the men, with two more due to be decided next month. The orders impose significant and stringent restrictions on their activities, including travel outside Scotland, associating with other named people, owning phones and computers and vehicle use.
Four separate police investigations uncovered multiple crimes including abduction, assault, supplying drugs and possession of firearms, all linked with serious organised crime.
Commenting on the sentencing and SCPOs, Justice Secretary Michael Matheson said:

"I am grateful to the officers and staff of Police Scotland, the Crown Office and SPA Forensic Services for their excellent work in bringing these individuals to justice. It is testament to the expertise and professionalism of our law enforcement agencies, and of course the willingness of members of the public to support them in keeping communities safe."
Human trafficking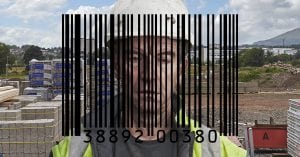 Further action to end human trafficking in Scotland is at the top of the agenda for the latest Serious Organised Crime Taskforce meeting.
The Taskforce, jointly chaired by Justice Secretary Michael Matheson and the Lord Advocate James Wolffe QC, met at the Scottish Crime Campus to discuss an increase in trafficking referrals from Scotland to the National Referral Mechanism.
The first nine months of 2017 saw 155 referrals, a 43% increase on the same period the previous year. This follows a range of recent activity on trafficking, including Scotland's first strategy to effectively deal with perpetrators and support victims, new orders to ban suspects from a range of activity and an awareness-raising campaign to highlight the scale of the issue.
International security and collaboration
Collaboration in tackling cross-border crime was discussed at a meeting between the Lord Advocate and European Commissioner for the Security Union.
James Wolffe QC met Julian King at the Scottish Crime Campus to showcase some of the innovative ways Scotland's law enforcement works together to investigate and prosecute crime. The Lord Advocate emphasised the value to Scottish law enforcement agencies of current Europe-wide arrangements to meet the challenges posed by transnational crime.
The visit came the same week as the Lord Advocate delivered a speech in Brussels, giving a Scottish perspective on tackling transnational crime.
Preventing serious organised crime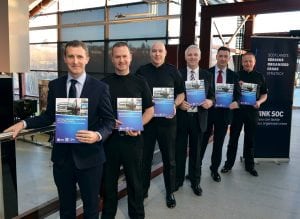 Practical measures for businesses and public sector organisations to protect against the threat of organised crime was the focus of a special conference in North Lanarkshire in December.
Justice Secretary Michael Matheson and Chief Superintendent John McKenzie opened the two-day course at Coatbridge.
The conference was aimed at tackling serious organised crime in Scotland, exploring areas including cybercrime, money laundering, human trafficking and fraud prevention.
Jail for organised drugs gang
Three men linked to serious organised crime have been jailed for a total of over 20 years for dealing heroin and cocaine. Mark Simpson, 47, Steven Vidgen, 38, and Lee Wallace, 39, were found with class-A drugs worth more than £100,000 in Aberdeen.
Police raided a property on Hutcheon Court on 22 July 2016 and arrested the men. The arrests followed a covert surveillance operation which recorded Vidgen and Wallace selling drugs at a city park close to families enjoying the park and children playing.
Reaching out to young offenders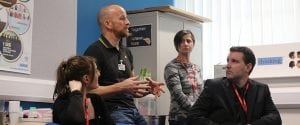 More than 200 young offenders at HMYOI Polmont have taken part in an educational programme but together by Scottish Prison Service and Police Scotland. The project aims to educate young offenders on a range of topics to challenge and alter pre-existing perceptions and behaviours. Working with groups of between seven and 12 each day, the course is available to everyone within the prison.
Subjects covered include substance misuse, serious organised crime, anti-bullying, knife crime, understanding consent and domestic abuse. The course aims to raise awareness of how certain behaviours are criminal and how their actions affect the local community.
The course has a 75% completion rate. It is due to be extended to HMP Low Moss and HMP Grampian, and it is hoped the programme will be extended even further.
Investigating financial crime
Fraud and financial investigation was the focus of the inaugural Economic Crime and Financial Investigators course which ran at the Scottish Police College for ten days in December.
Police officers from across Scotland were trained by specialists on new and innovative approaches to financial investigation.
Training was coordinated by the new Economic Crime and Financial Investigation Unit, which sits within the Specialist Crime Division and at the frontline of tackling major criminals and impacting on serious and organised crime and terrorism.
Crime prevention order for drug dealer
A man caught with drugs and firearms has been given an order designed to prevent him returning to crime when he is released from jail. William Wilson was jailed for five years last month after he admitted two of charges of supplying drugs and two firearms offences.
The court heard that the 37-year-old had been found with heroin worth nearly £135,000 and cannabis resin with an estimated value of more than £53,000. Wilson was also found with an illegal firearm, a bolt action rifle, and ammunition in August last year.
Tobacco and cigarette fraud
Two people have been charged as part of an ongoing investigation by HMRC into a suspected £300,000 illicit tobacco and cigarette fraud.
The investigation was launched after a number of HMRC officers searched a residential address in Glasgow in January.
About 90,000 cigarettes and one tonne of loose tobacco were seized at the address in Glasgow. A 47-year-old man and 43-year-old woman have been charged and remanded in custody.
Confiscation orders
A 39-year-old man from Liverpool has been ordered to repay nearly £40,000 after he was convicted of being concerned in the supply of drugs. Ian Austin was jailed for nearly five years in November after he was caught with cannabis resin worth more than £300,000.
His co-accused, Daniel Adams, 25, from Aberdeen, was given a confiscation order for £2,300. He was jailed for three years and seven months for the same offence.
Criminal finances Act
The power of law enforcement to tackle financial crime has been strengthened with introduction of unexplained wealth orders (UWOs) under the Criminal Finances Act 2017.
The orders, which came into force at the end of January, expands powers to seize suspected criminal property without prosecution.
Courts can issue UWOs for property worth £50,000 or more if there is reasonable cause to believe the person holding the property bought it with criminal money. Applications can be made for a UWO without notice to the person suspected of involvement in serious organised crime.
Financial investigators within Police Scotland have received training from the Crown's Civil Recovery Unit (CRU) ahead of the changes.
Prison for moving drug money
A man has been jailed for trying to send nearly £230,000 of illegally acquired cash to England. Kevin Foley was sentenced to four years imprisonment at Glasgow High Court in January after previously admitting an offence under the Proceeds of Crime Act 2002.
Police received information that a significant quantity of cash linked to drug dealing was to be transported to England on 23 October 2014. Foley, 47, delivered a suitcase full of cash to a woman who was due to drive it south, but the car was intercepted by police at a motorway service station.
Illicit trade
The Scottish Anti-Illicit Trade Group (SAITG) launched an initiative to highlight the dangers of illicit and counterfeit goods to the public in December. The group chairman, Kenny MacAskill, Police Scotland and the Scottish Business Resilience Centre launched the initiative in Falkirk.
The channelling of profits to serious crime gangs linked with drugs and human trafficking, use of child labour and dangerous substances used in production of counterfeit goods are among the issues being highlighted to the public.
Drug recovery
Class A drugs worth nearly £130,000 have been seized during an operation in Aberdeen city centre. Acting on intelligence, CID officers recovered significant quantities of heroin and cocaine last month. A 37-year-old man was arrested and charged in connection with the recovery.
Comments