Tackling Serious Organised Crime
Taskforce update – February & March 2018
April 4, 2018 by SOCT Comms No Comments | Category Serious Organised Crime
Trafficking and Exploitation Prevention Orders
Four men have been jailed for a total of nearly 30 years for holding workers in servitude and other offences including abduction and assault.
Robert McPhee, 65, and John Miller, 38, were jailed for 10 and seven years respectively and received Scotland's first Trafficking and Exploitation Prevention Orders (TEPOs) after being found guilty of the offences which spanned decades. James McPhee, 45, was also convicted of abduction and sentenced to nine years imprisonment.
The TEPOs mean that, for five years after release from prison, McPhee and Miller are restricted in who they can employ, the property they can use and the number of communication devices they can own, among other things.
More information on efforts to tackling human trafficking is available in the Scottish Government's latest newsletter.
Illicit tobacco seizure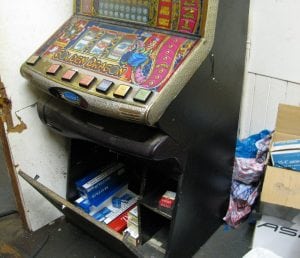 A man has been charged as part of an ongoing HMRC investigation into a suspected £500,000 tobacco fraud. Illicit cigarettes were discovered by Border Force on a trailer which arrived at Rosyth Dockyard from Belgium earlier this month. A 48-year-old man has been arrested and charged with evasion of excise duty.
Separately, more than eight kilos of illegal tobacco and 6,000 illicit cigarettes were seized by HMRC, with support from Trading Standards, immigration enforcement and Police Scotland in Edinburgh.
The visits to retail premises were made as part of HMRC's Tobacco Taskforce activity and led to the seizure of suspect illicit tobacco products worth more than £3,500.
Cheryl Burr, Assistant Director, Fraud Investigation Service, HMRC, said: "Disrupting criminal trade is at the heart of our strategy to clampdown on the illicit tobacco market, which costs the UK around £2.5 billion a year. This is theft from the taxpayer and undermines legitimate traders."
Cyber fraud
More than £7 million has been stolen from businesses and individuals as Police Scotland investigate 19 separate cyber-enabled frauds. Police are urging the public to be alert for the frauds, generally orchestrated by organised criminal gangs operating in the UK or overseas.
The crimes are broken down into three categories – phishing, vishing and smishing – all involving attempts to get personal information by contacting the victim via email, telephone or text message. Police are reminding the public that banks will not contact individuals to ask for personal information or carry out a transaction.
A separate phone banking scam has resulted in residents of Tayside losing around £750,000. Fraudsters phone their victim, claim to be members of the bank's fraud team and encourage them to transfer money to a fictitious 'safe' account.
Targeting gang vehicles
Vehicles linked to rival gangs in the west of Scotland have been seized by Police Scotland as part of efforts to disrupt serious crime.
A total of 28 cars owned by crime gang have been immobilised by officers working with the DVLA which identifies vehicles which are untaxed and uninsured.
Detective Superintendent Kenny Graham said: "Our aim is to disrupt the day-to-day activities of organised crime groups and their families in their own backyards. We're also working with the HMRC, DVLA and DWP to target their legitimate businesses, assets, possessions and unexplained wealth."
Drugs gang
Five members of an organised crime group have been jailed for a total of more than 20 years after they were caught with drugs worth more than £320,000.
Anthony Shrimpton, 39, was found guilty of directing serious organised crime and three counts of supplying drugs. Lee Shrimpton, 37, John Campbell, 49, and Harald Reid, 25, admitted supplying drugs, offences which were linked to serious organised crime, while Elliot Edwards, 22, admitted an offence under Proceeds of Crime legislation.
A Serious Crime Prevention Order (SCPO) was also imposed against Anthony Shrimpton. The order, which lasts for five years after release from prison, places restriction on his travel to Scotland and on association with seven named people.
Crimestoppers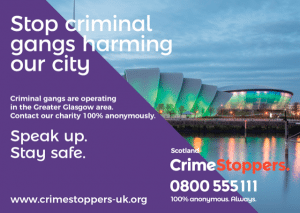 A campaign has been launched in Glasgow by Crimestoppers, in partnership with Police Scotland, to raise awareness of serious organised crime and the harm it can do to communities and businesses.
The social media campaign, focused on the Greater Glasgow area, asks people to contact Crimestoppers anonymously if they have any information about activity linked to serious organised crime.
£500k drugs seizure
Drugs worth around half a million pounds have been seized by Police Scotland after an intelligence-led operation in Cardonald.
A significant amount of heroin, cocaine, cannabis, amphetamines were found, along with other drugs, during the raid in February. Two men and a woman were arrested and have appeared in court.
Business engagement
The Scottish Business Resilience Centre has been working with Police Scotland and the Petrol Retailers Association (PRA) on engaging with businesses which may be vulnerable to serious organised crime groups. Initial talks have discussed the idea of a Trusted Trader style scheme for the haulage industry, to promote best practice and work better to secure their business sector.
Work with the PRA is also looking at tackling hand car washes which may be involved in human trafficking, and how awareness can be raised among key investors and stakeholders.
Third sector resource
The role of the third sector in helping to deter serious organised crime, and reducing the harm it causes, is the subject of a new resource produced by the Criminal Justice Voluntary Sector Forum, in partnership with the Taskforce.
The new document provides a starting point for managers, trustees and staff teams to discuss their organisation's own exposure to the risks posed by serious organised crime, and consider what can be done to address these risks.
Confiscation orders
Two men who admitted being involved in the supply of heroin worth more than £100,000 have been ordered to repay the proceeds of their criminal activity. Shaun Watson and Kristopher O'Malley were jailed for six and a half years each in June last year after they admitted directing others in the supply of drugs.
Watson has now been ordered to repay £17,000 of money made through criminal gains, and O'Malley will have to repay more than £14,000, after confiscation orders were granted against the pair.
Counterfeit crime
Illicit and counterfeit goods worth more than £680,000 have been seized in North Lanarkshire and South Lanarkshire over three months. It is the third time in as many years that Trading Standards officers have assisted Police Scotland officers to target serious and organised criminals by disrupting their legitimate activity while targeting their illegal operations.
North Lanarkshire Council Assistant Chief Executive Robert Steenson, who sits on the Taskforce, said: "Organised crime is a real and present danger in many communities and poses a significant threat to legitimate businesses.
"These groups have no morals, have no regard for the public and will attempt to infiltrate any target they can make money from. The SOCT and all its partner agencies will continue working with both the wider public and legitimate businesses to tackle this blight in areas right across Scotland."
Money mules
Police Scotland is warning people not to fall into the trap of becoming a 'mule' for money laundering by the offer of quick cash.
In 2017 there was a 105% rise in the number of people being used as money mules – facilitating laundering of transferred cash through their personal bank accounts – in the UK. More than half are aged under 30, with students and the unemployed being particularly vulnerable to being used as mules.
Money mules are recruited through bogus online job adverts and can be asked to transfer money on behalf of people or withdraw funds and send it overseas using money transfer services. Penalties for involvement in money laundering can include up to 14 years in prison and difficulty obtaining finance in the future.
VAT fraud
Assets worth more than £2.5 million have been recovered from a man linked to an extensive VAT fraud on a global scale. Land, properties, bank accounts, jewellery and cash belonging to Ronnie Decker are among the assets being handed over to the Crown.
The Crown's Civil Recovery Unit (CRU) secured forfeiture of the assets in April 2016 but Decker raised a legal challenge to keep some of the items.
The assets, held in various countries including France and Antigua, will now be handed over after the case settled out of court.
Neighbourhood Watch
An alert warning communities about fraudsters claiming to be from HMRC has reached nearly 20,000 people. The localised report from Neighbourhood Watch Scotland gave details of the specific scam and methods used.
Neighbourhood Watch Scotland has seen a 37% growth in membership, and creation of 98 new watches, over the last 12 months. Neighbourhood ALERTS send out targeted information on a range of topics, including crimes commonly used by organised groups.
Comments