Tackling Serious Organised Crime
Taskforce update – April & May 2018
May 31, 2018 by SOCT Comms No Comments | Category Serious Organised Crime
A summary of some of the work being done by partners to keep Scotland's communities safe. The work falls under four strands – Deter, Divert, Detect and Disrupt.
Early intervention service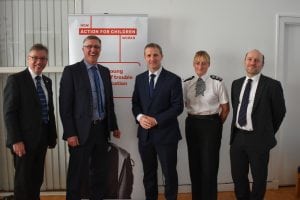 Action for Children Scotland's Serious Organised Crime Early Intervention Service has secured funding to continue its work for the next three years.
Over the next three years the service will work with around 250 young people on the cusp of organised crime and their families. Action for Children Scotland works in collaboration with partner agencies including Big Lottery Fund, Glasgow City Council, Police Scotland and the Scottish Government.
A recent study by the local authority found 71% of young people who have used the early intervention service were kept out of secure care for at least six months during involvement with the programme.
Banking Protocol
Nearly half a million pounds of fraud has been prevented in Scotland thanks to a ground-breaking partnership between the banking industry, law enforcement and Trading Standards.
The Banking Protocol was introduced in Scotland on 5 March, after a national rollout across the UK began last May. The fraud prevention scheme enables bank staff to contact police if they suspect a customer is in the process of being scammed, with an immediate blue light response sent to the branch.
Since its introduction in Scotland, 76 victims have been prevented from losing a total of over £450,000, and two people have also been arrested in connection with such scams.
VAT fraud arrests
Two men have been arrested as part of an investigation by HM Revenue and Customs (HMRC) into a suspected £12 million VAT fraud.
HMRC officers searched two residential addresses in the Glasgow area on Thursday 10 May. Several items, including mobile phones, laptops and computers were seized from the addresses and two men, aged 60 and 45, have been arrested.
Freight and haulage crime
Freight, haulage and logistics industry crime is the focus of a Scottish Business Resilience Centre short-term working group which had its inaugural meeting in May.
Officers from Police Scotland working in intelligence, roads policing, rural crime and command & control also attended the meeting, which is aimed at improving the processes within the police and the industry. The group is considering the crime recording process, refreshing the safe load scheme and guidance documents on high value loads.
Vishing fraud
Victims in the north-east of Scotland have been scammed out of £1.2 million in vishing frauds over a three week period.
In most cases victims have received a phone call from someone pretending to work at their bank, and are told that fraudulent activity within the organisation is being investigated. The victim is asked to move substantial amounts of money into foreign accounts for safe-keeping and not to report the call for fear of ruining the investigation.
Detective Inspector Iain McPhail, of the Economic Crime and Financial Investigation Unit, said: "Scams like these are completely sickening, with the criminal at the other end of the phone having no regard for their victim and the devastation their actions will cause. Pension pots and retirement funds can be stolen within a matter of minutes, with hard-earned savings wiped out without warning."
Juror jailed for taking bribe
A 62 year old, who was the first juror to be prosecuted under the Bribery Act 2010, has been sentenced to six years in prison.
Catherine Leahy served on a jury in a drug trafficking and money laundering trial which returned a not proven verdict in April 2016 following three days of deliberation.
A police investigation was instructed after information was passed to Crown Office staff regarding an alleged bribe to a juror.
Police and Crimestoppers partnership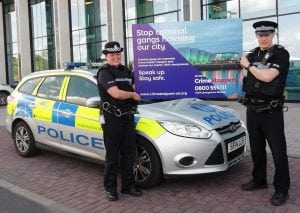 Police Scotland has linked up with independent charity Crimestoppers to help tackle serious and organised crime groups in Glasgow by encouraging people to speak up 100% anonymously.
Officers will be taking to the streets with Crimestoppers postcards and handing them out to local businesses in efforts to gain valuable information which will assist in enquiries into criminal groups.
David Hunter from Crimestoppers said, "We are asking the public to speak up anonymously if they suspect or know someone involved in serious and organised criminal activity. We urge anyone who has information about who is involved to contact us 100% anonymously. We do not take personal details and we can't trace information given to us by phone or online. No-one will ever know you contacted us."
NCA assessment on organised crime
The 2018 National Strategic Assessment (NSA), which draws intelligence from UK law enforcement, government departments, the intelligence community and the private and voluntary sectors, has been published.
The assessment provides evidence that the scale and complexity of organised crime continues to grow despite notable operational successes.
The NSA highlights overlaps and links between all threat types. It also emphasises that criminals are abusing technology and the impact of globalisation to adapt their methods of committing crime. They operate as part of groups, networks and as individuals.
Campaign to end illegal puppy farming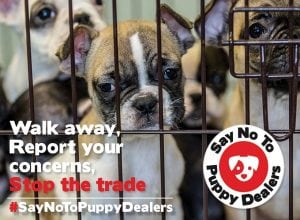 Animal charities, trading standards and the Scottish Government have joined forces to launch a new campaign aimed at bringing an end to the "evil" puppy farming business.
Sales of pups from illegal factories are estimated to have netted £13 million in Scotland last year alone.
The new Say No To Puppy Dealers website has the backing of the Scottish Government, Edinburgh Dog and Cat Home, the RSPCA, Battersea Dogs trusts, Trading Standards Scotland, the Blue Cross, OneKind, the British Small Animal Veterinary Association (BSAVA) and the University of Edinburgh.
Drug seizures
Two people have appeared in court after class A and B drugs worth nearly £200,000 were seized in Fife. Cocaine, amphetamine, ecstasy and MDMA were seized from a car on 3 May. A man and woman, both aged 28, were arrested and appeared at Kirkcaldy Sheriff Court the following day.
A 22-year-old man has appeared in court following recovery of a cannabis cultivation worth around £380,000. The recovery was made on 29 April at a rural property in New Aberdour. The man appeared in Peterhead Sheriff Court on 1 May.
Separately a 42-year-old man has appeared in court after class-A drugs worth more than £200,000 were recovered in Aberdeen in April.
Jail for importing a handgun
A 32-year-old man who tried to import an illegal firearm from America has been jailed for three and a half years.
Craig Samson tried to have the Glock handgun sent to Scotland hidden inside a loudspeaker. US Homeland Security intercepted the parcel, which was addressed to Samson's home in Glasgow, at Newark Airport, New Jersey in March 2017.
No More Ransom
Police Scotland has become the first UK police force to become a supporting partner of the No More Ransom Initiative, after cooperation between Police Scotland and Europol's European Cybercrime Centre (EC3).
This means Police Scotland has a dedicated link between the No More Ransom home page, where advice and partner information can be viewed, and their own website where crime can be reported.
The No More Ransom portal was launched on 25 July 2016, by the Dutch National Police, Europol, Intel Security and Kaspersky Lab, introducing a new level of cooperation between law enforcement and the private sector to fight ransomware together. Its aim is to provide a helpful resource for victims of ransomware, allowing them to get their files back without paying the criminals.
Counterfeit shopping online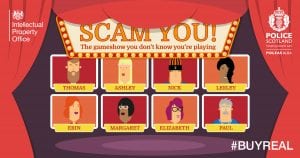 Police Scotland officers are working in partnership with the Intellectual Property Office to reinforce the need to ensure security while spending your cash online.
An animated game show based on cases investigated by Police Scotland has been developed to highlight the dangers of shopping online without taking proper steps to protect your security.
It comes after a major brand identified around 2,700 websites on the .uk network selling counterfeit items of their goods. More than 200 of these sites were registered in Scotland.
Crime prevention order for drug gang leader
A crime gang involved in trafficking quarter of a million pounds worth of drugs into Scotland has been jailed and restrictions imposed on the gang leader.
Michael Carroll, 34, Lee Curtin, 42, and Donald Gray, 50, were involved in the supply of heroin, cocaine and cannabis worth more than £260,000.
The gang were sentenced to a total of nearly 11 years in jail in April and a Serious Crime Prevention Order (SCPO) was imposed against Carroll on 14 May. The order, which lasts for five years after he is released from prison, restricts his association with three people including some of those involved in the case and ownership of communication devices.
Scots arrested as cyber attack website shut down
A website blamed for more than four million cyber attacks across the world has been shut down.
Two men Scotland were among seven people arrested, while an address in West Yorkshire – linked to attacks on seven of the UK's biggest banks last year – was searched. Other arrests were made in Serbia, the Netherlands, Croatia and Hong Kong, while servers were seized in Germany as the service was shut down on Wednesday.
Europol said the website was considered the world's biggest seller of so-called distributed denial of service (DDOS) attacks, in which high volumes of internet traffic are launched at target computers to disable them.
Properties from criminal gains are seized
Seven houses bought using proceeds from crime have been recovered by the Civil Recovery Unit (CRU).
The houses in Glasgow were taken from Harold Bennett, 49, and Christine Clements, 50, along with £45,000 cash and three designer watches.
After an investigation by the CRU's expert solicitors and financial investigators, the couple conceded that money, watches and flats had been obtained through unlawful conduct.
Confiscating drug profits
A drug dealer caught with hundreds of cannabis plants has been ordered to repay nearly £120,000.
Alistair Ash was found guilty of being involved in the supply of drugs after a trial in 2016 and was jailed for three years. The court heard that police found nearly 580 cannabis plants and a sophisticated hydroponics system at a warehouse he owned.
Separately, a painter and decorator who admitted supplying cocaine and cannabis has been ordered to pay £70,000 after a confiscation order was granted at Hamilton Sheriff Court in April. Steven Reilly, 49, was jailed for 15 months in 2017 after he pled guilty to two offences under the Misuse of Drugs Act 1971.
A confiscation order for nearly £24,000 has been granted for Stephen Nisbet, 49, who was convicted of producing cannabis in 2016.
Separately Morrison Baxter has been given six months to pay £14,000 after a confiscation order was granted at Airdrie Sheriff Court in April. Baxter, 39, admitted being involved in the supply of drugs in 2017.
Jail for drug trafficker
A 41 year old man who tried to traffic cocaine worth nearly £200,000 has been jailed for six years.
Jason Lindsay admitted being concerned in the supply of drugs at the High Court in Edinburgh on 3 May 2018. The offence was aggravated by a connection with serious organised crime.
A court order designed to prevent Lindsay returning to crime when he is released from jail was also imposed. The order will place restrictions on Lindsay's ability to travel to Scotland and the number of communication devices he owns.
Comments