Tackling Serious Organised Crime
COVID-19 and Crime
September 21, 2020 by Jim Hislop No Comments | Category Serious Organised Crime
At the most recent Serious Organised Crime Taskforce meeting which I chaired, we discussed how organised crime were exploiting the impact of Coronavirus.
During lockdown when we asked people to stay at home to protect themselves and others, organised crime groups were taking advantage of the pandemic to make money.
Because these groups do not feel bound by the same constraints – legal, moral and even national boundaries – as the rest of us, they will exploit any situation for their own selfish gain.
We saw evidence of organised criminals looking to defraud schemes to help businesses and their employees – threatening livelihoods and business sustainability.
We saw organised criminals using online scams offering to sell counterfeit goods including PPE, testing kits, fake sanitiser and 'miracle cures' – threatening personal safety and, potentially, life.  Others attempted to have a fake COVID-19 testing kit produced in order to have persons go door to door to commit thefts using the sale of testing kits as a distraction.
We know that suppliers of illegal drugs used the pandemic to justify significant price increases, boasting of "making a fortune".  We know that, in some areas, heroin and cocaine are being heavily cut with other substances to maximise profits.
Impact on Scotland
Organised crime groups prey on the vulnerable members of our communities.  This threatens society and business and is particularly harmful to young people.
More than ever, it is clear that organised crime is not something that happens 'somewhere else' or to 'other people'.  Contrast this criminal activity with the efforts ordinary people made when staying at home.  If you're feeling angry, you should be.  These are not new criminals taking advantage in this way. These are the same criminals who cause so much harm by trafficking in drugs and people.
Organised crime affects us all and we pay for it every day, directly as victims or indirectly by paying for the services – police, prosecution, the health services that are required to respond to it.
We know that small businesses, which might already be struggling, are vulnerable to pressure from criminals, perhaps through loans or buyouts.  Legitimate businesses lose out when counterfeit goods are purchased.  This often results in those businesses closing in areas where the closure will be felt strongly by the community they serve, leaving boarded-up premises and fewer jobs, furthering the conditions which allow organised crime, and the violence that can be associated with it, to spread.
Impact on Children and Young People
We know that children and young people became increasingly vulnerable during lockdown due to the lack of sport and leisure opportunities and routine engagement with everyday society.  This in turn can lead to increased use of the internet.  While schools have reopened, many of the risks have not gone away.  We know that organised crime groups try to exploit young people. This makes the work of Serious Organised Taskforce partners like Action for Children, as outlined below, all the more important.  But it's not enough to rely on the work of agencies and the third sector. We all have a responsibility to be vigilant if we are to keep our children and young people safe. Parents and carers can find information on how to keep their child safe online at https://www.parentclub.scot/articles/online-safety
Other consequences of lockdown included impacts on human trafficking victims hidden in our communities across Scotland.
Human trafficking is an issue across Scotland. We know that victims of human trafficking and exploitation have become more vulnerable during lockdown, where opportunities for criminals to exploit them for gain through sexual or labour exploitation were restricted.   As restrictions start to ease we all have a part to play in keeping an eye out for possible victims. You can find out more on the SG human trafficking website or in our factsheet Spotting the signs of HT (available in a range of languages via the SG website) and you can get help and advice or report suspicions to the Modern slavery helpline.
Fraud and Scams
We know that opportunities for criminals to defraud the public increased as businesses moved online The Scottish Government, the National Cyber Security Centre and Police Scotland are working together to provide organisations and individuals with advice and guidance on the cyber fraud threat.
A number of initiatives have been put in place including Police Scotland's 'Shut out Scammers' campaign and Trading Standards Scotland's Scam Share e-Bulletin.
Online resources to help individuals stay safe online include the National Cyber Security Centre website, the Cyber Essentials Scheme, Cyber Aware, Take Five and Get Safe Online.
So what are we doing?
Organised Crime Taskforce members continue to work together with other organisations at home and abroad to tackle these threats.  This multi-partnership approach has delivered notable successes during lockdown such as Operation Barricade noted below, but there is more to be done. We will have the greatest chance of success if everyone in Scotland plays their part.
So what else can we all do?
We all have a part to play in this. Although there is no single cure that we can use to eliminate organised crime, we all have the means to do something about it.  We can all be vigilant.  We can all make sure that the goods we buy are what they say they are and come from a legitimate source.  We can all report suspicious activity.
If you see something, say something by contacting either Police Scotland on 101 or anonymously to Crimestoppers on 0800 555 111.
Action for Children is one of the Serious Organised Crime Task Force partners. It delivers a Serious Organised Crime Early Intervention Service to help vulnerable young people who are at-risk of being exploited by Organised Crime Groups (OCG).
"Throughout lockdown, Action for Children continued to conduct wellbeing checks and offer additional support to at-risk young people. Through the distribution of support including food, care packages and shopping vouchers, they have provided doorstep visits and socially distanced walks to maintain 'eyes on' assessments and offer support in line with evolving needs and emerging issues.  These issues include:
'known' young people at risk of being drawn back into organised crime as a result of lack of diversionary activities and increased pressures due to lockdown, for example deteriorating mental health, family conflict, domestic violence, substance misuse, lack of positive supports, lack of respite from adverse home environment
More young people experiencing financial hardship and poverty related issues who are at risk of exploitation by organised crime groups, for example those with insecure jobs in the 'gig economy' who are most affected by the crisis
Young people building up debt with drug dealers which they will be required to 'pay back' through committing criminal acts or by working for organised crime groups
Young people who may not traditionally be involved in organised crime who are now being drawn in to distributing products for organised crime groups
Increased risk of harm, including drug deaths, through supply and distribution of 'street' drugs such as valium
This face-to-face support has always been a key part of Action for Children's work. We pride ourselves on that relationship-based approach and while the outbreak of Covid-19 has seen us adapt our way of working, the level of support we provide has not changed."
Paul Carberry, National Director at Action for Children, Chair of the Divert work
Operation Barricade
Operation Barricade is a Police Scotland intelligence led investigation, developed as a result of intelligence received from European partners via the National Crime Agency. The operation relates to a Serious and Organised Crime Group (SOCG) involved in the acquisition and distribution of encrypted communication devices to other SOCG's throughout Scotland in furtherance of significant criminality including, but not limited to, drug trafficking, supply of firearms, theft of motor vehicles to facilitate crime, violence and conspiracy to murder.
As a result of action taken the following was seized:
29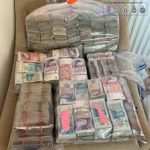 9 kg of commodity (wholesale value around £10.25 million)
Circa 330,000 white Etizolam tablets (£165,000)
Circa £ 7 million cash (TBC on conclusion of forensics)
A quantity of firearms and ammunition
57 arrested
Assistant Chief Constable Angela McLaren said:
"These seizures are some of the largest by the service since it was established and intelligence-led proactive operations have been undertaken in partnership with the National Crime Agency and the UK's Border Force.
"Keeping our communities safe and continuing to make the country a hostile environment for those who blight our society with the scourge of drugs remain priorities for Police Scotland.
Tags: fraud, human trafficking, organised crime, police, scams, SOCT
Comments