Child Protection Improvement Programme
Guidance for practitioners on criminal exploitation: Early intervention for those at risk
August 9, 2023 by Lewis Worobec No Comments | Category Uncategorized
We have recently published practitioner guidance on criminal exploitation. This comprehensive document serves as a crucial resource for professionals working within police, social work, health, the criminal justice system, education and the third sector. Designed to tackle the pressing issue of criminal exploitation, the guidance aims to equip practitioners with the necessary knowledge and tools to identify children and adults who are being criminally exploited or are at risk of being exploited.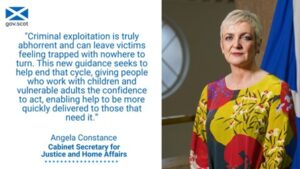 Understanding Criminal Exploitation:
Children, young people, and adults from any background can be criminally exploited, however, children (up to 18 years) and vulnerable adults are more likely to be exploited. Criminal exploitation is when an individual or group uses an imbalance of power, violence, or the threat of violence to manipulate or deceive an individual into criminal activity for financial or other gain of the perpetrator.
Key Objectives of the Guidance:
Raising awareness:
The guidance raises awareness among professionals regarding the signs and indicators of criminal exploitation. By promoting a deeper understanding of the tactics employed by these criminal networks, practitioners can identify potential victims and intervene at an earlier stage.
Collaborating with different agencies:
The guidance emphasises the significance of multi-agency collaboration. By encouraging professionals from various sectors to work together, share information, and coordinate their efforts, the guidance seeks to enhance the safeguarding of vulnerable individuals and disrupt the operations of criminal networks.
Tailored Support and Intervention:
The guidance recognises the need for tailored support and intervention for individuals affected by criminal exploitation. It provides practitioners with practical strategies to engage with victims, build trust, and offer appropriate support services. In doing so, the guidance aims to break the cycle and provide avenues for recovery and reintegration.
Implications and Impact
The publication of this practitioner guidance is a significant step forward in the Scottish Governments commitment to protecting vulnerable people and communities. By equipping practitioners with the necessary knowledge and resources, this guidance helps to ensure a proactive and effective approach to tackling this complex issue.
Conclusion
The Practitioner Guidance on Criminal Exploitation is an important milestone in the ongoing fight against organised crime and the safeguarding of vulnerable people and communities. By providing practitioners with a comprehensive resource, the guidance supports them to identify and prevent criminal exploitation. Through collaboration, tailored support, and increased public awareness, Scotland is taking strides toward creating a society where criminal exploitation is less frequent, and vulnerable individuals are better protected.
Resources
Tackling criminal exploitation – gov.scot (www.gov.scot)
Criminal exploitation: practitioner guidance – gov.scot (www.gov.scot)
Child sexual abuse and child sexual and criminal exploitation – Child protection – gov.scot (www.gov.scot)
National guidance for child protection in Scotland 2021 – gov.scot (www.gov.scot)
Serious Organised Crime Taskforce – gov.scot (www.gov.scot)
Comments