Health and Social Care
Chief Officer's Spotlight: David Leese, Renfrewshire
October 26, 2015 by Linda White 1 Comment | Category Spotlight
When I took on the role of Chief Officer for the Renfrewshire Health and Social Care Partnership (HSCP) I was excited by the challenges that faced me and the senior team.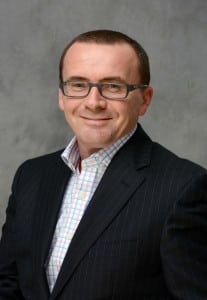 The challenges were complex – at its simplest I was struck by the need to lead the process to create a new organisation through 2015/16 (and beyond), balancing this with managing day to day strategic and operational issues, building knowledge (given I have almost 25 years of experience as an NHS manager) of the social work service arena, and starting to understand and work with and within the wider Council and NHS systems.
These challenges will be familiar to many of you. I am sure these challenges and my approach reflects what you all have faced and worked on.
My main goal was to ensure I moved quickly to get to know the senior leaders in both organisations and invested time in establishing relationships and shaping ways of working. I also moved quickly to get to know the senior and middle level managers – this group are vital to how quickly the new organisation develops – for they are the 'tone setters' and 'culture shapers' for the new organisation – given they work closely with our GP practices, manage our staff and resources and are therefore at the heart of shaping how we plan, deliver, lead, communicate and engage.
So from the start I was really focused on keeping all the current plates spinning – ensuring we were delivering excellent services, managing our financial challenges, being service user and patient-centred in everything we do. But I have also been clear that in this first year it is vital to get our GPs, staff and managers to a place where they understand, believe in and are shaping the way the new organisation thinks, works and behaves.
That's why – from when I was appointed earlier this year ‐ I have been working to get to know our staff and understand their services and their challenges. In my early and subsequent work with managers/leaders it was important to work together to shape a simple vision for the new HSCP. A vision that is clear in its focus on people, clear in the role and purpose of the new organisation, its structures and ways of working, clear on the outcomes it is seeking to deliver and clear that we must create an HSCP that is wholly collaborative in its approach. I was also clear that from all my experiences as a senior leader, that our new HSCP builds and optimises the capacity and competencies of individual members of staff and our teams
 So this is the journey we are on. Yes, focussed on delivering excellent services in the best possible way. But also focussed on developing how we effectively engage with our GPs and developing our staff, managers and leaders to be involved, engaged and active in shaping how the new HSCP plans, delivers, thinks, works. At our recent Leaders Network I asked everyone to explore how they can best respond to the challenges we face and to think how individually and collectively they can develop and improve to:
Focus on doing day‐to‐day operational things extraordinarily well
Be more curious
Learn and develop more than in the past
Deliver more than is needed
Be positive and passionate.
Lose negativity wherever possible
Lead well and inspire others
Aim big but start now to take small improvement steps
Be resilient
It is still early days but my instinct is that we are progressing well and are determined to make 'integration' work. However, let's not lose sight that it takes time for people to adapt, develop and improve and for new organisations to become established and to flourish. I am clear that it is our HSCP staff, managers, leaders and our GP practices who will make this all work.
And I know that it is vital that I work in a way to provide leadership to create the right organisational environment to make this happen, at the right pace, and to become a reality.
Comments