Health and Social Care
Housing Solutions Change Programme: Training modules evaluation report
November 1, 2019 by Isla Bisset No Comments | Category Housing, Occupational Therapy, Older people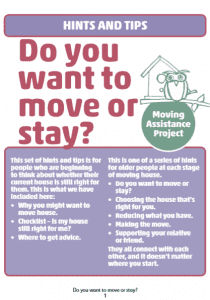 Following on from the Scottish Government's Adapting for Change improvement programme Healthcare Improvement Scotland's Improvement Hub (iHub) commissioned the development of the Housing Solutions change programme,.  The programme aimed to embed learning, and ensure practitioners involved in the housing adaptations process had the skills they need to help people make informed decisions about their homes.
Healthcare Improvement Scotland have carried out an evaluation of the change programme between March 2018 and 2019.  The programme aimed to jointly train practitioner trainers from health and social care partnerships (HSCPs) and housing partners to equip them with the skills and knowledge to deliver the training programme within their own localities, and evidence the benefits this has delivered.
The report highlights the main purpose of the Housing Solutions programme is to change the way in which wider housing needs are recognised and responded to by front line staff. It focuses on early intervention and effective 'housing conversations', and encourages staff, irrespective of professional background or agency, to engage in a simple way with people about their housing situation. Housing Solutions is underpinned by the values of choice and control, by empowering people to explore at a much earlier stage the types of solutions that may be best for them and tries to avoid the crisis situations and service responses, which are all too prevalent.
The training helps staff to identify how to engage with people, and what to say, to explore the feelings that people have about where they live. It is notable that even experienced practitioners (for example occupational therapists) have acknowledged the benefits of taking this different approach, and welcomed this training as a refresh for their own practice.
"I feel more able to have an open and honest conversation around the fact that adaptations in a house which is not meeting their overall need will not solve all problems they are encountering."
The other critical aspect of 'the right housing conversation' is about when it should take place. Through the Adapting for Change work a review of case studies from across the five sites, highlighted common issues related to re-housing and adaptation opportunities being discussed far too late, and often as part of a crisis response. A stage at which people are at their most vulnerable and least likely to be able to cope with big decisions.
The Housing Solutions change programme encourages staff and agencies to avoid this situation as much as possible by supporting a wider range of staff to engage with people much sooner about the likely impact of changes in their health and well-being on their housing needs, and to sow the seeds about potential alternatives and different housing solutions to consider.
"I have supported two elderly clients to be rehoused by engaging in a Housing Solutions conversation. In both cases neither of these clients had considered rehousing but were starting to struggle with their environment. This avoided a crisis situation and has helped these 2 people regain their independence. I feel the Housing Solutions approach is empowering for staff."
The Housing Solutions programme is helping to drive forward meaningful engagement amongst housing and Health & Social Care partners at both strategic and operational levels.
There is emerging evidence that it is effecting change in terms of inter-agency staff attitudes and behaviours around the housing agenda, and delivering effective outcomes for people in our communities who are making informed choices at the earliest stage, around their longer term housing needs.
As at March 2019, 75 housing and HSCP based staff have been trained as Housing Solutions trainers from across 22 HSCP localities.
These joint trainers have gone on to train 885 staff within their services and have ongoing, rolling programmes arranged to target key staff and stakeholders across all sectors.
With the help of the ihub, many partnerships have also been able to develop their own Housing Solutions booklets.  Examples from Falkirk and Glasgow are available on the iHub's website.
Taking a Housing Solutions approach is a simple and cost-effective way to improve joint working between housing, and health and social care agencies, and supports the wider strategic objectives around early intervention, prevention and integration.
For more information on the Housing Solutions change programme, please email the ihub's Place, Home and Housing portfolio (hcis.phh@nhs.net) or visit the iHub's website.
Comments