Health and Social Care
Self management support for carers of people with Neurological Conditions
May 10, 2022 by Phil Sizer - Lead Trainer, The Pain Association No Comments | Category Carers, health & social care, neurological conditions, Training, Wellbeing, Workshop
Pain Association Scotland has championed the self-management approach to health for many years.  That experience has led to an approach that is informed, honest and engaging.
Although 'it says pain on the tin', the principles that we work with are person, not condition focussed.  Our approach is that health affects life and life affects health, improve one and you improve them both.  This means dealing with anything that affects a person helps them to manage and cope better. You can see a lot of this in the popular diagram here:
The diagram illustrates the idea that people become enmeshed in a number of issues. Interestingly this knot is not unique to people with health issues.  As we'll go on to see, it's especially relevant to carers.
Neurological Project
In 2020-2021 Pain Association delivered five intensive self-management courses online which were aimed to help the carers of people with Neurological conditions.  The project was made possible with welcome funding from the Neurological Care and Support – a National Framework for Action.
The idea for the project came from feedback at groups and talks in which it became clear that carers 'ran on empty'.  We were often told that carers often put their own needs last and sacrificed a great deal, sometimes to the detriment of their own health and wellbeing.   These pressures increased during the pandemic when anxiety levels rose and people became isolated from their normal sources of support.
The project aimed to help those carers and help them to manage and cope during a difficult period. We also wanted to help the people they cared for.
We hoped to do this in three ways:
At the first level we aimed to help carers to care for the people they cared for by exploring self-management ideas together in a supportive group setting. In practical terms that meant dealing with: stress, pacing, anxiety, nutrition, sleep, communication, confidence and anything else that came up!  What actually came up on every course was a lot of problem solving.
At the second level, we planned that in the process of discussing self-management ideas, that carers would see that they were applicable to themselves. This certainly started to happen as the courses progressed. The hoped for pennies started dropping as carers realised that, as one lady said: I know its obvious, but I've finally realised that this is taking a toll on me and that if I don't look after myself I wont be able to care like I want to. 
The really important third idea was to engender joint working. That carers and the people they cared for would work on adopting the ideas together, so that 'care' could flow in both directions, creating, we hoped, a new situation in which both people could prosper.
Reflections
The experience of running the courses was different in kind to many other courses, mainly because for every participant there was the person they were caring for as a silent presence.  In fact sometimes this wasn't so silent with some couples attending together.  There were also some professionals who attended which meant that there was a very mixed set of needs and interests.
It was interesting that many participants did not share much about the person they cared for. Of course we respected this, but it made it hard to know what I was dealing with.  As usual with group work, a lot of ideas were thrown in the air in the hope that people caught them.
As anticipated, there was a high percentage of Carers with their own significant health issues.  At first these were dismissed and medicalised eg. One lady said "there's nothing I can do about my health, it's just how it is".  But as the as the course developed people opened up, shared their experiences, but also processed the ideas that were being shared.  Some of these were a little challenging at times and a few apple carts were tipped gently. There was also a great deal of group based problem solving.
One of the biggest shifts on these courses is the realisation that health is not just a medical issue and that people do have the ability to make a difference themselves.  At the beginning of each course there was certainly a lean towards medicalising problems, both for the carer and the person cared for, but as things developed, people started to see that they could lean the other way. They saw that there was value in dealing with the big issues like stress, lack of sleep and over doing things. Not surprisingly, communication and relationships were spoken about a great deal.
A good example of a non-medical approach explored on the course is the fuel tank (below):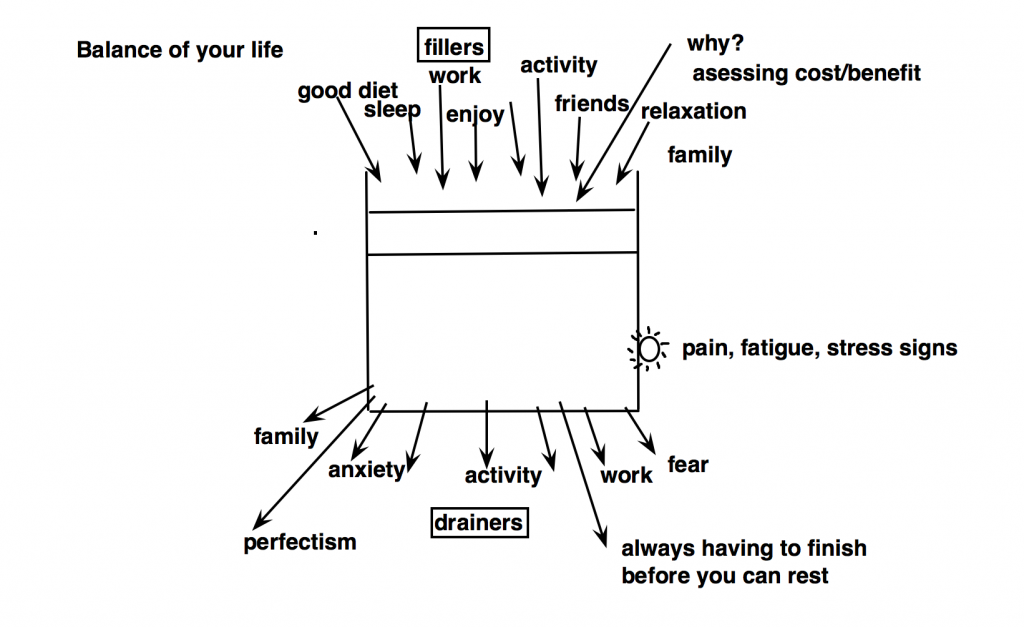 Format
For many participants, the online format was entirely new.  After some initial teething problems, everyone got used to the technology and interactions were surprisingly natural and spontaneous.  Being online also meant that whiteboard could be used to create notes that were legible and reflective of group input. An example of one such diagram is shown above.
Isolation
A significant advantage in the group-based format was simply bringing people together in a positive context.  It was a framework in which we aimed to explore solutions, but it was also good for people to share their situations and to simply know that they weren't alone.  We generally find that this is one of the most profoundly important aspects of any course that we run.  Of course the content is important, but the people more so.  One man said that "we're different boats in the same storm"; this is a very important idea in person centred approaches.  It was especially important during the pandemic where levels of isolation and anxiety added substantially to suffering.
Relaxation techniques
One of the most powerful aspects of the work, that really effected change was the use of relaxation and visualisation techniques.  These could be delivered live as a welcome concentrated deep rest and opportunity to process the content of the sessions. The recordings were then e-mailed for regular practice at home.  The relaxations were one of the most tangible items that could be shared with both the carer and the person cared for.  They certainly had the wow factor and the ability to keep delivering (by repeated playing to help with sleep and stress).
Further work
During the course it was clear that there were some people who would like to work on more of a 1:1 basis. By this we really mean 2:1. We were pleased to be able to facilitate this and found that it helped people address some of the particular issues that they didn't want to share in a group.
Online
Delivering interactive self-management courses online is a new art form that was forced by the sudden onset of the pandemic and the need to keep services going.  During this project we found that it worked well and that people quickly overcame their reservations.  The 2:1 work was especially successful online because it afforded flexibility around fluctuating health issues.
Measurement
We used our popular radar graph to evaluate progress. Whilst a great deal of what happened was intangible, it is always good to measure what we can.  As you can see in the chart, there were improvements in all areas: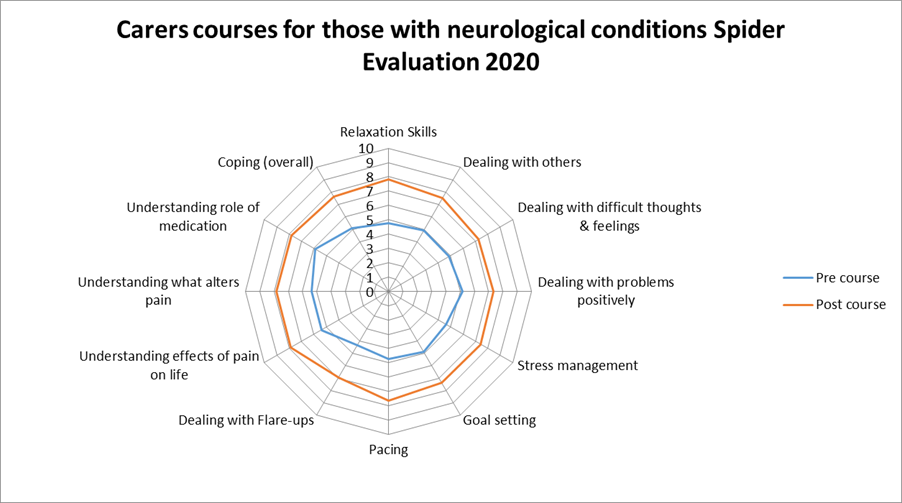 Three aims
It was hard to identify exactly if we delivered on our three aims i.e., help the carer, help the person they're caring for, encourage mutual support. Some of this we can never find out. Based on the radar graph and comments, but most importantly, the feeling from the course, it was clear that we succeeded in helping carers directly by equipping them with new skills and ideas. We feel that it is only reasonable that those benefits would feed back in to their family units.
Feedback from the 2:1 made it very clear that all three aims had been achieved because the whole process was a collaboration in which both people's views and issues were discussed.
Feedback
Examples of feedback received from participants on the course can be seen below:
"We have had numerous 1:1 sessions with Phil dealing with the management of pain. We have found him to be very informative, approachable and flexible, adjusting the sessions to suit as needed. Over the course of the sessions he has improved my wellbeing, giving me tools to use throughout the day and night. We did these sessions as a couple and found they were so helpful to both of us as a carer and a person living and dealing with pain."
"It was good to meet other people who were in a similar situation. To know that we weren't alone."
'"I thought that this would just be chat, but its far more at a time when I really needed something and I didn't realise that something was this."
"I know it's an obvious thing to say, but I finally get it. I have finally and genuinely realised that if I don't look after myself I really won't be able to look after my partner as well I need to."
"The relaxation recordings have really helped both of us. Up to now, we didn't think we could relax.  Thanks for giving us the confidence."
Legacy 
Once introduced, self management opens the door to new ways forward that people can continue to benefit from in a self directed way. The relaxations and visualisations in particular have provided an ongoing source of help.
Some of the feedback included comments on how the course had "started a journey working together'" and that it has "given us a new way forward ."
Participants in the project were offered the opportunity to attend our groups monthly network of groups that provide professionally led training and constructive support.
We have continued to run our five week courses for people with all chronic pain conditions. We don't ask what conditions people have, but when discussions bring diagnosis up, it is clear that there are always people who have neurological conditions.
We are also delivering a series of introduction sessions available nationwide, these have been accessed by many carers. Additionally we have developed a finding new ways forward course, which is a new course for people regardless of their condition.  In these ways we are building on the good work that the Neurological Framework has made possible.
Pain Association Scotland can be contacted on info@painassociation.com, useful information and resources can be found on their website  painassociation.co.uk or by phone on 0800 783 6059
Tags: Adult Care, carers, Carers Scotland, neurological conditions, Training, Wellbeing
Comments