Planning and Architecture
'Reporting from the front' at Venice Biennale for Architecture.
June 14, 2016 by planningarchitecture No Comments | Category Architecture
This year's Architecture Biennale in Venice explored a strong community orientated theme with 'Places for People' (succinctly expressed in the title of the Austrian Pavilion) as the overarching  emphasis of the majority of work on display in the key venues of the 'Giardini' and the 'Arsenale'.
Alejandro Aravena, the curator of the 2016 Biennale, whose Chilean practice Elemental has gained international renown for innovative, socially-engaged housing projects, sets out a very clear agenda for the work on display in the main Arsenale exhibition spaces. In the Biennale programme, he states his position on the role of architecture in society – "the starting point for any architecture needs to be recognised as series of common and shared problems". He goes on to argue that architecture must move beyond its specific limited area of operation to work within a much broader sphere of influence being measured by society itself and its challenges.
In our own Scottish Pavilion at the Ludoteca Santa Maria Ausiliatrice, 'Prospect North' curated by Lateral North, Dualchas and Soluis, in partnership with A+DS, demonstrates how architects and designers are working with communities across Scotland to engage in a range of challenges and come up with locally-based innovative solutions.
15 short films are featured, ranging from a housing association project on Shetland with strong Nordic influences to the Glasgow Women's Library. Immersive Virtual Reality headsets were also employed as part of an exploration of Scotland's wider cultural and economic connections with our Artic and Nordic neighbours.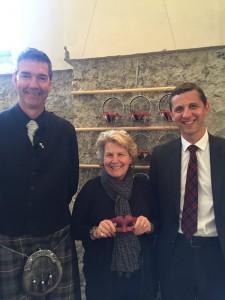 There was a great turn-out for our opening on the evening of 26 May in Venice with a surprise visit from Sandi Toksvig, who had earlier opened the British Pavilion exhibition 'Home Economics', which uses detailed research to speculate on how our understanding of the 'home' will change in coming decades.
Spain won the prize (the Golden Lion) for the best national pavilion for an exhibition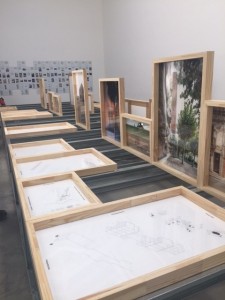 entitled 'Unfinished' which highlights how architects can adapt to changing economic circumstances by finding innovative ways to complete otherwise 'unfinished' projects affected by the crash. Beautifully presented, it provides an uplifting and compelling exposition of how architects can make a difference, even with  minimal resources.
The German show reflects on themes such as migration and immigration and their impact on the city – holes were knocked through and all doors removed from the Pavilion to represent open borders.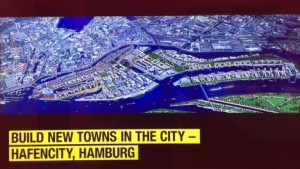 The French Pavilion considers how to improve the 'ordinary' in the suburban edges of major cities.
The Japanese Pavilion (also commended by the Biennale jury) explores ideas of neighbourhood design through fantastic 1:20 scale models.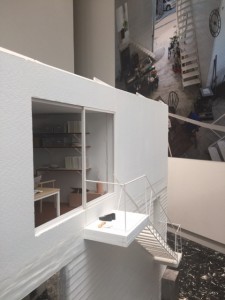 The opening of the new Australian Pavilion (designed by Denton Corker Marshall) was marked by an aboriginal welcome ceremony in which Iain Thorpe the Olympic gold-medal swimmer took part. This was very appropriate, given the Australian Pavilion contains a swimming pool as the centre-piece of an exhibition on the 'pool' and its impact on cultural identity in Australia.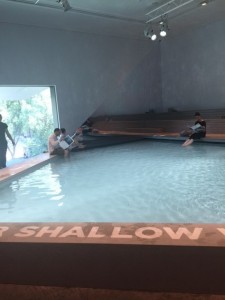 The Netherlands pavilion is a very interesting examination of the impact on 'place' of UN Peacekeeping missions carried out by Dutch forces in conflict zones.
The Polish pavilion concentrates on the production of the built environment in which so many Poles are involved around Europe, demanding 'fair building' in response to difficult conditions that prevail on many building sites.
The American Pavilion showcases projects which are aimed  rebuilding Detroit.
In the 'Arsenale' the vast curated show by Aravena features a stunning range of projects and installations from around the globe. Assemble, the UK Architecture collective famous for winning the Turner Prize, is featured in an engaging sequence of films showing how children play and engage in their surroundings – (from China to the Baltic Street playground in Glasgow) and a demand that children have a say in their environment. Self-build projects, community co-operatives, new forms of construction (often low cost using self-made materials) are highlighted and linked to affordable housing propositions. This is not a Eurocentric or Western biased exhibition, a wide range of cultural influences are portrayed, including a wonderful installation on the tented architecture of the Gers in Mongolia.
Aravena has managed to capture a huge range of ideas about architecture and the architect's role and future role in society. The wide range of stresses and strains on communities across the globe are highlighted but, importantly, the Biennale shows how architects, planners and landscape architects can work together in the common-good to improve our quality of life. What could have been a very challenging set of issues to contemplate is ultimately an uplifting experience, as exemplified in the Peru Pavilion, where a programme of new school building is enabling children in remote areas to access education previously denied to them.
All-in-all, this was one of the most engaging and socially relevant Architecture Biennales I have attended – the outcomes-based approach is alive and well in Venice!
Check out Twitter https://twitter.com/la_Biennale and more Venice Biennale images from our Chief Architecture
 Ian Gilzean Chief Architect
Tags: 2016 Biennale, Architecture Biennale, Places for People
Comments