Public Procurement and Property
Project Bank Accounts – one year on
October 31, 2017 by Sarah McLeod No Comments | Category project bank accounts, Scottish Procurement
Project Bank Accounts (PBAs) were introduced into construction procurement projects from 31 October 2016.
Since then, procurements for projects worth around £300 million have contained a PBA, with around another £400 million in the immediate pipeline. These projects cover a range of building and civil engineering work and Transport Scotland is at the forefront of implementing PBAs. Their experience is invaluable in helping refine procedures not only for on-going contracts, but also in preparation for procuring the next Banking Services framework contract.
What have we been doing over the last year?
We have spoken at a range of events and meetings, addressing public bodies, contractors of all types, trade federations and professional institutions. Our guidance for implementing PBAs and its related branding and promotional work are recognised across the UK as being among best in class. Interest has also come from further afield, including Australia and the Republic of Korea. We will be hosting a delegation of Korean officials in December for them to benchmark their processes with our PBA procedures.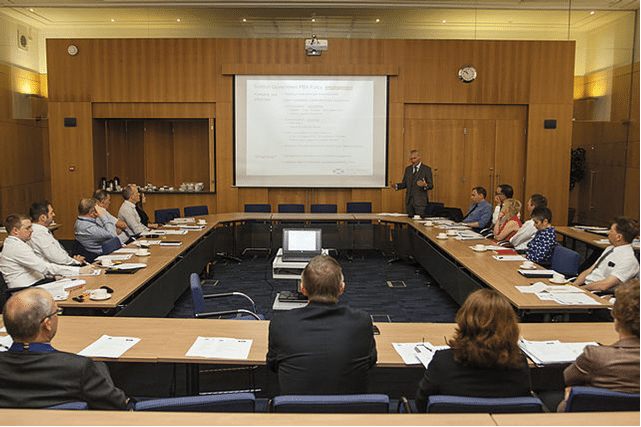 Closer to home, PBAs are now specifically mentioned in the Scottish Business Pledge. Also, public bodies investing in City Region Deal capital projects are encouraged to set up PBAs, as are organisations who commission new social and affordable housing. We are promoting policy beyond the immediate mandate of the Scottish Public Finance Manual and presenting another option to other bodies working in the public sector. Recently, following a media article, we introduced PBAs to a major pension fund as way for them to enact their stated corporate ethos directly in their investment projects.
PBAs exemplify the Scottish Model of Procurement by enabling business friendly and socially responsible purchasing. We are continuing working to embed them as business as usual.
More information
More information about Project Bank Accounts can be found on our website or you can email us at projectbankaccount@gov.scot.
Tags: Construction procurement, project bank accounts
Comments