Public Procurement and Property
NHS Scotland is transforming public procurement across the country
November 30, 2017 by Sarah McLeod No Comments | Category NHS Scotland, Procurement news, Transformation programme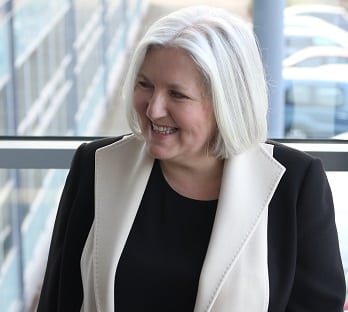 Alison Brown, Transformation Director tells us more about the NHS Scotland Procurement Transformation Programme.
The NHS Scotland Procurement Transformation Programme is a change programme with a difference. Although it is about savings and benefits, this change is not about jobs, cuts or organisational change but it is about the whole procurement community across Scotland working better together.
Why is the transformation needed?
There are 22 separate health boards in Scotland – 14 territorial health boards and 8 national boards. Each board has a procurement function of some sort and we all work together. We follow a national contracting workplan set by NHS National Procurement and have been really successful as a health service procurement community with a tremendous track record of delivery.
However, everyone across Scotland is aware of the challenges facing the NHS. We, as procurement professionals, are well placed to make even more of a difference to patients and the people of Scotland and make sure we get the most out of every pound spent in our service. Every pound spent with third parties, which means pretty much everything other than salaries, touches procurement.
Public procurement is highly regulated and part of our role as professionals is to make sure everything we buy is not only good value but is legal and also ethical. Our purpose is to enable our health service to deliver patient care.
We know that operating the way we currently do has duplication and waste in our processes. As a community we are committed to modernising our ways of working so we can do even better.
Transformation benefits
The programme is all about making sure that we create an NHS Scotland workplan of all our work, not just national contracting. This is going to be shaped so that we know what we have to deliver, know what everyone else is working on and so we can benefit from others experiences and help each other.
If we have the same workplan, the same rules and work in the same way no matter where we are across Scotland, we will have better service resilience and be able to help each other out in times of need.
Understanding how much work we need to do, how much capacity we can have and looking at doing things differently will help us expand our services and ability to take on more.
For staff we have access to better opportunities if we work in the same way, moving from one role to another will be easier and won't rely on geography. Our systems will let us work more flexibly to support this.
Supporting our procurement people and developing their skills to meet the challenges is at the heart of the programme – building a professional workforce and supporting fair access to development and qualifications.
Transformation programme in more detail
Three workstreams are supporting delivery of this vast and complex programme:
Commercial
Technology and Information
People and Skills
The workstreams are made up of NHS procurement staff from across Scotland and are developing the new models and supporting technology and processes.
The programme is committed to partnership working with staff and there is a trade union representative on the Transformation Board which is the governance channel for the programme, chaired by Lesley McLay, Chief Executive Tayside.
The programme will run for 2 years until March 2019 with targets of savings delivery in year 1 of £47.5 million.
Further information
If you would like to find out more about the programme contact procurement.transformation@nhs.net.
Tags: NHS Scotland, public sector procurement
Comments