Public Procurement and Property
Changing lives through Supported Employment
December 3, 2021 by Melissa Reilly No Comments | Category Scottish Procurement, SMEs, supported businesses, Third sector
As part of our regular engagement with BASE, the British Association of Supported Employers, we worked together to create this showcase blog post celebrating 3 December as the UN Day of Persons with Disabilities. In the blog, we hear from an award-winning individual and an employer on how peoples' lives can be positively improved through meaningful work.
Supported Businesses make an important contribution to the Scottish economy.  Not only through the goods and services they deliver, but also by providing meaningful employment, training and social support for those who may otherwise be excluded from the workplace.
As part of the Sustainable Procurement Duty 2014, contracting authorities must consider how its procurement processes can facilitate the involvement supported businesses – as well as SMEs and third-sector organisations. Before buying anything, they must consider what and how they buy can have a positive impact on the social, environmental and economic wellbeing of the area in which it operates, with a particular focus on reducing inequality.
In line with the 2014 Act, public bodies' annual procurement reports must include a summary of steps taken to facilitate the involvement of supported businesses in their procurement activities, and public bodies are increasingly providing this information. In 2018-19, Ninety-five per cent of public bodies provided evidence of this kind of activity in their annual reports, compared to 89% in 2017-18. The examples provided in annual procurement reports included:
using the Ready for Business Register of supported businesses
engaging with supported businesses at Meet the Buyer events
holding supported business engagement days
hosting industry days to raise awareness of opportunities for supported businesses
In 2018, we launched the Supported factories and businesses procurement framework – a multi-lot, multi-supplier framework for the provision of commodities reserved for supported businesses. These goods and services include: Furniture and associated products; Document management Services; PPE and uniforms and signage.
In 2019-20, over £2.2 million was spent through the Framework. The Framework has recently been extended to 9 December 2022. Scottish Procurement is keen to encourage the use of all supported businesses (not just those on the Framework) in the public and private sectors. We have compiled a publicly available list (which is regularly updated) of Scottish based Supported Businesses who are not part of the current Framework.
We still want to do more. We are committed to continuing to work with BASE and the Supported Business Advisory Group to see how we can best use procurement as a tool to support more people with disabilities and facing barriers into meaningful employment.
—————————————————————————————————————
For our first blog interview, we speak to Junior Cryle – the winner of the 2021 BASE 'David Grainger Award' which is presented to a disabled person who has made outstanding progress in their employment and is a significant 'team player' who always supports their colleagues. Junior works as a Food Runner at Loch Fyne Seafood and Grill.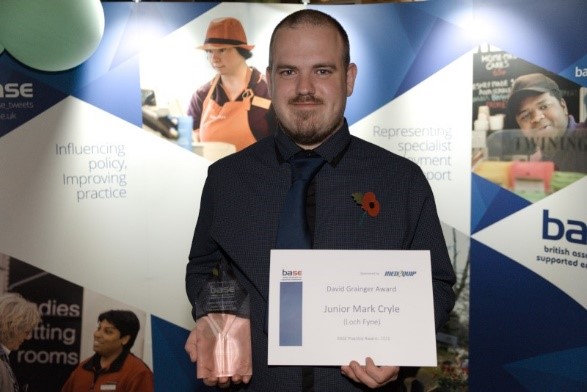 Congratulations on winning the 2021 David Grainger Award! How do you feel about it?
I was happy to receive it, but while I was proud with myself I still shied away from the attention. It happened all at once and I felt like being a turtle just to hide in shell, mostly because outside of a "Thank You" I had no idea what else to say. Ironic given the length of my speech.
How has having a job positively changed your life?

My personal health had improved greatly both physically and mentally, it gave me a reason to get up and about in the week, as well as the social activity that would come from it. Without it, I'd close myself off and shut down – as I'd often do between work placements in the past.
What's your favourite part about your job?
The teamwork, happy customers, and a good shift ending with a portion of Fish Soup and Fried Squid are all the things I enjoy about work. That and the times when customers try to guess where I'm from by my accent, apparently I've been identified as Austrian and Scandinavian to name a couple.
Where would you love to progress in your job – what's next?
I have ambition much like anyone else, but while I would like to do more and see how far I can go, I know the importance of where I am at the moment, running food.
Until someone appears who can run food as good or better than I can, I'll continue to do my part as a team player.
—————————————————————————————————————-
Next up, we speak to Annette from Community Focus Scotland, a charitable organisation which creates a circular economy to reduce poverty and unemployment through the provision of bespoke training to those who find themselves in challenging situations.
Can you give us a brief summary of your organisation?

I originally set up Community Focus Scotland from my dining table with a mission to deliver services that focused on reducing poverty and unemployment within the local community. Since incorporation we have supported 31,000 families through our free food larder and industry training delivered to over 700 people. We also have experience in working in partnership with Tier 1 construction companies from the Private Sector delivering catering and construction academies across Scotland. We have 2 live sites with Morrison construction at the moment.
Why did you set up as a Supported Business?

I set up community focus Scotland with my main aim to deliver services that would focus on reducing poverty and unemployment within local communities and supporting Disabled & Disadvantaged people to achieve individual goals and ambitions.
How does secure employment make a positive impact on your employees' lives?
Our employees are selected from a range of backgrounds who at times have challenges to secure sustainable employment. The Health & Social impacts of being employed contribute to a positive impact in their confidence and self-esteem and provides them with a focus to enhance their lives daily. An example of that is one of our existing employees would not leave their house, had become isolated and withdrawn from society. They have their own flat and become a director and general manager in the 3 years of employment with Community Focus Scotland. Every employee has a unique journey and from staff reviews all have expressed the positive impact on their individual lives being in sustained employment has created both Socially & Economically.
Can you tell us about your partnership with Morrison Construction in building the new women's facility at Corton Vale?

Our partnership with Morrison Construction has been a very positive and productive experience on the new Women's National Facility at Corton Vale. The opportunity was commissioned by Scottish Prison Service. The site has been operating for over a year now and Community Focus Scotland receive consistent and regular support from Morrison Construction team onsite to ensure we deliver a quality service each day. One of the outputs from the facility is creating sustainable employment opportunities for Disabled or Disadvantage people from the local community.
Congratulations on winning the Community Award at The 2021 Scottish Business Awards – what does "community" mean to your organisation and how does being a Supported Employer achieve this?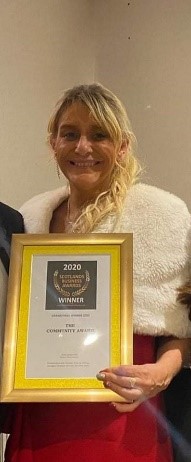 Community is at the heart of everything our organisation stands for. We believe that creating a supportive and understanding work environment enables Disabled or Disadvantage people who are furthest removed from the labour market to flourish and achieve individual goals and ambitions. Given the individual complex needs of staff, regular supervision including peer input takes place balanced against agreed objectives and ideas for continuous improvement. This can often include input from key stakeholders such as care providers, family, and care professionals. From initial engagement with a potential new employee a detailed and supportive on boarding process is established to fully understand a person's unique circumstances to ensure they have all the support and adaptations to thrive in a work environment which includes Health & Wellbeing support.
Do you have any advice for other Supported Businesses looking to work with the public sector?

My advice for any other supported business looking to work with the public sector is to get involved as this can have its advantages in helping support your own organisations vison, missions and values within the community they serve. It is also an enabler for growth and developing new markets and business relationships.
---
Thank you very much BASE, Junior and Annette! Readers may also be interested in this video case study with another Supported Employer, Scotland's Bravest Manufacturing Company. https://vimeo.com/420952454
To find out more about Public Procurement in Scotland, please visit www.gov.scot/procurement
Follow us online:
Tags: Community benefits, public sector procurement, Scottish Procurement, supported businesses
Comments