Public Procurement and Property
Supporting sustainability at COP26 and beyond!
December 8, 2021 by Fiona McCaig No Comments | Category circular economy, climate change, community benefits, framework agreements
The COP26 conference was held in Glasgow from 31 October to 12 November this year. One of our Office Equipment framework suppliers, Xerox, were selected to support the essential print and copying services across the full conference. They provided a number of Xerox Connectkey printing devices and 100% post-consumer recycled paper. As well as a team of six engineers from Glasgow and surrounding areas supporting the event from 7am-11pm each day.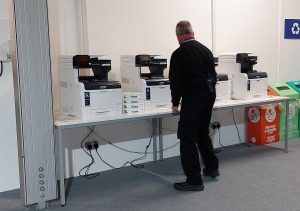 As part of the conference's legacy, Xerox are working with Scottish Procurement to donate the devices used. A proportion of these have already been allocated to local charities. These donations will help extend the life of the devices in the local community and will utilise Xerox's premises at Concept, a Xerox Business Solutions company, in Clydebank.
The Concept Group are an SME with locations across Scotland, and were recently awarded the BSI kitemark BS 8887-220:2010. This certification recognises the process of returning a used product to at least its original performance, with a warranty equivalent to that of a newly manufactured product. The devices will be securely wiped and remanufactured in the Clydebank facility, minimising the environmental impact.
"It has been an honour to support COP26. Our appointment is a testament to our commitment to fighting climate change, whilst helping to make a positive difference on one of the world's most pressing issues. I'm so proud that Xerox is playing it's part." stated Darren Cassidy, Managing Director, Xerox UK&I.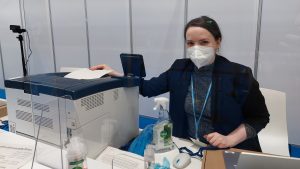 Xerox also recently shared their latest CSR report, outlining their roadmap to NetZero by 2040. And were honoured by HRH Prince of Wales in receiving his Terra Carta Seal , as part of his sustainable markets initiative.
They are one of only 45 organisations to be recognised for their leadership position within their industry. With credible transition roadmaps underpinned by globally recognized, scientific metrics.
More detail can be found here: Xerox partners with the United Nations to deliver print technology services with eco-label certified devices for the COP26 conference | Xerox UK Newsroom
To find out more about Public Procurement in Scotland, please visit www.gov.scot/procurement
Follow us online:
Tags: climate change, Community benefits, COP26, environmental benefits, framework agreements, ICT products, Office Equipment, procurement, Public procurement, Scottish Procurement frameworks, Sustainability, Xerox
Comments