Public Procurement and Property
Property focus: Doors Open at Shambellie House
September 2, 2022 by Melissa Reilly No Comments | Category Property
Throughout September, we'll be sharing blogs from our Property and Construction Division (PCD) which highlight interesting properties in the Scottish Government estate as part of the national 'Doors Open Days 2022' campaign. First up is Shambellie House, opening its doors on 3 – 4 September 2022.
---
Over the years, PCD has had to deal with some interesting properties that come into our ownership. One such is  Shambellie House which is situated next to the romantically named Sweetheart Abbey 8 miles south of Dumfries.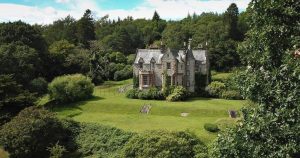 Shambellie was commissioned in 1854 by William Stewart whose family had made their fortune in the tobacco trade. He only had seven children unlike his own father, or more like his mother, who had 26 so a larger house was required to accommodate them all. However, William apparently argued with just about everyone associated with building the new house.  Despite this, the house design still reflects the romantic old Scottish baronial style. By 1860 the house was complete, William added the gate lodge in 1863 while there are extensive grounds consisting of ancient woodland.
The Stewarts and their descendants were to occupy the house continually until 1977 when it was given, along with his collection of 2,000 costumes and accessories, to the National Museum of Scotland by Charles Stewart and opened as the National Museum of Costume in 1982.  The museum closed in 2014  and following legal opinion the title was transferred to Scottish Ministers, albeit somewhat reluctantly as there was no  immediately identifiable use for it.
Normally with surplus property, under our old friend the Scottish Public Finance Manual, it is disposed of quickly but here there was a well organised outcry against the loss of the museum so a locally based community ownership was deemed the best way forward. PCD always considered the transfer to be a forerunner of the Community Empowerment legislation being drafted at that time.
Many avenues for a viable use were explored including proposals for a National Photography Centre but making out an acceptable business case was always difficult despite the involvement of the Prince's Regeneration Trust and other funding bodies.
Following close liaison with stakeholders the preferred transferees selected were the Shambellie House Trust who consisted of a highly motivated group of local professionals including descendants of the Stewart family and chaired by the former head of Planning at Dumfries and Galloway Council.
The House and grounds were eventually transferred on 1 July 2021 and Shambellie now operates as a successful creative centre for arts, heritage and environmental courses, workshops and events. It has the status of a Community Benefit Society and members of the public can purchase shares in the venture. The local community, including disadvantaged groups, is heavily involved with regular open days – Doors Open Day this year is on 3 & 4 September
It was a long road to getting to this position and many lessons were learned. In the interim we had to arrange security, organise repairs and maintenance. Close liaison and building good relationships with the Trust were crucial throughout who had to ensure proper funding was in place and that their business case was robust for what is an innovative project but one that ticks all the boxes in respect of The Four Outcomes for Public Procurement:
Good for business and employees.
Good for society
Good for places and communities
Open and connected
The Trust operate an excellent website at for anyone looking for further information on Shambellie House.
Stay tuned for the next 'Property focus – Doors Open Days' blog!
---
For further information on public procurement in Scotland please visit www.gov.scot/procurement
Please email enquiries to scottishprocurement@gov.scot
Follow us online:
Tags: Doors Open Days, PCD, property
Comments