Public Procurement and Property
Partnership success through Managed Print Solutions (MPS) Framework
October 5, 2022 by Melissa Reilly No Comments | Category framework agreements, suppliers, Sustainability
The new Managed Print Solutions (MPS) framework went live on 22 August 2022 and replaced the previous Office Equipment framework. The newly established framework will support public sector organisations' future digital and print strategies as hybrid working patterns become more prevalent.
The framework gives an easy and compliant route to market for a wide portfolio of multifunctional devices (MFDs), desktop printers and Managed Print Service (MPS) partnerships.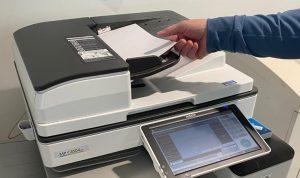 This national framework supports the deployment of more energy efficient MFDs which can deliver both cost and environmental benefits. A recent example of a partnership between a framework supplier and a council in expanding their Managed Print Service has been developed.
Tayside Procurement Consortium used the previous Office Equipment framework to improve the print service and prepare a future document management strategy. The Consortium comprises Dundee City, Angus, and Perth and Kinross Councils; and Dundee and Angus College across multiple locations and campuses.
The new MPS contract rationalised the number of devices by over 50% leading to improved service and increased staff productivity and efficiency. The solution provided a specialist print management solution to support future mobile working and overall cost savings of over £3m
The framework also supports environmental benefits and one of our suppliers, Capital Document Solutions, has committed to the Edinburgh Climate Compact. They have joined a number of private and public sector organisations to support the city's ambition to reach net zero by 2030. The Compact is ambitious and signatories will publish their carbon emissions and on an ongoing basis will highlight the actions they have already taken and those they plan to take on their journey to net-zero.
---
For further information on public procurement in Scotland please visit www.gov.scot/procurement
Please email enquiries to scottishprocurement@gov.scot
Follow us online:
Comments