Family Nurse Partnership
Family Nurse Guest Blog – Maureen
October 5, 2018 by Anne Dagg No Comments | Category Family Nurse Partnership, Uncategorized, young parents
A lovely family nurse from Lanarkshire has shared her story about becoming a family nurse – Thanks so much Maureen for giving us this insight into your work as a Family Nurse.
Tell us a bit about your role/yourself
I was late starting nursing. I previously worked in finance and wanted a more fulfilling and interesting career. I started my mental health nurse training in 2005. Since qualifying I have had experience of working in acute admissions, rehabilitation setting, continuing care and latterly as a band 6 perinatal mental health nurse, both in the hospital setting and the community.
I was really interested in the impact of therapeutic interventions and I completed 150 client hours and qualified with a Post Grad Diploma as a Person Centred Therapist.
What made you apply to become a Family Nurse
In my post as a perinatal mental health nurse I started liaising with members of the Family Nurse Partnership team. It seemed the young clients loved their Family Nurse (FN). I was really interested in the client/FN relationship. I know through my counselling the wonders of what a good therapeutic relationship can bring. I have been employed as a Family Nurse since summer 2017.
Describe your average day
My day begins the evening before! I look at what visits I have booked in and start planning the resources I will need for them. I tend to read/respond to emails and make phone calls at the beginning of my working day. I then start to visit my clients around 10 am in the morning and will usually visit 3 clients per day. I work throughout most of South Lanarkshire and despite trying to 'zone' visits according to the client's locality, I still do a lot of travelling in the area. Visit times tend to range on occasions between ½ and hour to 1 ½ hours. At the end of the day I type up my records between 4pm-6.30p.m
What part of being a Family Nurse do you enjoy the most?
I enjoy getting to know the young woman. Taking the time to sit, talk and build a good rapport with the clients and their extended family. I really enjoy discussing with the client and her partner how they feel about parenting issues (sometimes the prospective parents can have very different ideas from each other) and I help the parents to have this conversation and promote their understanding of their child's development. I also really enjoy the discussions that take place about building baby's brain, nutrients in pregnancy, and guiding and affirming the client's strengths in how she supports this in infancy for her baby.
What do you think clients get from having a Family Nurse?
I think the client's get someone dependable to rely on and who they can ask advice from until their baby is 2 years of age. As a FN I sometimes see that I may be the 1st person they seek parenting advice from. I think the clients become more informed about their parenting role. I also feel the strength based approach and affirmations can develop the client's confidence in their own abilities.
What would you say to anyone who is eligible for a Family Nurse an d is not sure if they want to accept the service?
I have had this situation recently, when a client and her partner did not seem too sure if they should enrol. I found out what they knew about FNP and then explained in more detail about what the programme is about and the benefits of it. I assured them the client's participation was voluntary and I agreed another date to visit so the client can let me know what her decision is. I was pleased when I visited again that they had decided to join.
I am proud to be a Family Nurse because….
I think it's an amazing programme and worthwhile. I am so glad the Scottish Government has rolled out FNP in Scotland. I hope in 20 years time we can look back and enjoy the success of the programme. I hope we can see less health problems and more emotional stability for our future generations.
How do you unwind after a busy day?
I like to take a bath, put on my pyjamas and lounge about with my 2 dogs (photo below). I find taking the dogs long walks in the weekend therapeutic. I also like the treat of going out for dinner with my husband and friends.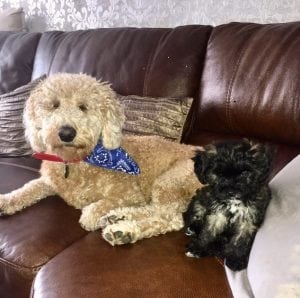 Tags: family nurse, FNP
Comments