Health and Social Care
Scotland's Future – Integration Six Months On
September 25, 2015 by Linda White No Comments | Category Uncategorized
At the Scottish Planning Network (SPN) event earlier this month, a mix of health and social care professionals took time out to explore the strategic opportunities and challenges associated with the integration of health and social care.
Entitled "Scotland's Future – Integration Six Months On", guest speakers shared their experiences and stories of integration whilst highlighting the importance of collaborative learning and person-centred approaches.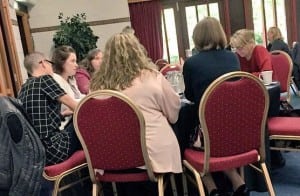 Keynote speaker, Shona Robison, Cabinet Secretary for Health, Wellbeing and Sport also took the opportunity to announce a new e-resource for health and social care professionals and highlighted the requirement for Integration Authorities to develop Strategic Plans that meet the needs of people and deliver effective services through the commissioning process. She added:
"I am pleased to launch the new Strategic Commissioning e-learning product produced by Joint Improvement Team (JIT) in collaboration with the Scottish Social Services Council (SSSC) and NHS Education for Scotland (NES). It is designed for professionals who work within the NHS, Local Authorities, Independent or Third Sector and want to learn more about Strategic Commissioning.
It is a valuable and comprehensive resource which will support practitioners and managers to understand the strategic commissioning cycle and review the stages of developing the strategic plan within the policy context."
Douglas Hutchens, Scottish Government Non-Executive Director thanked the speakers and praised the participants for such a positive and engaging event, which outlined the challenges ahead and the opportunities for the people we all serve through successful integration.  He said:
"Six months on it is clear that we now have the tools and the permissions to work together, but it is clear that the prize of effective integration will only be through greater engagement – the type of collaborative engagement shown by speakers and participants at the event."
Staff working in health, social care, the independent and third sectors can now access the Strategic Commissioning e-learning  educational resource to help them learn about the role of strategic commissioning and its importance in the context of health and social care integration in Scotland.
The comprehensive e-learning resource:
positions strategic commissioning within the national policy context
defines what strategic commissioning is
explains the importance of the process
It is made up of seven modules and hosted on SSSC's Learning Zone at: http://learningzone.workforcesolutions.sssc.uk.com
For more information contact:
katie.mcwilliam@scotland.gsi.gov.uk
Tags: 2015, Cabinet Secretary for Health, Collaboration, Event, Joint Improvement Team, Scottish Government, Scottish Planning Network
Comments