Health and Social Care
West Dunbartonshire Link Up Community Services and Support
December 15, 2015 by Linda White No Comments | Category Communities
West Dunbartonshire Link Up supports older people to live well in the community. Run by the West Dunbartonshire Health and Social Care Partnership (HSCP) in partnership with West Dunbartonshire Community and Volunteering Service (CVS), Link Up relies on highly trained volunteers – all aged 55 years and over – to help people in the community to access services and support through a single point of contact.
It depends on the trust and confidence of older people as volunteers: whose existing community contacts and expertise have been harnessed to create a community-wide web of intelligence and knowledge on the range and type of supports available across West Dunbartonshire.
Megan, from Faifley in West Dunbartonshire, volunteers with the Link Up service. She explains why the service is so important to her and to older people living in the community: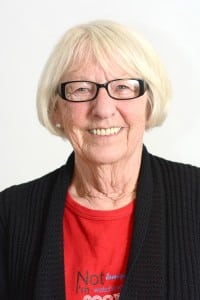 "With the Link Up Service it's people just like me that gain from it. It's frustrating when you're trying to find local information about a service, then you call and have to wait and listen to an automated message before you get anywhere. With Link Up, it's great just to pick up the phone and immediately speak to a helpful voice at the other end who can give support and advice straight away. Through experience, we know the people and services to direct callers to, so we can help them in a much quicker and friendlier way.'
Megan knows first-hand how some of the people who phone up for support feel, with one elderly lady saying:
'My accident was really bad luck, I was playing bowls with my friends, I had started to play to get out more and take some exercise. I walked into a ditch and twisted my foot; the bone in my ankle came out! It wasn't very pleasant. After the accident I couldn't move my leg for eight months as it was in a cast; I could walk a little bit with the aid of a zimmer but couldn't even boil a kettle or pour out a hot drink. It was a very boring time of my life.
When the cast came off I contacted Link Up and they put me in touch with some fantastic people from the COPT (the Integrated Community Older People's Team). The staff there taught me to walk first on two and now one crutch, to go up and down stairs and helped me to get out of the flat. But I had got myself into a rut and sitting around at home. As a widow I was alone, except for my dog, often driving my daughter mad. She persuaded me to think about starting volunteering again and she was right".
Megan added:
"When I heard about Link Up I thought it might really suit me. I already knew some of the staff from being part of the Community Council in my area and I knew a bit about CVS. I also understand what it's like to need some company and support.
I gain a lot of self-worth from volunteering with the Link Up Service. Being around other people is really important – I feel like I'm part of a family here. I've loved it ever since I started and it's so rewarding to say that I'm helping out with an important service. The fact that Link Up has now won so many awards and I've been able to go to the ceremonies and talk to people about the service has been amazing.
Link Up promotes the independence of the volunteers. We stay active and participate in our own communities. The West Dunbartonshire HSCP and CVS have provided us all with training so that we understand what the supports and services are available within our communities. I've now started befriending too and also do telephone befriending, so when I am working at Link Up I can talk to those who don't want visits but like a blether. Personally, this has helped me and I feel that I can help others. I want to continue here for a good while yet."
For more information about West Dunbartonshire Link Up contact: http://www.wdcvs.com or call 0141 941 0886
Background on West Dunbartonshire Link Up
West Dunbartonshire Link Up was developed as a key element of the Reshaping Care For Older People's local Change Fund Programme. It has been devised and supported as a partnership between the now West Dunbartonshire Health & Social Care Partnership (HSCP) and West Dunbartonshire Community and Volunteering Service (WDCVS).
Link Up provides "one stop shop" access – through a single point of contact – for local older people and their carers to a coordinated range of HSCP and third sector services, including Carers of West Dunbartonshire, Lomond and Clyde Care and Repair and Shop-Mobility.
Key objectives of Link Up are to ensure local older people and their carers:
Have easy access to information that will support them to make informed decisions about their own future
Feel more secure, more cared for, and have access to a better quality of life
Have better access assistance that helps them self-manage their conditions and remain in their own homes
Feel part of a supportive enabling community
Influence and participate in future service provision
Link Up is widely promoted through a range of statutory, non-statutory and commercial outlets including GP surgeries, voluntary organisations, local shops, Post Office and supermarkets. Link Up is staffed by trained volunteers, aged 55 years plus, from the community and from a wide selection of partners in West Dunbartonshire – so is a good example of co-production and community capacity building in practice.
West Dunbartonshire Link Up has been recognised with the following national awards:
The 'Working with Local Communities' category at the 2014 Scottish Social Services Council (SSSC) Care Accolades Awards
The 2014 Self-Management Project of the Year for the Health and Care Alliance Scotland Awards 2014
The Gold Award in the Local Matters Category at the 2015 COSLA Excellence Awards
Comments