Health and Social Care
Palliative and End-of-Life Care by Integration Authorities
May 9, 2018 by Isla Bisset No Comments | Category Uncategorized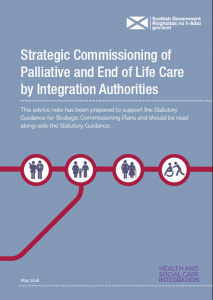 Yesterday the Scottish Government published a new advice note to support the strategic commissioning of Palliative and End of Life Care by Integration Authorities.
Background
In December 2015, the Scottish Government published the Strategic Framework for Action on Palliative and End of Life Care (SFA), which set out the aim that by 2021 everyone in Scotland who needs palliative care will have access to it. The Strategic Framework for Action includes outcomes and ten commitments to support improvements in the delivery of palliative and end of life care across Scotland.
All Integration Authorities (Health & Social Care Partnerships) completed their Strategic Commissioning Plans by April 2016. These had variable focus on palliative and end of life care, which are delegated functions to each Partnership. The new advice note should inform future iterations of strategic commissioning plans, and any specific plans developed by Partnerships in respect of palliative and end of life care.
What is Palliative Care?

The World Health Organisation describes palliative care as an approach that improves the quality of life of patients (adults and children) and their families who are facing problems associated with life-threatening illness. It prevents and relieves suffering through the early identification, correct assessment and treatment of pain and other problems, whether physical, psychosocial or spiritual.
Why Palliative and End of Life Care Matters
There are many reasons for having a focus on palliative and end of life care services and supports.
Getting health and social care right for people is a vital aspect of Partnerships' role in planning, commissioning and delivery, and this is especially important towards and at the end of life. When we do get it right it is typically by working with everyone involved to provide holistic, multi-disciplinary and personalised care and support .
There is also emerging evidence that people provided with early palliative care and support in all settings had better outcomes, with a better quality of life, fewer depressive symptoms, and on average live longer, even when opting less for curative (and often futile) treatment. Effective support at end of life and investment in supporting people in all settings, but especially at home, can have a beneficial impact on balance of care indicators, the quality of care, achieving place of death, as well as preventing unwarranted hospital admission.
In an era of Realistic Medicine and realistic care, this area of work should be at the forefront of a new approach to person-centred decision making, based on the core question 'What matters to you?' – and then staying loyal to the agenda the person sets.
Four Dimensions of Palliative Care
The advice note recommends that when assessing needs, and planning how all those needs will be best met sustainably then the four dimensions of palliate care should always be considered. Attending to the spiritual, social and psycho-emotional in addition to the physical are not optional extras, and doing so may impact positively on the physical supports a person needs.
Support for Developing Commissioning Plans for Palliative and End of Life Care
The Scottish Partnership for Palliative Care (SPPC) runs network functions which connect health and social care professionals from hospitals, social care services, primary care, hospices and other charities, to find and share ways of improving people's experiences of declining health, death, dying and bereavement. SPPC is significantly funded by the Scottish Government and its membership to fulfil this role, and its activities aim to offer to support PEOLC in all settings, across statutory, voluntary and independent sectors.
A wide range of national resources are also available, including:
Healthcare Improvement Scotland, and in particular the iHUB and the 'Living Well in Communities' work stream, focuses on key areas of health and social care that can prevent unnecessary admission to hospital and enable people to remain at home or in a homely setting, with support from their family and the community.
Comments