Open Government Partnership
Come to the Official Launch of the Open Government Action Plan – 31st Jan, Edinburgh
January 7, 2019 by Niamh Webster No Comments | Category Uncategorized
Happy New Year everyone. We are delighted to kick off the new year with the official launch event of the Open Government Action Plan on Thursday 31st Jan 2019, in Edinburgh. You're invited!
The Action Plan will be launched by the Cabinet Secretary for Government Business and Constitutional Relations, Michael Russell and the civil society Open Government Network. This will be followed by a workshop to discuss how everyone wants to take this forward. We've proposed an agenda but open to change – what would be useful for us to work on and discuss together? We'll finish up the morning event with providing lunch for everyone. More detail provided on the agenda on the link below for the event listing on Eventbrite, where you can also sign up to grab your free ticket.
Please register to let us know you're coming along. Sign up here:  https://www.eventbrite.co.uk/e/official-launch-open-government-action-plan-and-workshop-tickets-53854716908?aff=ebdssbdestsearch 
A big thanks again to everyone who was part of creating the Action Plan – let's celebrate!
We look forward to welcoming new and old faces to kick-off this Action Plan. Help us get it right and be part of this from the very beginning. This event is open to everyone – whether you've been involved a lot or are new to open government and want to find out more. Hope to see you there.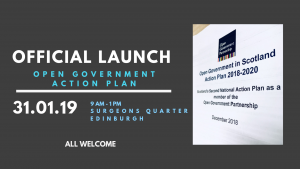 Everyone is welcome
This event is open to all, whether this is the first time you've heard of open government or you've been involved for a long time.
Join us to celebrate the launch of this Action Plan, and to help us think about how open government should look in Scotland in the future.
Accessibility
The venue is fully accessible. We'll have a personal assistant on hand, and we're happy to make this as easy as possible for you to attend – let us know what would help by emailing Niamh at ingage@gov.scot or calling 0131 244 0808. We will try to provide a lunch that caters for dietary requirements; if you have any concerns get in touch.
Who is running this event
This event is being promoted as part of the FireStarterFestival – to showcase this way of working collaboratively and innovative progress in rebuilding trust with people and government. We also hope this wider outreach brings some new faces to the event and grows the open government movement in Scotland.
This event is hosted in collaboration by the Open Government Network and the Open Government Team at Scottish Government.
Drop us a line if you have any questions ingage@gov.scot
Follow @scotgovopen or @opengovscot or see more at #OpenGovScot
Comments