Open Government Partnership
Understanding Scotland's public finances – the young people's perspective
October 3, 2019 by Madeleine Fleming No Comments | Category Uncategorized
Kate Cottle, Eva Dallas and Alexandra Paterson from Balfron High School took part in Young Scot and the Scottish Government's research on young people's understanding of Scotland's public finances. They tell us about their experience here.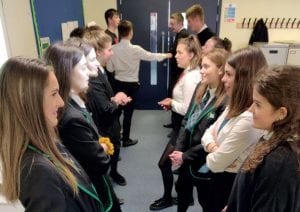 ❝We began by having our first meeting in our school, Balfron High School. This meeting introduced us to the whole concept of public finances and went into depth about all the different ways the government spends their money.

Civil servants in the Scottish Exchequer made presentations about it and also handed out booklets and leaflets describing the subject. After we had a deeper understanding we were asked, in groups, to give our opinions on how the government spend their money.

Everyone really enjoyed this opportunity as they felt as though their opinion mattered and they could say how they felt .

At the beginning of September three of us were given the opportunity to go to the Scottish Parliament and meet with the Minister for Public Finance and Digital Economy, Kate Forbes.❞
Delighted to meet with @KateForbesMSP to launch the Understanding Scotland's Finances report!

Supported by @scotgoveconomy and Young Scot young people have been exploring public finances, priority spend and key messages to understand public finance more.https://t.co/97VJKklGxh

— Young Scot (@YoungScot) September 12, 2019
❝The meeting lasted only half an hour, but we all felt as though Kate took into consideration what we said, and she agreed with our opinions. Kate also made us question some of our own opinions by giving us very good explanations as why they spend the money the way they do.

Overall, it was a very good experience and we feel as though there should be more opportunities like this for young people to say how they feel and what they are thinking.❞
Understanding Scotland's Public Finances is research commissioned from Young Scot by the Scottish Exchequer in the Scottish Government and is a milestone in reaching the government's Open Government Partnership financial transparency commitment 2018- 2020.
Photo taken by Young Scot
Comments