Planning and Architecture
Launch of Design Charrettes 2016/17 and Activating Ideas Fund
August 11, 2016 by planningarchitecture 2 Comments | Category Architecture
last week the Scottish Government launched the 2016/2017 Design Charrettes programme. This was accompanied by the launch of a new Activating Ideas fund. These two funds, amounting to £300,000 in total are to support the delivery of places that enable a high quality of life, and allow communities to flourish.
Since 2011, the Scottish Government charrette mainstreaming programme has supported 49 charrettes across Scotland.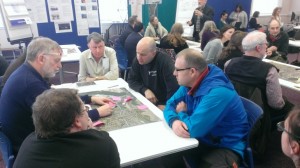 Photo:  Austin: Smith Lord
A 'charrette' is a way of working that brings people together to discuss a place, to design what it could look like, and how it could work. Charrettes are an intensive way of working, usually taking place over several days. During this time, a design studio is set up in the place that is being discussed, and everyone with an interest in that place (members of the public, local authority officers, agencies, business owners etc) come together to develop their ideas. The Activating Ideas fund recognizes that sometimes the ideas generated by charrettes, and other types of community engagement, can require additional support to turn a concept into a deliverable proposal. The fund can assist in a number of ways, whether it is by producing feasibility reports; supporting the establishment of town teams; funding a member of staff who will coordinate and enable activity to occur; or another form of intervention.
Whatever the idea, the Activating Ideas fund aims to support participation and empowerment in disadvantaged areas, enabling people to bring to life the changes they want to see in their communities.
Applications are invited for both funds by Friday 16th September 2016.
Further details on how to apply and application forms are available from our webpage
Tags: Activating Ideas Fund, charrette mainstreaming programme, Design Charrettes 2016/17
Comments