Planning and Architecture
Galashiels – Strengthening Place by Thinking Small
July 9, 2020 by planningarchitecture No Comments | Category Architecture, Housing & Infrastructure, Planning
Pre COVID-19, construction was on track for the completion of the Great Tapestry of Scotland (GToS) building designed by Page/Park Architects. It has been architecturally tailored to exhibit the world's boldest community art projects. The tapestry installation is made-up of 160 hand stitched panels, involved over 1,000 stitchers and tells the story of Scotland's history – literally 'stitch-by-stitch'.
The Scottish Government (SG) and Scottish Borders Council (SBC) have supported the new visitor experience – complete with exhibition space – through over £6 million of funding. This investment builds on the opening of the Borders railway line (2015) and the creation of a new Regional Spatial area. It also contributes to the wider economic and social regeneration commitments, across the South of Scotland, bringing the spotlight onto local attributes.
To help embed the new building, into the regeneration of Galashiels, exciting plans were underway to prep the town's 'streets & spaces' by holding a Gala town 'place' event – one year before the opening of the GToS building. The timing had been specifically chosen to coincide with Heriot Watt School (HW) Textile's end of year Degree Show. The reason for this was not only to raise the profile of HW but to tap into the talented student community that sits on the town's doorstep. So, it was the perfect opportunity to strengthen relations and get more young people involved in ideas for the town.
When COVID struck, for so many towns, it prevented opportunities for communities to come together. Galashiels was no exception. Undeterred, however, a Plan B was quickly put into action. The result was a forward looking rebrand to a 'Tapestry & Town – strengthening place' (T&T) event. Through the continued support from Energise Galashiels Trust, the Scottish Borders Council, Live Borders and HW the intention is to now hold a place-based community celebration (still linked to the University) but aligned to the opening ceremony of the GToS (construction and COVID-19 permitting) due in Spring/Summer 2021.
With T&T as the new focus, the SG (Planning & Architecture Division) successfully issued a £10k grant to enable 7 community place-based projects, within Galashiels, to set sail right at the point of lockdown. Whilst potentially a risk, the contrary view was taken whereby the timing of the grant was considered even more critical to help to support, and provide optimism, for some local businesses. Plus, more than anything, it signalled trust in a 'hearts and minds' approach by investing in local talent.
In selecting the projects, there were 2 key considerations. Firstly, time was committed to ensure that they could all be progressed as safely, as possible, whilst adhering to physical distancing. In fact, ensuring everyone's wellness together with an ethos of working under 'no pressure' was signalled from the very start. Secondly, the desire was to spread the grant thinly to try and help as many businesses, as possible. Hence, the mantra to 'think small' in promoting localism, for the town, became the battle plan against COVID's challenges.
As for Galashiels, the ambitions for it, as a place, have been drawn from both the DNA of its past as well the aims for its future. In combining the two together, the town's own name actually provided a succinct way to present its vision:
G  i.e. Great destination
A i.e. Accessible town (both physically and digitally
L i.e. Learning town (schools and university)
A i.e. Arts (a place for all artists inc. music, architecture, photography, painting & potter etc).
Plus, there was an extra 'human' consideration, for the town, in wanting it to be a place that is 'Happy, Healthy and Habitat friendly' for everyone – whether residents or visitors.
Working with these themes, all of the projects were designed to fit with the ambitions for the place. In doing so, it allowed them to involve people from different backgrounds and cover a span of ages ranging including a school, the university, a charity and businesses. The projects also have a 'town plan' theme that build on the rich textile and design legacy, of the place, together with its natural assets. They are:
Great               Architectural 'Gems' Tour Map
Accessible     Accessible Tourism Workshop and Town Ambassadors
Learning         School Children's 'Woolly Wall'
Arts                 Stitched Boat or 'Curragh'
Happy             Knitted Model of the Town
Healthy           Wellness map 'connecting to nature'
Habitat            Sustainable Way Finding Thread through the Town
All of the projects chime with the concept of Community Wealth Building and will hopefully show the value of tapping into the creative side of a place and its people through simple ideas. Not everything needs large sums of money to trigger change and bring joy. Plus, despite imposed distances, creativity can help unite different generations and work as a collective.
Without doubt, COVID has forced a strong focus on wellbeing. It is synchronistic, therefore, that one of the projects provides a unique, yet novel, take on a place. In particular, the task has involved cataloguing the town's natural 'free' elements that can be enjoyed, by everyone, whilst also being beneficial to health. For example, there is a saying that the best 5 doctors are 'sun, air, water, exercise and rest'. Galashiels, like most places, has them all but this particular 'Health' project has been about using these attributes to better effect. The aim has been to try and reignite a sense of delight and discovery, by leading people back towards with the benefits of the environment and the healing qualities that nature can offer. Throughput COVID-19, therefore, Dougie Johnson (Local Walking Specialist) has been using his daily exercise to chart a variety of the places, around Gala. These are now being converted into a digital map created by Ranald Boydell (Architecture and Sustainable Development Consultant). The map will allow people to explore mini-journeys of wellness by indicating where you can go to enjoy the 'simple things in life' such as walking alongside water, enjoying a quiet 'sport' or pocket park in the town, maybe a previously unknown, or just taking the time sit in a sunny corner to get a dose of Vitamin D.  Plus, if any extra benches etc are needed, the project will allow for these areas to be identified with the hope of adapting for the future use. Dougie said "Our bonnie Border town is surrounded by rich, and abundant, areas where you can have easy access to, and quickly feel at one with, nature. The joy of simply being surrounded by amazing flora, fauna and views cannot be underestimated".
We are now 4 months on since the launch of the projects and with lock down starting to ease, looking ahead, we will continue to adapt, and work, with COVID-19, whilst staying positive about our places. In particular, it is exciting to see how the projects will complement the recently launched Reflections of a Nation Art Competition. Plus, it has been wonderful that HW moved ahead, online, with their aptly titled 'Creative Disruption' Degree Show (26 June).
We look forward to celebrating the power of Galashiels' community spirit through the completion of the 7 place based community projects, and more. Indeed, during COVID-19 since the projects were launched, other local businesses are now also delivering ideas for the town – such as marker pen illustrative posters and T-Towels (Melissa Learmonth owner of www.HoneyBeBright.co.uk). In addition, Energise Galashiels Trust has continued to do its part in supporting the community. For example, it created the Galashiels Community Resilience Group Facebook page, which has over 2,600 followers. It is also active in supporting, as best as it can, local businesses to look to the future through a variety of town regeneration initiatives.
All of the outcomes will be available for everyone to see, at the opening of the GToS, next year. Plus, there will be the Reflections of a Nation exhibition to enjoy. It is hoped, by then, Galashiels will, not only, be known as a town that didn't give up but one that becomes a catalyst for continued cultural, accessible tourism, and economic opportunities within the region. After all, its ambition is to become a Great destination, within the South of Scotland, and beyond, too.
With thanks to the Energise Galashiels Trust for working closely with the Planning and Architecture Division and to all of the project leads for being part of the town's creative 'thinking small' movement.
Contact:
Susie Stirling | Head of Placemaking and Housing | Planning and Architecture | susan.stirling@gov.scot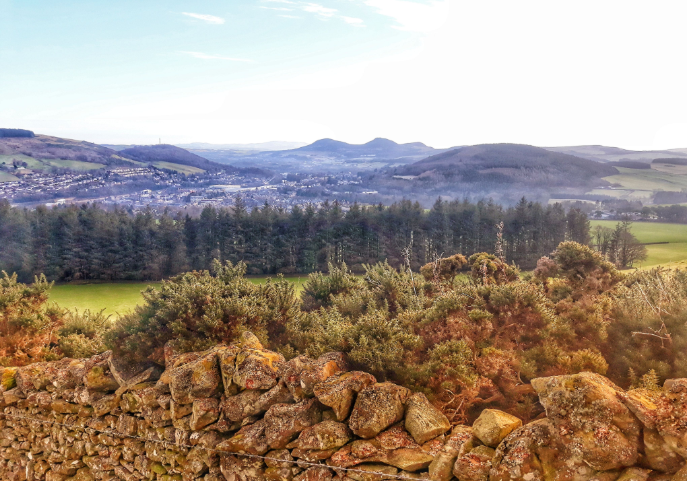 Tags: Architecture and Design, Architecture and place
Comments