Planning and Architecture
A two-wheeled tour of our 'Dear Green Place': exploring Glasgow's active travel infrastructure on electric bikes
August 11, 2023 by planningarchitecture No Comments | Category Green Spaces, Planning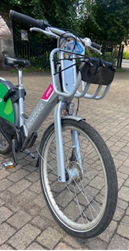 Last month, a team of key Officers showcased Glasgow City Council's (GCC) award-winning sustainable travel infrastructure to a group of planners and policy makers from Scottish Government's Planning, Architecture and Regeneration Division. It was an inspiring and informative day, witnessing first-hand the drive and enthusiasm behind improvements to Glasgow's active travel infrastructure. We were a group of mixed cycling ability with not a piece of lycra in sight, and our eyes were collectively opened to the comparative ease we experienced crossing the city centre on electric bikes, in largely segregated cycle lanes.
Our day started at the City Chambers, a stone's throw from the station, with informative scene setting on Glasgow's Transport Strategy, Active travel strategy, city network and infrastructure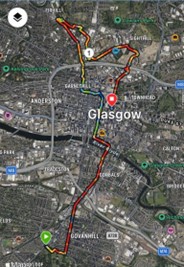 delivery. We were then transported, via some of GCC's Electric Vehicles, to our starting point near Queen's Park on the south side of Glasgow to be introduced to our trusty electric steeds. Glasgow's 'next bike' scheme means that both electric and standard bikes can be hired from locations across the city and is popular with locals and tourists alike. nextbike Glasgow – Original bike sharing.
Our route took us from the southside, through the city centre via Buchannan Street, to the north of the city and then back to the City Chambers. The concept was that we would see and feel what it would be like to commute from outlying neighbourhoods to the city centre.
The route included traversing the popular active travel route on Garscube Road, which recently won a Scottish Transport award for excellence in walking, public realm and cycling. The first vital link of the £8m Connecting Woodside active travel project. This popular route establishes a key connection for walkers, wheelers, and cyclists between the city centre and the Forth and Clyde canal paths. The project ultimately aims to create a network of segregated cycle ways and quiet ways that provide alternative routes to busy main streets between Possil Road in the North, to Charing Cross and Woodlands to the South. Scottish Transport Awards Success for Glasgow Active Travel Projects – Glasgow City Council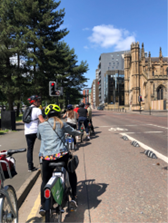 We were also hugely impressed by the Cycle Activated Signage which we experienced first-hand. Glasgow City Council are the first UK authority to introduce this motion activated signage which alerts motorists to cyclists, where they have right of way.
It was hugely worthwhile experience for the team especially those who have been involved in developing housing, local living and transport policies at the national level.  It was great to see a multidisciplinary team including planners, engineers, ecologists and urban designers working together to create great places. A huge thank you to the team at Glasgow City Council for making this possible. It was informative but above all fun and the weather was great!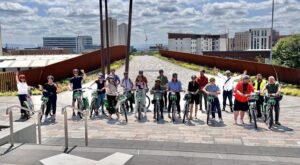 Comments