Public Procurement and Property
Have you accessed support from the Supplier Development Programme yet?
September 4, 2017 by Jennifer Baker No Comments | Category Meet the Buyer, SMEs, Supplier Development Programme, suppliers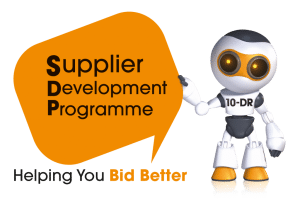 Do you want to win work in the public sector but are put off by the tendering process? Then the Supplier Development Programme is here to help.
We provide free training and support to Scottish based small and medium sized enterprises and third sector organisations (supported businesses, social firms, voluntary and charity organisations), who want to bid for, win and keep work in the public sector. Our support is provided through face to face and online training; with courses tailored for businesses with all levels of tendering experience from complete beginner upwards. There are also a vast number of online resources on our website and a regional contact for each local authority area so that you can access additional local support.
With £11 billion spent by the Scottish public sector each year don't delay in registering for the programme and signing up for one of our training events to help you win some of that work!
Meet the Buyer
In addition to our core programme of training and support the Supplier Development Programme hosts an annual Meet the Buyer event, bringing together buying organisations with contract opportunities from across the Scottish public and private sector. On the day suppliers can network with over 80 buyers, raising the profile of their organisation and getting one step ahead by finding out about upcoming contract opportunities. Alongside the main exhibition, a programme of workshops runs with high profile speakers from Scottish Government, Infrastructure and Projects Authority and Google Digital Garage. For the first time we will also have workshops dedicated to social enterprises. The afternoon session will include an address by the Cabinet Secretary for Finance and the Constitution, Derek Mackay.
Why attend?
Meet buyers from over 50 public sector organisations
Meet buyers from a variety of major private organisations with sub-contract opportunities
Hear the latest procurement news and get top tendering advice from Scottish Government, Scotland Excel, Crown Commercial Service and Co-operative Development Scotland
Attend workshops which will assist with overall business growth from Google Digital Garage and Business Gateway
Speak to a number of business support agencies including the Supplier Development Programme, Scottish Enterprise and Scottish Business Resilience Centre
Dedicated zone for social enterprises who are interested in winning work in the public sector
When and where?
Hampden Park, Glasgow, G42 9BA
Thursday 28 September
10am until 4pm
Register on our website for your FREE delegate pass
Tags: public sector procurement, Scottish Procurement, Supplier Development Programme, Suppliers
Comments