Public Procurement
Our Cabinet Secretary recently visited one of our Office Equipment framework suppliers
October 9, 2017 by Sarah McLeod No Comments | Category Derek Mackay, suppliers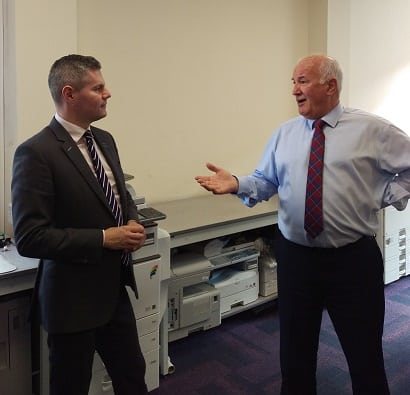 Derek Mackay, Cabinet Secretary for Finance and the Constitution, recently visited Capital Document Solutions for an extensive tour of their facilities and to meet with key members of staff.
Capital Document Solutions are a Scottish small and medium sized enterprise who have been a successful supplier on our collaborative Office Equipment framework since 2009.
During the tour of the facilities Mr Mackay learned how important the success of the Office Equipment framework has been to Capital Document Solutions. Mr Mackay also heard about how Capital Document Solutions have successfully implemented various sustainability initiatives particularly in the area of youth employment and recycling. Mr Mackay was also introduced to three trainees who were sourced through the Edinburgh Guarantee Scheme.
Derek Mackay said "Businesses like Capital Document Solutions have a central role to play in achieving the Scottish Government's ambitions for better employment opportunities for our people. Apprenticeships and vocational education are key to delivering that goal and Capital Document Solutions have successfully integrated those programmes into their operation in Scotland."
In support of Zero Waste Scotland's objectives and the Circular Economy, Capital Document Solutions are also keen to reduce both the short and long term consumption of new materials and resources in their supply and service operations.
Further information
The Office Equipment framework provides a wide range of products ranging from small single function desktop printers to large print room high volume products. It is available for use by all Scottish public and third sector bodies and will maximise financial benefit and provide excellent service levels for all organisations that use it.
For additional information on our Office Equipment framework please see our Contracts Directory or contact Karen Pow by email karen.pow@gov.scot or phone 0131 244 8121.
Tags: contracts, framework agreements, public sector procurement, Scottish Procurement, Suppliers
Comments