Public Procurement and Property
Buy Social Scotland – Procurement for Good
July 15, 2021 by Melissa Reilly No Comments | Category Guest Blog, Procurement news, SMEs, Social Enterprises
Scottish Procurement are delighted to welcome a guest blog from Naomi Johnson at Social Enterprise Scotland on how the organisation is creating positive impacts through social enterprise supply chains with FREE online bootcamp sessions and a new B2B social enterprise suppliers directory.
With an increasing interest in sustainable procurement and a desire to maximise positive impact from public sector contracting Social Enterprise Scotland has been working on our Buy Social Scotland initiative focusing on the involvement of social enterprises as part of the supply chain.
While some enterprises may bid directly for these contract opportunities there are also many other ways through the supply chain that socially led organisations can play a role through the provision of goods and services.
Our Buy Social Scotland Corporate Challenge, supported by the Scottish Government, will soon be launching an online B2B directory (see a glimpse of what's to come below) to help both the public, private and third sector find new suppliers.
In addition, we know that from the social enterprise side there may be those that need support to understand both the policy environment and drivers and more practical help on pitching and proposals.
With that in mind we will be running a Corporate Challenge Bootcamp between 11 and 12pm every day from the 19th-23rd July. These sessions will feature a range of speakers (outlined below) and are free to attend.  The week will culminate in a participatory workshop as attendees play the role of a Sustainable Development Goals Action Manager, considering the options and impacts as you look at socially led procurement and the steps you may or may not take moving forwards.
Links for sessions are listed below and if you wish to find out more about our Buy Social Scotland Corporate Challenge then please contact naomi.johnson@socialenterprise.scot. In 2021/22 we are looking to work with an additional 30 organisations who want to look more actively at social enterprise supply chains and impact procurement.
BOOTCAMP SESSIONS
Session 1 – Opportunities for Social Enterprise, with BASE (supported business network) and Haven PTS
Session 2 – Pitching and Proposals, with Supplier Development Programme Scotland and Wildhearts Group
Session 3 – Policy and Public Sector Procurement, with NHS Procurement, Partnership for Procurement (P4P), and Scotland Excel.
Session 4 – Private Sector Engagement, with Glencraft, Morrison Construction, and Social Enterprise UK.
Session 5 – Interactive Training Workshop, with Mora Consulting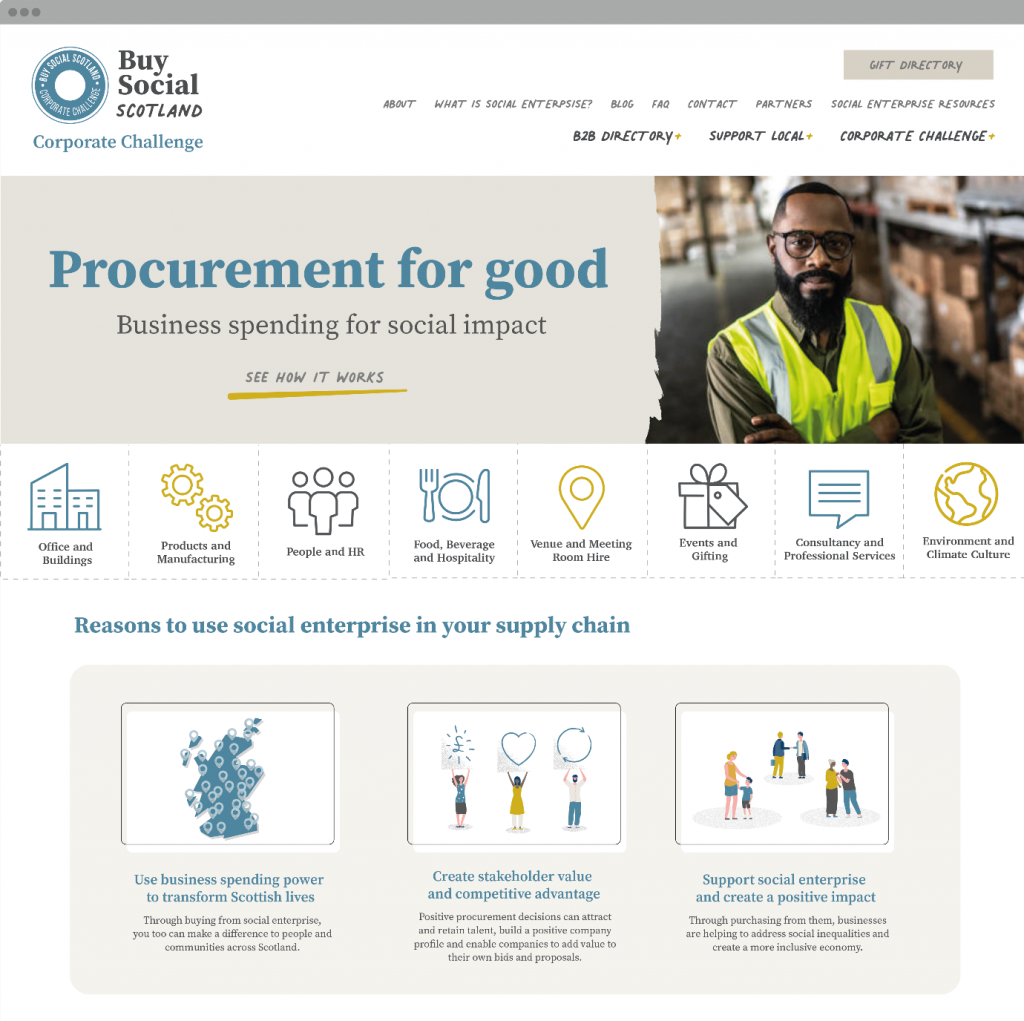 Further information
Please forward any enquiries to scottishprocurement@gov.scot
Follow Scottish Procurement on Twitter @ScotProcurement
Follow Scottish Procurement on LinkedIn
Watch more Scottish Procurement videos on Vimeo
Tags: procurement, SMEs, social enterprises
Comments