Public Procurement and Property
Ivan McKee MSP launches our 'Four Outcomes for Public Procurement' video showcase
October 20, 2021 by Melissa Reilly No Comments | Category Four Outcomes for Public Procurement, Procurement news, Scottish Procurement, video
The Power of Procurement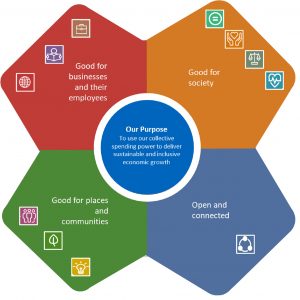 Buyers across the public sector are being encouraged to make sure their contracts are:
good for businesses and their employees
good for society
good for places and communities
open and connected
We are delighted to welcome Ivan McKee MSP, Minister for Business, Trade, Tourism and Enterprise to launch our series of showcase videos promoting the Four Outcomes for Public Procurement.
In this video, buyers are asked to consider these outcomes and think about the "If", "What" and "Why" they are contracting for goods, works or services.
The four outcomes are aligned with the National Performance Framework, to help deliver sustainable and inclusive economic growth and in doing so, to improve our economy, our society and our environment.
Look out for the next showcase video featuring Nick Ford, Director of Scottish Procurement & Property and the heads of the Procurement Centres of Expertise.
Click here to find out more about the Four Outcomes for Public Procurement in Scotland
For further information on public procurement in Scotland please visit gov.scot/procurement
For further information on Scotland's Public Procurement Priorities please click here.
LINKS
Please forward any enquiries to scottishprocurement@gov.scot
Follow Scottish Procurement on Twitter @ScotProcurement
Follow Scottish Procurement on LinkedIn
Watch more Scottish Procurement videos on Vimeo
Tags: Four Outcomes for Public Procurement, procurement, Public procurement, public sector, public sector procurement, Scottish Government procurement, Scottish Procurement, Scottish Procurement videos, video
Comments