Public Procurement and Property
Supported employment: changing lives and adding social value
December 1, 2022 by Melissa Reilly No Comments | Category BASE, SMEs, Sustainable Procurement, Third sector
This weekend, 3 December is celebrated around the world as the UN Day of Persons with Disabilities.
As part of the Sustainable Procurement Duty 2014, contracting authorities must consider how their procurement processes can facilitate the involvement of supported businesses – as well as SMEs and third-sector organisations. Before buying anything, they must think about how they can improve the social, environmental and economic wellbeing of the area in which they operate, with a particular focus on reducing inequality.
In line with the 2014 Act, public bodies' annual procurement reports must include a summary of steps taken to facilitate the involvement of supported businesses in their procurement activities, and public bodies are increasingly providing this information.
Supported Businesses make an important contribution to the Scottish economy.  Not only through the goods and services they deliver, but also by providing meaningful employment, training, and social support for those who may otherwise be excluded from the workplace.
We want to raise the profile of supported businesses in Scotland and have regular, meaningful engagement with BASE, the British Association for Supported Employment.
Alistair Kerr, BASE Scotland Chairman, recently spoke at our National Procurement Conference on 27 October 2022. That same evening, at the GO Awards Scotland, BASE received the 'Social Value Award' for their work in partnership with the Scottish Prison Service and Morrison Construction (MC) in delivering the Women's National Facility Project ("HMP Stirling").
Alistair Kerr tells us more about BASE Scotland's involvement in this project…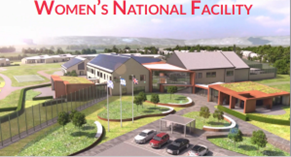 BASE Scotland worked in partnership with Stirling Council, the third sector, Scottish Prison service and Morrison Construction to understand the local aspirations and devise community benefits as part of an overall project plan which would make a positive impact and leave a sustainable and measurable legacy for the community in which the prison estate will operate.
Morrison Construction proceeded to create the bespoke 'Supported Procurement Group'. Inspired by the Scottish Government's Sustainable Procurement Duty Policy, the aims of the group include: –
"doing the right thing" by creating a model that establishes clear pathways for Supported Businesses to become Morrison Construction Supply Chain members
upskilling people living with disabilities to benefit from utilising Supported Employment to achieve individual goals
contributing to addressing the disability employment gap and the 'No One Left Behind' Policy Intents
As part of this, Morrison Construction committed to the Social Enterprise Scotland Corporate Challenge. Where they were one out of ten organisations who agreed to spend a minimum of £100,000 annually with Third Sector Organisations (TSOs) to assist in the delivery of the Scottish Government's Economic Recovery Plan. This social benefit approach also supports Scottish Prison Service's own 'Unlocking Potential: Transforming Lives' agenda.
In addition to delivering industry recognised qualifications, on site catering, catering academies and full-time sustained employment opportunities for Disabled or Disadvantaged people in the local community, Morrison Construction also directly spent £250.000 with a number of the BASE Scotland Network including specialist employers who employ adults with learning disabilities and veterans, procuring goods and services as part of the overall build of HMP Stirling.
Alistair Kerr, Chairman of BASE Scotland
---
We are keen to encourage the use of all supported businesses (not just those on the Framework) in the public and private sectors. We have compiled a publicly available list (which is regularly updated) of Scottish based Supported Businesses who are not part of the current Framework.
We still want to do more. We are committed to continuing to work with BASE Scotland and the Supported Business Advisory Group to see how we can best use procurement as a tool to support more people with disabilities and facing barriers into meaningful sustained employment.
---
For further information on public procurement in Scotland please visit www.gov.scot/procurement
Please email enquiries to scottishprocurement@gov.scot
Follow us online:
Tags: BASE, supported businesses, sustainable procurement
Comments